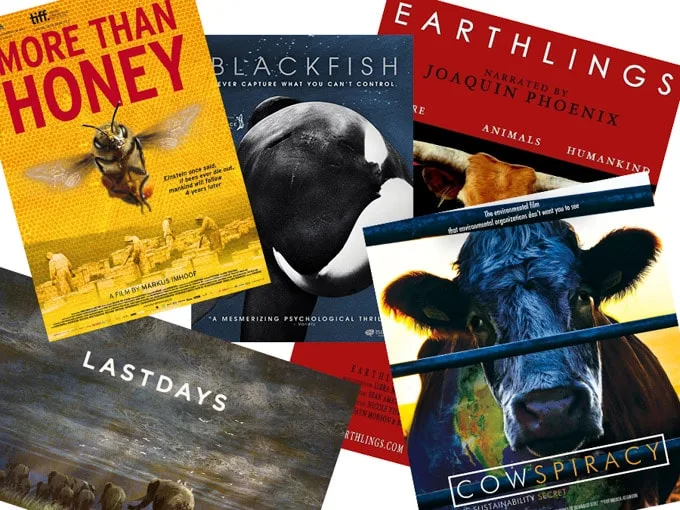 If you're new to veganism and if you have to defend your vegan arguments in discussions and disputes, it helps if you have a good understanding and know a few facts about animals and animal agriculture to blow your "opponent" away with your killer arguments! Documentaries have played a huge role in why I went vegan in the first place and I still enjoy watching them and learning more about the whole system, animal exploitation and the environmental & health effects.
Below I've collected my favorite documentaries that deal with animal agriculture, exploitation or the food system in general. So if you have some time to pass, I can fully recommend watching these :) I bet you wish you'd have seen this documentaries about animals sooner.
Earthlings
There's a good reason why this movie is nicknamed with "The Vegan Maker". This documentary is amazing, heart-breaking, eye-opening and truly a must-see for every individual living on this planet! You can watch the whole movie on youtube!
More than honey
As Einstein said "If the bee disappeared off the surface of the globe, then man would have only four years of life left. No more bees, no more pollination, no more plants, no more animals, no more man.", the bees are dying and humankind is to blame. Here's the website to the movie.
Cowspiracy
Cowspiracy is not only about cows, it's about how animal agriculture has such an awful effect on the planet as a whole and how this important fact is completely getting ignored by huge environmental organizations. This movie completely changed my mind how I see Greenpeace, Sea Shepherd,.. Watch Cowspiracy on Netflix now!
Blackfish
Blackfish is a documentary about captive killer whales and tells the story of Tilikum, an orca held by SeaWorld. You can watch Blackfish on Netflix.
Last Days of Ivory
This short film (3min) puts the elephant poaching, ivory trafficking and terrorism into relation. An elephant gets killed every 15 minutes, elephants could be extinct in 11 years, so watch the short film and spread the message and don't buy ivory.
I hope you liked the collection. Let me know in the comments if you've watched any of these and let me know your favorite documentaries that I have to catch up on! I'm always on the lookout for new ones – so I'd love your recommendations!
Affiliate Disclosure: This post may contain affiliate links, which means I may earn referral fees if you make a purchase through my link. While clicking these links won't cost you any extra money, they will help me keep this site up and running!