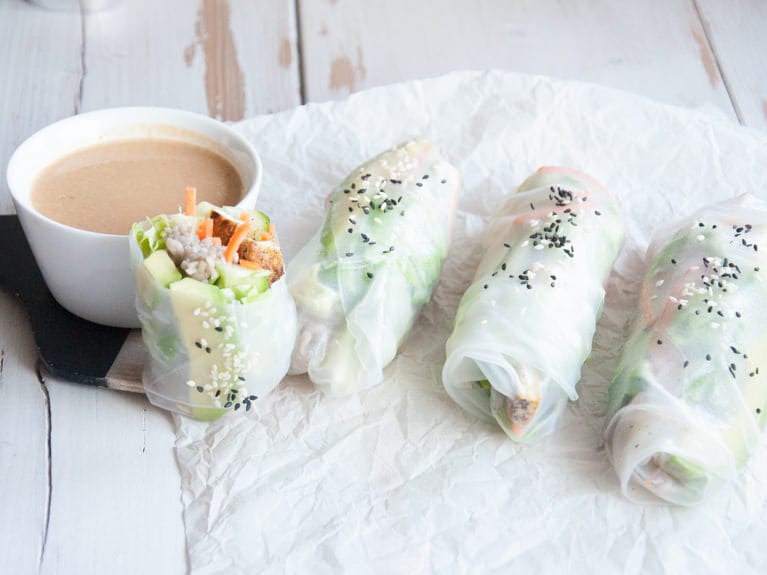 I've been meaning to remake my old Summer Rolls recipe from the blog but ended up making another version, because the last times I made Summer Rolls I made them slightly different. I love the combination of raw carrot strips, avocado slices, crispy curried tofu, fresh salad, cucumber slices, chopped salad and soba noodles. I have a few dishes that I eat regularly and Summer Rolls are definitely one of those! Depending on what veggies I have at home, I make slight alterations.
This recipe is quite different than the old one! I used cheap rice wrappers in the old recipe that ripped easily, so I had to use two rice wrappers – not in this one! I really noticed that the quality of the rice wrappers makes a different! It was nerve-wrecking using the easily-ripping rice wrappers, now with the new rice wrappers I've got it actually makes fun! Can you imagine?!
Making the Summer Rolls is super easy, once you've figured the process out. I first prep all the veggies, so I don't have to deal with that and then prepare one dish with water (to soak the rice wrapper in), in another wet dish I'm adding the fillings onto the rice wrapper and a third dish to place the finished Summer Rolls onto!
I'm using large rice wrappers, use less filling if you use smaller ones. Try not to overstuff them, because they'll be harder to roll. And try to roll them as tight as possible, so they won't fall apart when eating.
Tadaaa. The first finished Summer Roll!
Sprinkling with black and white sesame seeds is optional (but not really!). So good! Yumm!
Soba Noodles Summer Rolls
These vegan & gluten-free Soba Noodles Summer Rolls are the perfect treat for summer! They are light & fresh. Best served with a Peanut Butter Dip.
Author:
Elephantastic Vegan
Instructions
Cook the soba noodles according to the instructions, drain them when cooked & rinse them under cold water. Set aside.
Pan-fry the Tofu (I added salt & curry powder to mine).
Meanwhile prep all your veggies: Julienne-slice the carrots, peel & slice the avocado, cut the cucumber in slices.
Let one rice wrapper after another soak in water until they're soft and transfer it on a moist plate.
Place the veggies, tofu and soba noodles in the lower ⅓ of the rice wrapper, fold in the sides and roll it in as tight as possible.
Repeat for the other Summer Rolls & sprinkle them with black and white sesame seeds for the looks! :)
Notes
To make the Peanut Butter Dip simply put a tablespoon of peanut butter in a small pot and whisk with water (until desired consistency reached) and a dash of salt and let it cook for on low heat until it's smooth.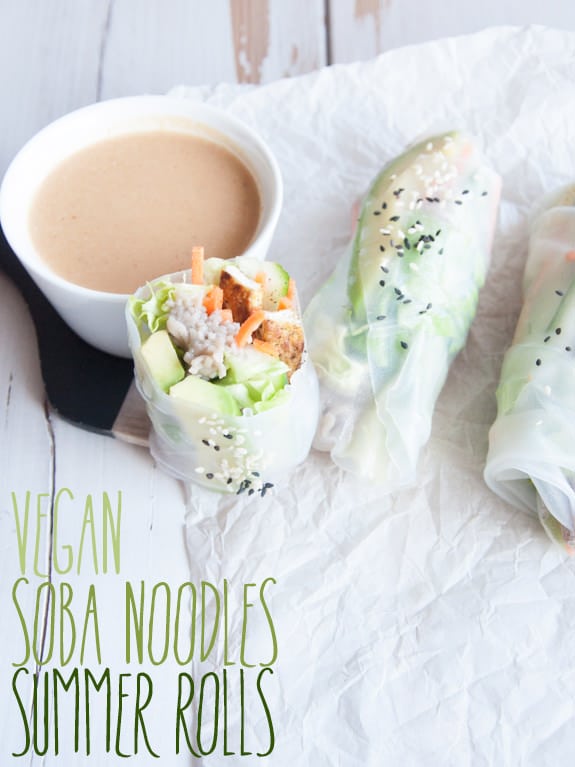 Should you decide to give these a try I'd love to hear how it went! Write me a comment or post a picture on instagram and tag me via @elephantasticvegan to make sure I'll see it ^.^