Disclaimer: I was provided with the vegan chocolates by Vivani to review. All opinions are my own and I am being honest.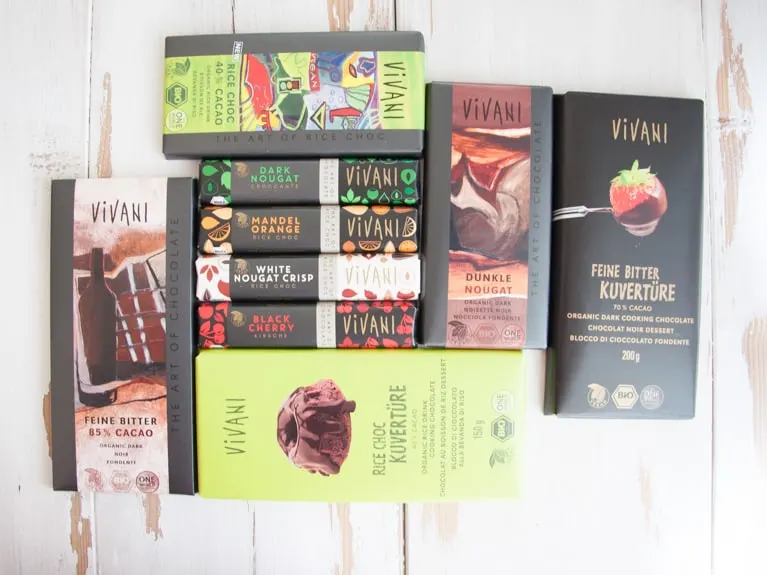 Like pretty much any girl (or human) I L.O.V.E. chocolate! It goes without saying that I was super excited when I heard that the lovely people from Vivani (EN/GER) would send me a few samples of their vegan chocolates.
Vegan Chocolates are not only great for vegans, but also for people with lactose intolerance, as they contain no dairy! Vivani has established itself as a premium chocolate brand – they don't exclusively offer vegan chocolate, but they offer many vegan options (see the list below with the vegan assortment).
What I love about Vivani is that they pay special attention to provide the best quality of the ingredients. They use only organically grown and certified ingredients. Their chocolates are without emulsifiers (like soy lecithin). As a sugar, they use raw cane sugar in all their organic chocolates, which is pretty neat too.
European Vegan Assortment
Bars:

Fine Dark with 71% Cocoa
Fine Dark Orange
Dark Nougat
Rice Choc
Superior Dark Ecuador
Superior Dark with Chili
Superior Dark Cranberry
Smooth Dark with 85% Cocoa
Dark 75% Cacao
Dark Chocolate with 92% Cocoa
Cooking Chocolates:

Dark Cooking Chocolate
Rice Drink Cooking Chocolate
Chocobars:

Black Cherry
Dark Nougat
Almond Orange
White Nougat Crisp
And additionally: Dark Chocolate Mini Bars, Fine Dark Naps, Hot Chocolate, and Cavi Quick (an instant chocolate powder).
USA Vegan Assortment
Bars:

Dark Chocolate – 71% Cocoa
Dark Chocolate – 85% Cocoa
Dark Chocolate with Orange
Dark Chocolate with Lemon
Dark Chocolate with Espresso
Dark Chocolate with Almonds
Dark Chocolate with Hazelnuts
They even brought a new vegan chocolate range to the market – iChoc with 4 vegan chocolates (one of those is Choco Cookie with cookie bits – yumm!).
Vivani Vegan Chocolates can be bought in stores with organic products in Europe, bought online (amazon.com
[check that you choose vegan ones that I've listed in this post!], or in their German webshop.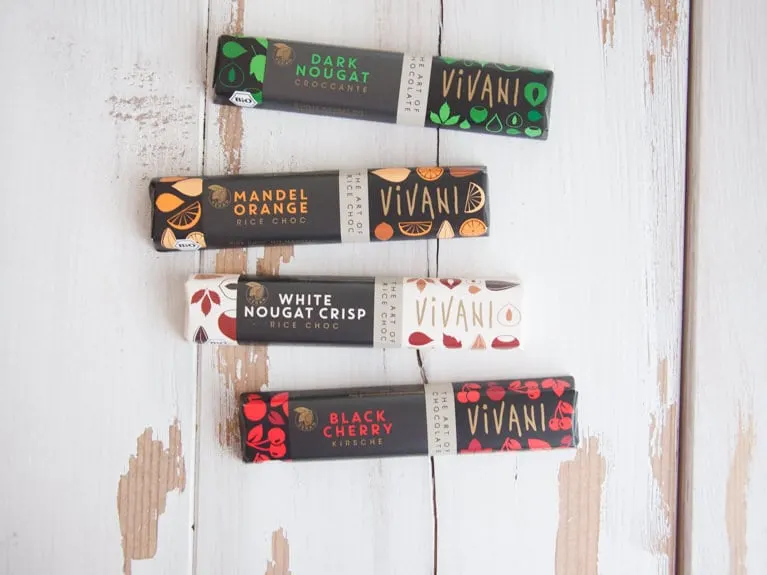 Loved those cute Chocobars! They are perfect to share with a loved one (or to devour alone).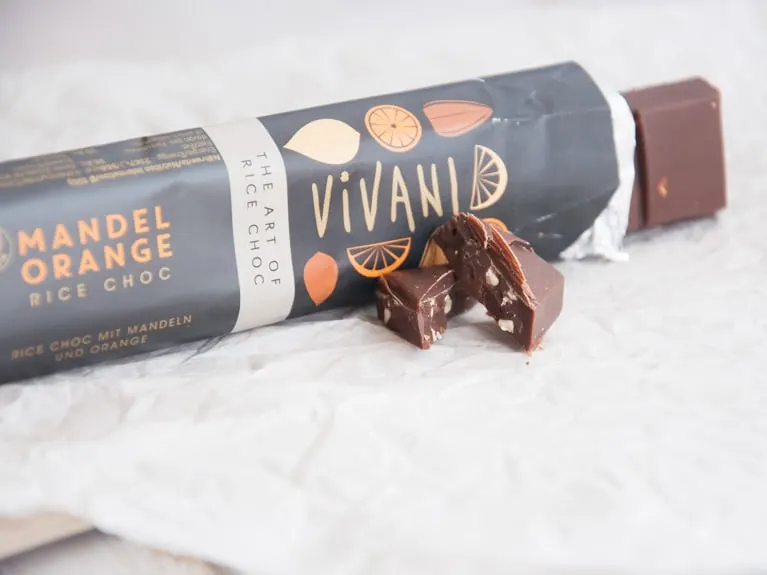 Almond Orange
This chocolate bar with cocoa solids of 40% had tiny almond bits and orange pieces in it and tastes super tangy because of the orange essential oil!
Ingredients: raw cane sugar, cocoa butter, cocoa mass, rice drink powder 14%, chopped almonds 4 %, granulated orange 3%, hazelnut paste, orange essential oil, bourbon vanilla extract.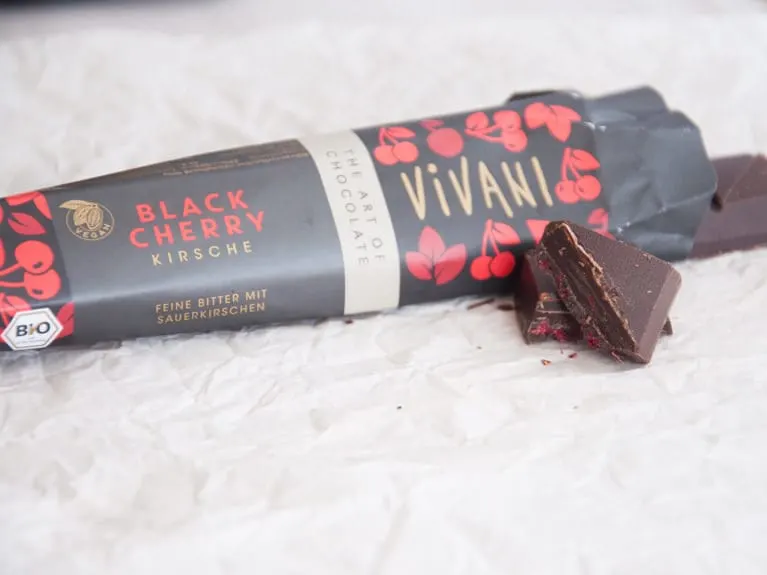 Black Cherry
This chocolate bar was a dark one with little bits of sour cherries. The sour cherry bits were rather crunchy and delicious with the dark base of the chocolate. I loved the simplicity of this chocolate – only 4 ingredients!
Ingredients: cocoa mass, raw cane sugar, cocoa butter, pieces of sour cherry 3,5%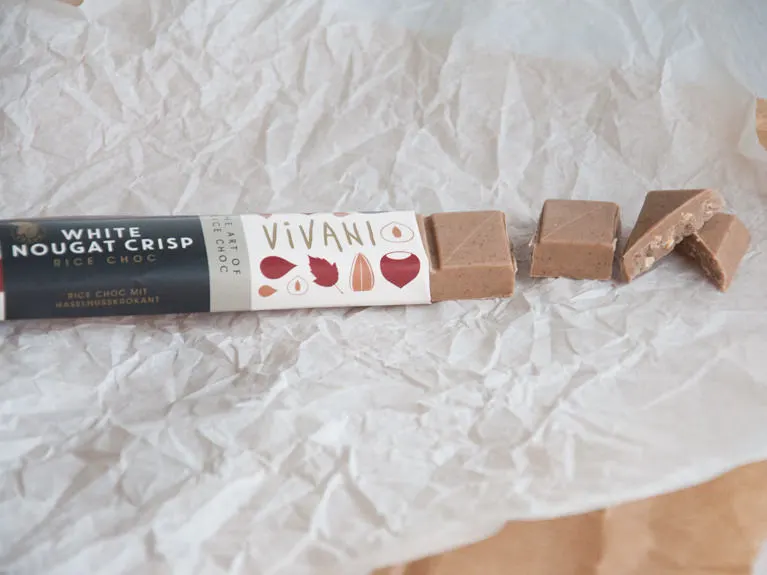 White Nougat Crisp
This one has been my favorite of the chocolate bars! Although I generally prefer dark chocolates, I really liked this one. I wouldn't say it tastes like white chocolate, but rather like Nougat. It's not as white as I had expected – but it was my favorite nevertheless. It also contained small crunchy bits of hazelnuts. It tasted decadent & rich and rather sweet.
Ingredients: raw cane sugar, hazelnut paste 23 %, cocoa butter, rice drink powder 11,5 %, hazelnut brittle 8% (raw cane sugar, hazelnuts, corn glucose syrup, caramel syrup), bourbon vanilla extract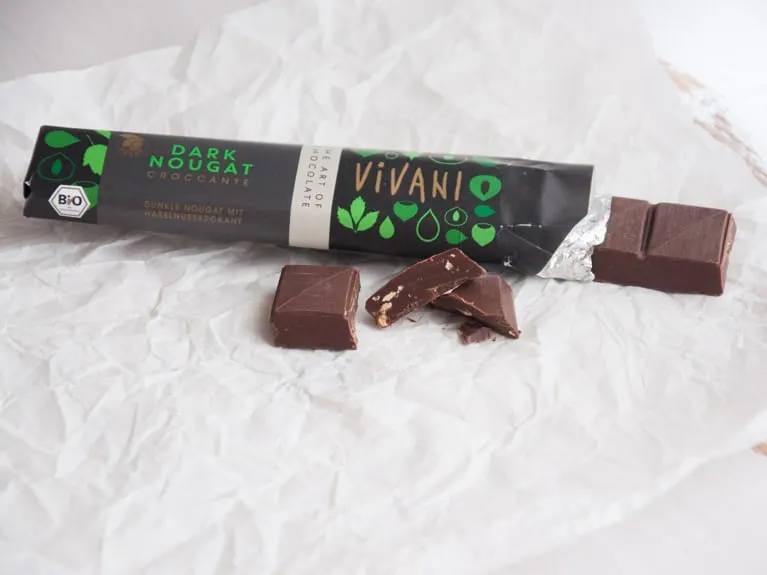 Dark Nougat
This one was rather similar to the one before but darker. It had crunchy hazelnut bits as well and was lovely!
Ingredients: raw cane sugar, hazelnut paste 22 %, cocoa mass, cocoa butter, hazelnut brittle 8% (raw cane sugar, hazelnuts, corn glucose syrup, caramel syrup), bourbon vanilla extract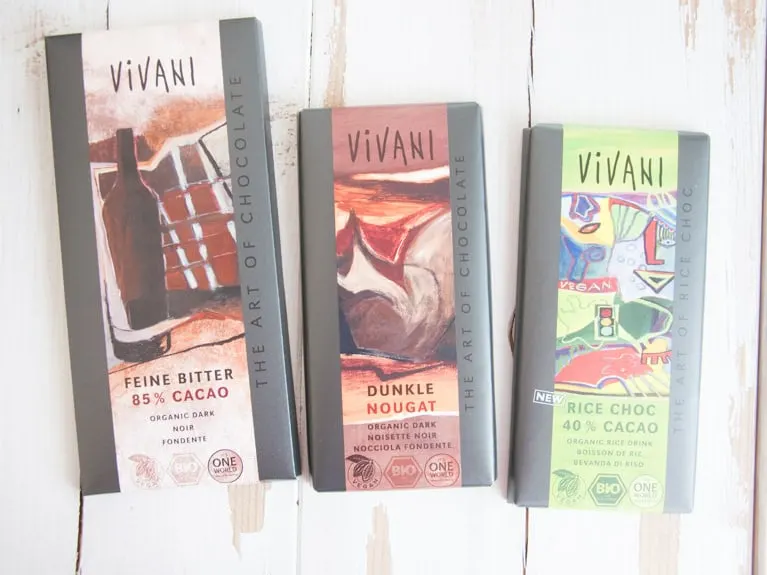 As a lover of dark chocolates, the Smooth Dark with 85% on the left side was my favorite of these standard sized chocolate bars.
Before reviewing the Vivani vegan chocolates I wouldn't have bought any nougat chocolates – I always thought I wouldn't like them – but after trying this Dark Nougat Bar (and the White Nougat Bar) I'm starting to like it. A lot!
The Rice Choc with 40% Cacao contains 15% rice drink powder that gives it a soft & nice touch and tastes rather similar to traditional milk chocolates.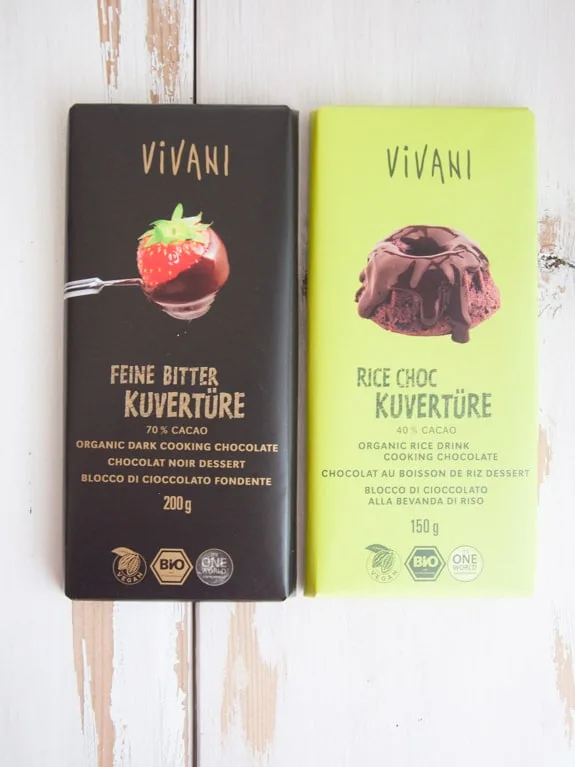 Vivani also offers two vegan cooking chocolates: Organic Dark Cooking Chocolate with 70% Cacao and Organic Rice Drink Cooking Chocolate with 40% Cacao. Cooking Chocolates are used for chocolate coatings, cakes, cookies, or truffles. Cooking chocolates usually contain more cocoa butter that makes melting them easier.
With the Dark Cooking Chocolate (70% cacao) I've made this crazy delicious Chocolate Lovers Cake. I've used the Cooking Chocolate to create a hard shell on the banana ice cream. My boyfriend and I just couldn't stop eating – it was amazingly delicious. You have to try it for yourself!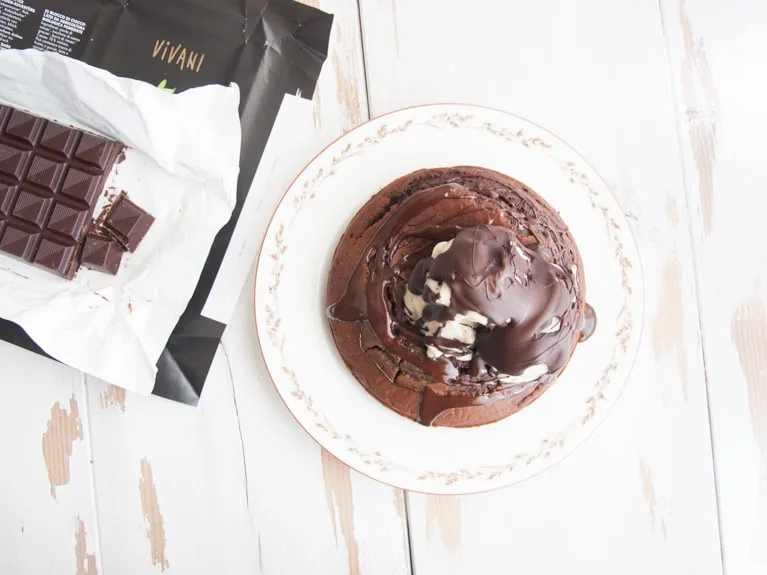 Have you seen Vivani Chocolates in stores? Did you try them?
Affiliate Disclosure: This post may contain affiliate links, which means I may earn referral fees if you make a purchase through my link. While clicking these links won't cost you any extra money, they will help me keep this site up and running!