Together with my favorite blogger friends, we decided it would be fun to make a Holiday Cookie Party – completely vegan & gluten-free. For this reason everyone is sharing one of their cookie recipes. I think all turned out great and drool-worthy. You'll find a list of all the delicious vegan & gluten-free cookies below my recipe! The Holiday Cookie Party was organized by Rebecca (Strength & Sunshine) and Natalie (Feasting on Fruit), thank you so much ladies! :)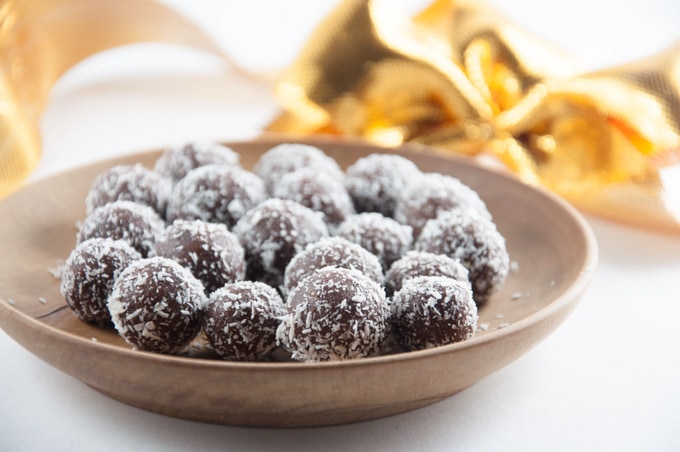 Got a sec? Because I have probably the easiest cookie recipe here for you! These No-Bake Marzipan Rum Balls can be made in a couple of minutes. They are the perfect addition to any festive cookie platter. You don't want to miss these! They are vegan & gluten-free and could be easily made into a non-alcoholic version (see recipe notes for alternatives).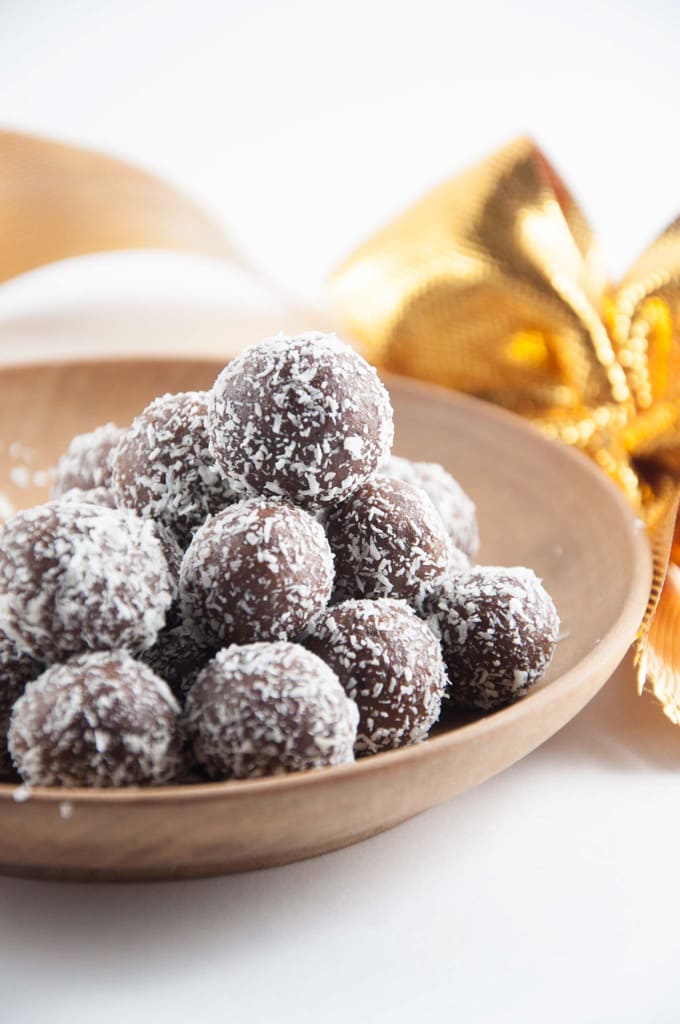 No-Bake Marzipan Rum Balls
Vegan & Gluten-free No-Bake Marzipan Rum Balls - perfect for the holidays! They are super easy to make and don't require an oven. Can be made in 10 minutes.
Author:
Elephantastic Vegan
Instructions
Mix the marzipan, cocoa powder and rum and knead it until the whole marzipan is brown.
Form little balls (about 20 pieces).
Place the shredded coconut in a small bowl and add a few marzipan balls. Roll them around until coated evenly and repeat for the rest.
Store in an air-tight box or serve immediately.
Should you decide to give these vegan & gluten-free Marzipan Rum Balls a try I'd love to hear how it went! Write me a comment or post a picture on instagram, use the hashtag #elephantasticvegan and tag me via @elephantasticvegan to make sure I'll see it ^.^ I love to see all your lovely creations! Thanks! <3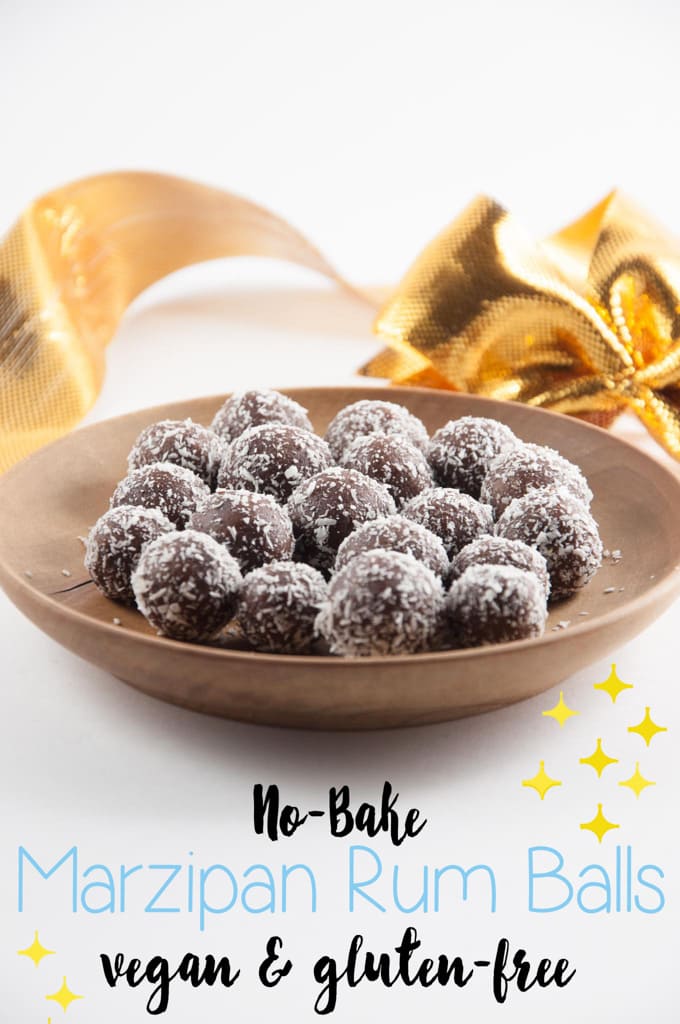 Vegan & Gluten-Free Holiday Cookie Party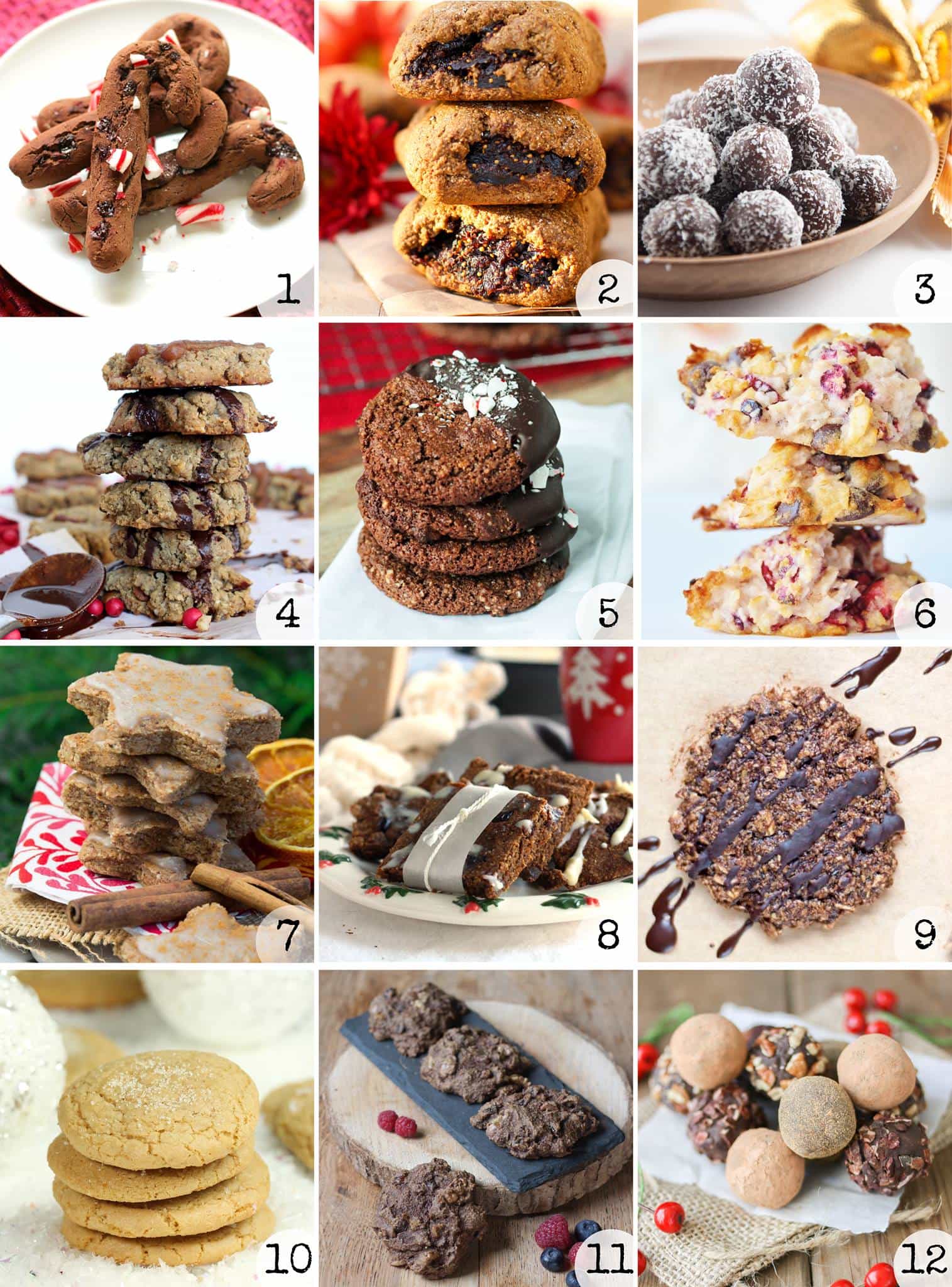 1 Chocolate Candy Cane Crunch Cookies – Rebecca from Strength And Sunshine
2 Gingerbread Fig Bars – Natalie from Feasting On Fruit
3 No-Bake Marzipan Rum Balls – Bianca from Elephantastic Vegan
4 Chocolate Drizzle Ginger Pecan Cookies – Laura from Chronicles Of Passion
5 Chewy Gluten Free Chocolate Gingerbread Cookies – Jenn from Veggie Inspired Journey
6 Cranberry Chocolate Coconut Macaroons – Linda from Veganosity
7 Vegan Orange Cinnamon Christmas Cookies – Sina from Vegan Heaven
8 Cranberry White Chocolate Ginger Cookies – Leah from Love Me Feed Me
9 Chocolate Tahini Cookies – Lucie from Win-Win Food
10 Sugar Cookie (Vegan, Gluten-Free, Oil-Free) – Brandi from The Vegan 8
11 Orange Spice Cookies – Harriet from Harriet Emily
12 Vegan Cranberry Crunch Dark Chocolate Truffles – Sophia from Veggies Don't Bite