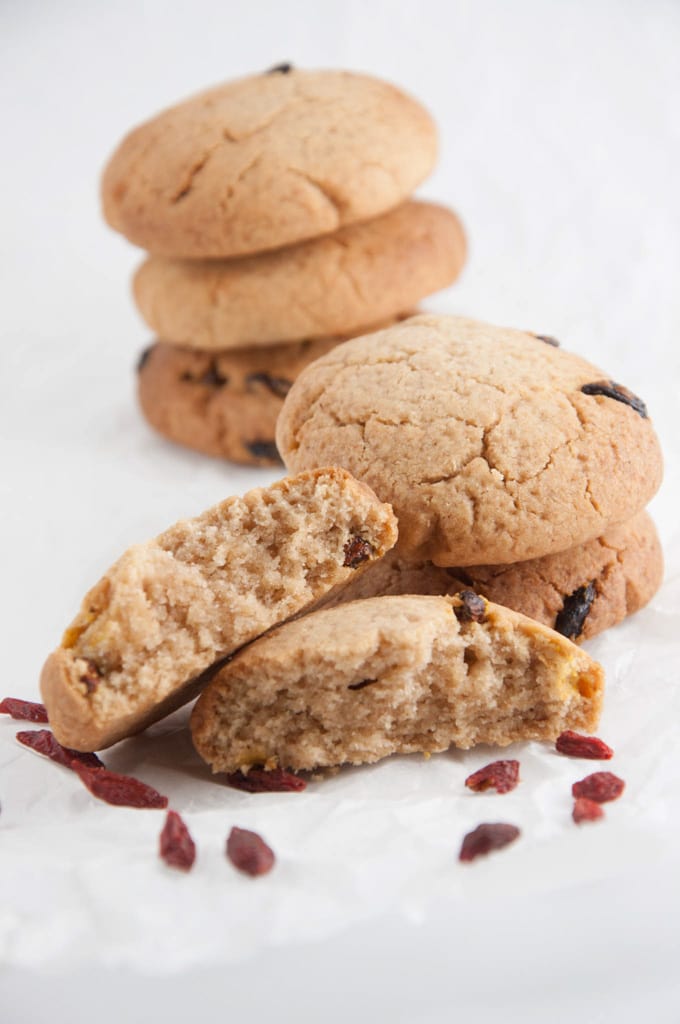 These vegan Ginger Goji Cookies aren't totally christmas-y but kiiind of christmas-y, if you know what I mean. They are perfect to ease you into the christmas mood. And now I'm so, so, so excited for Christmas – who is with me? These cookies are really easy to make and don't need long for the dough to rest.. only about 15 minutes… until the oven has preheated. They are so good and the perfect use for all those leftover goji berries I had in the pantry.
Don't have any goji berries at home? No problem! You can also use any other dried fruits like raisins or cranberries.. those will be great too, especially in combination with the light ginger taste.
If you want more ideas for the holidays, make sure you check out these 10 vegan treats for the holidays. They are all my favorite desserts in one post :)
I've mixed the dough in my Kitchen Aid. So easy! Then I added in the goji berries and let the dough rest in the fridge for a couple of minutes.
Vegan Ginger Goji Cookies
Author:
Elephantastic Vegan
Ingredients
¼ cup / 50g vegan butter (EarthBalance, Alsan,...), softened
¼ cup / 45g white sugar
1 tablespoon / 20g almond butter
½ cup / 100g all-purpose flour
½ teaspoon baking powder
¾ teaspoon ground ginger
1 teaspoon almond milk or your preferred plant-based milk
1 tablespoon goji berries
Instructions
Combine the softened butter, sugar and almond butter and let it whisk in a kitchen machine or by hand. Mix the flour, baking powder and ground ginger in a separate bowl. Add the flour slowly into the butter-sugar-almond butter mixture until a crumbly dough forms. Add the almond milk and whisk or let whisk until the dough holds together. Fold in the goji berries and knead until the dough looks like in the photo above.
Let the dough rest in the fridge for about 15 minutes, meanwhile preheat the oven to 350°F/180°C.
Divide the dough in six equal pieces, roll them into balls and press them flat. Place them on a baking sheet bake for about 10 minutes until they start to get a slight golden color. Let them cool off completely before eating.
Should you decide to give these vegan Ginger Goji Cookies a try I'd love to hear how it went! Write me a comment or post a picture on instagram, use the hashtag #elephantasticvegan and tag me via @elephantasticvegan to make sure I'll see it ^.^ I love to see all your lovely creations! Thanks! <3