Recipe for vegan Whole Wheat Seed Crackers served with homemade Guacamole. Perfect for parties or as a snack. With pumpkin, flax and sunflower seeds.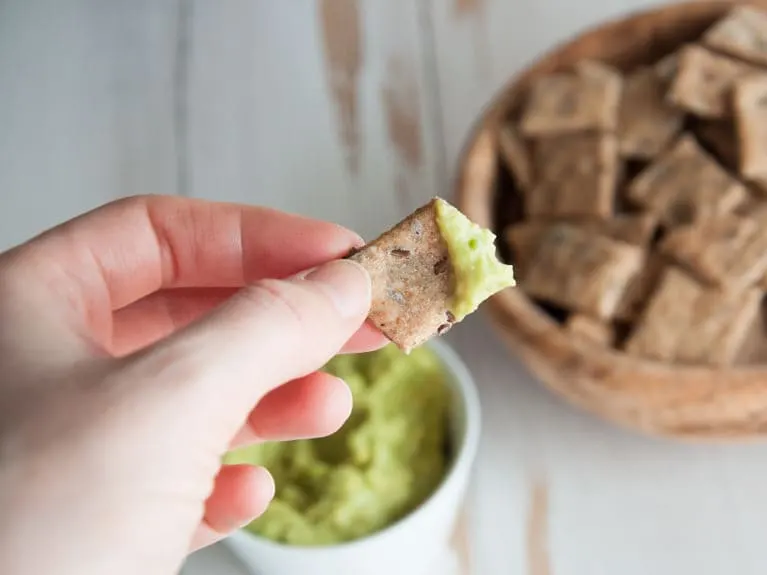 This is an adaption of the Cheesy Poppyseed Crackers Recipe. As some asked me if they could substitute the white flour with another flour, I've now made an even healthier Crackers Recipe with 100% Whole Wheat Flour and Seeds! For the seeds I used a mixture of Pumpkin, Flaxseed and Sunflower Seeds! The Crackers are really yummy and they don't taste as healthy as they are. I promise.
I've had these Crackers with homemade Guacamole and the combination was super amazing! But you can serve the Crackers really with any dip you like or with Hummus (yumm!).
Tips for making the perfect crispy crackers
The consistency of the dough: Flour, water, even altitude matter when making the dough, so it's best to trust your instincts a bit when making the dough. Add water until you can make a smooth dough. If you're not sure, it's best to make it too wet than too dry, you can always work more flour into the dough while rolling out the crackers. A wetter dough is easier to roll out than one that is hard and crumbly.
The cracker thickness: Roll out the dough as thin and as even as possible. This ensures even baking! If they are not thin enough, they will be rather chewy than crispy. The best way to do this is to roll out the dough on a lightly floured parchment paper, cut them, and then carefully pull the parchment paper with the crackers onto the baking sheet. It also helps if you take your time rolling out the dough..sometimes it looks like it doesn't get any thinner. Then I walk away for one minute and come back..then the dough has relaxed a bit and can be rolled out easier and thinner.
Rolling pin: A proper rolling pin helps a lot with rolling the dough evenly. It works best with a large rolling pin with rotating handles.
Baking times: All ovens are different. Keep a close eye on them if you make them the first time. If a few of them start to puff up a bit, that's a good sign! They should get slightly golden/brown. If you're not sure, they should be crispy to the touch.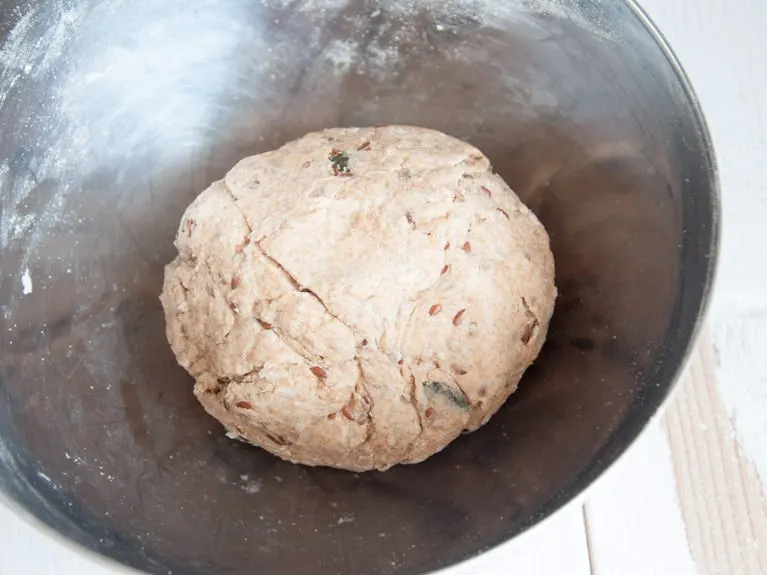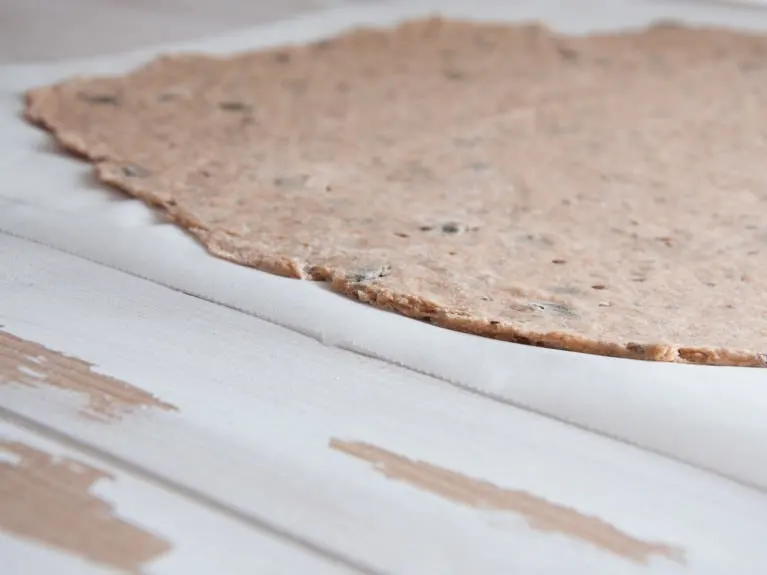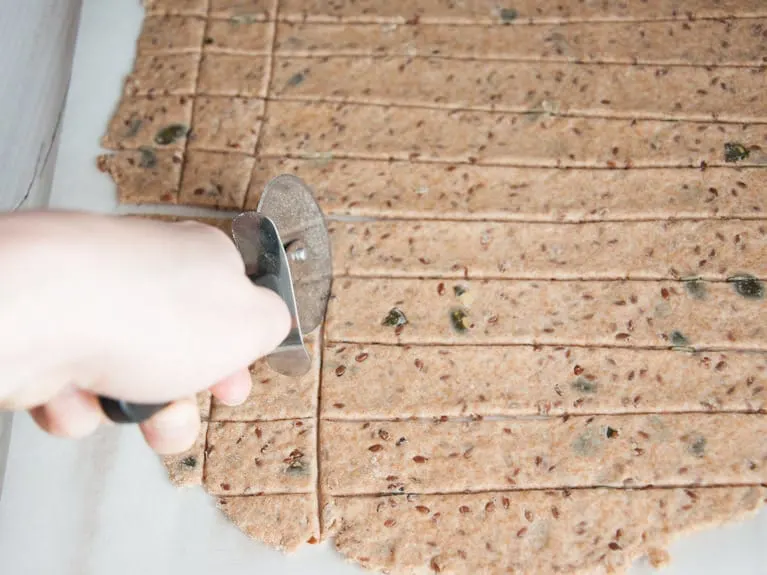 Cutting them with a pizza cutter is the easiest and fastest method. Cut the rolled out dough lengthwise and widthwise! Don't worry if the pieces have different sizes, I think it looks great and gives it an additional homemade touch. But make sure they all have same thickness in order to bake them evenly.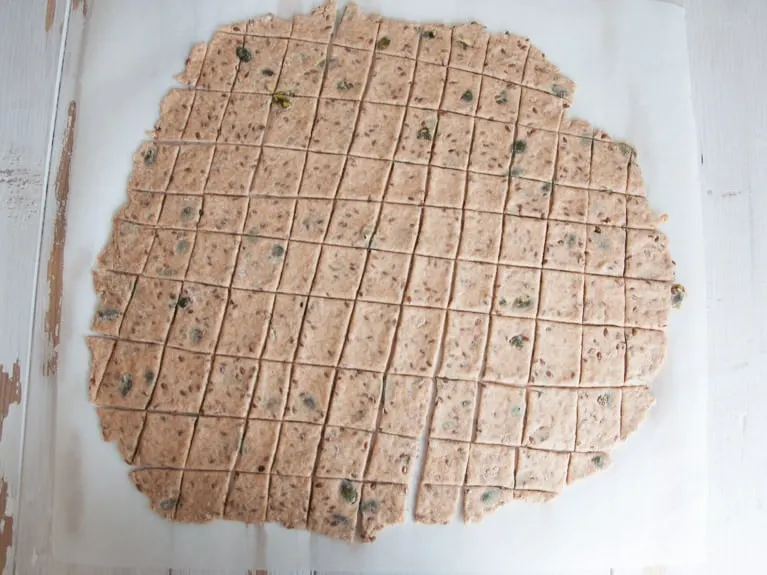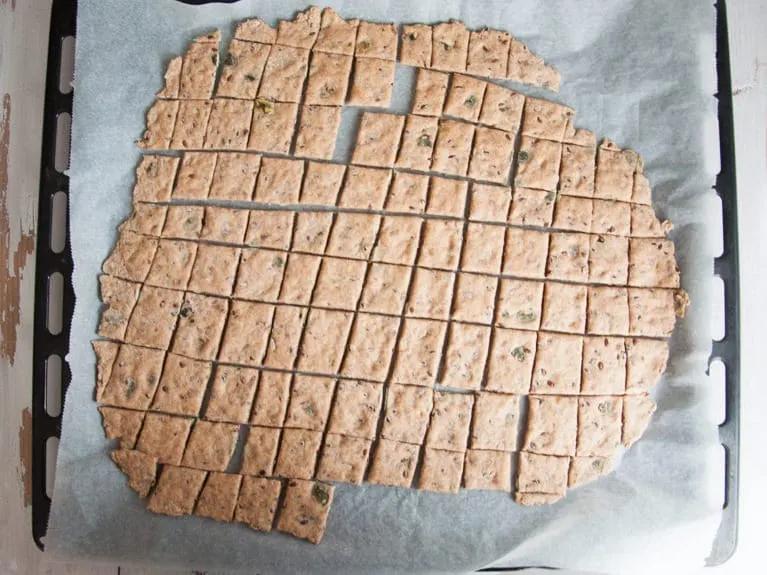 These Crackers are so easy and they take only about 25 minutes to make! Perfect for spontaneous guests or as a snack!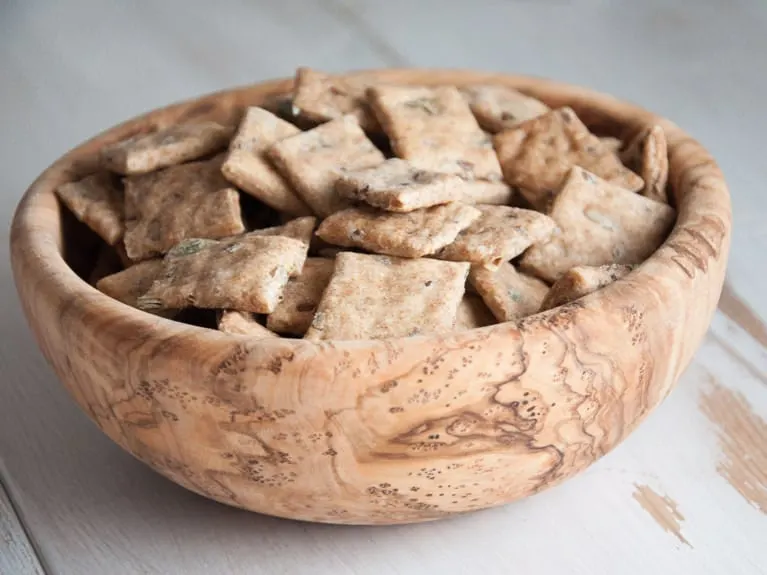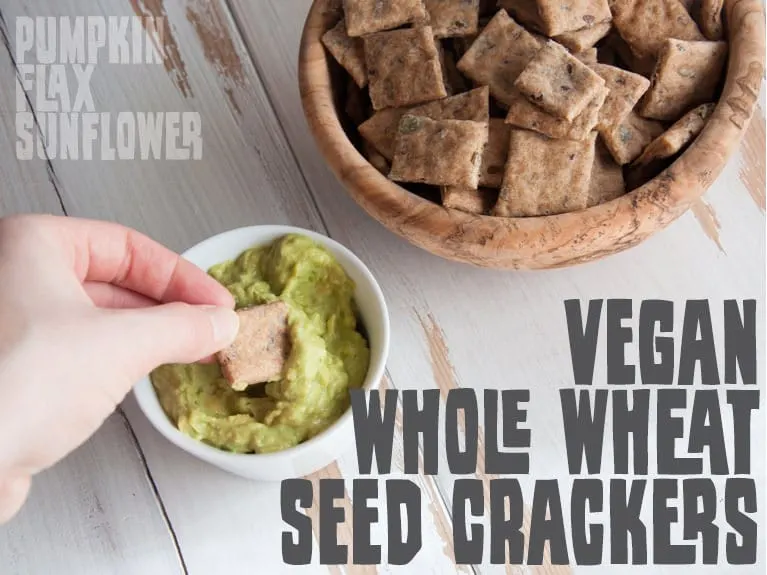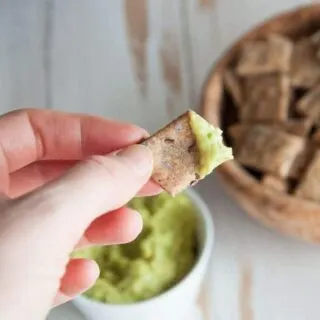 Whole Wheat Seed Crackers
Recipe for vegan Whole Wheat Seed Crackers served with an Avocado Sour Cream Dip. Perfect for Parties or as a snack. With pumpkin, flax and sunflower seeds. Recipe is for one bowl of Crackers.
Ingredients
1 2/3

cup

whole wheat flour

4

tablespoons

mixture of sunflower, pumpkin and flax seeds

1 1/2

teaspoons

baking powder

3/4

teaspoon

salt

1

tablespoon

olive oil

1/2

cup

water
Instructions
Pre-heat the oven to 400°F/200°C.

In a bowl add in the dry ingredients, mix and then add in the wet ingredients. Mix and knead with your hand until it's a smooth dough.

On a lightly floured parchment paper, roll out the dough as thin and even as possible.

Cut it with a pizza cutter length- and widthwise. Carefully pull the parchment paper with the crackers onto a baking sheet.

Bake them in the oven for about 20 minutes (until they get crispy).

Serve for example with some Homemade Guacamole. Enjoy!
Nutrition
Calories:
1043
kcal
Carbohydrates:
154
g
Protein:
34
g
Fat:
39
g
Saturated Fat:
4
g
Sodium:
1763
mg
Potassium:
1590
mg
Fiber:
24
g
Sugar:
1
g
Calcium:
359
mg
Iron:
9.8
mg

Did you make these vegan Whole Wheat Seed Crackers? Tag @elephantasticvegan on instagram and use the hashtag #elephantasticvegan. Don't forget to subscribe to the Elephantastic Vegan Newsletter to see Reader Remake Features!
More Easy Vegan Cracker Recipes
Affiliate Disclosure: This post may contain affiliate links, which means I may earn referral fees if you make a purchase through my link. While clicking these links won't cost you any extra money, they will help me keep this site up and running!