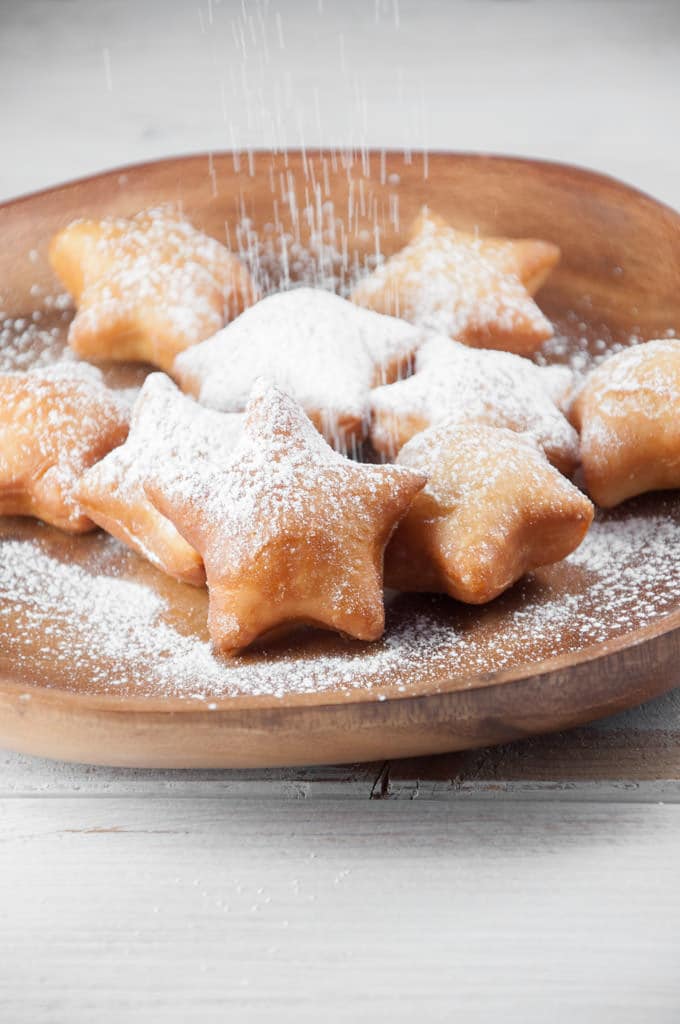 These vegan star-shaped donuts dusted with powdered sugar are the perfect treat for the holidays! They are super fluffy on the inside, and crisp on the outside – just like donuts should be.
The dough is super easy to work with as it is a simple yeast dough, which you can make in a kitchen machine or knead by hand. It will need time to rise though, so keep that in mind when making the recipe. These snow star donuts, as I like to call them, are best enjoyed fresh, but they are so good – it's totally worth the work!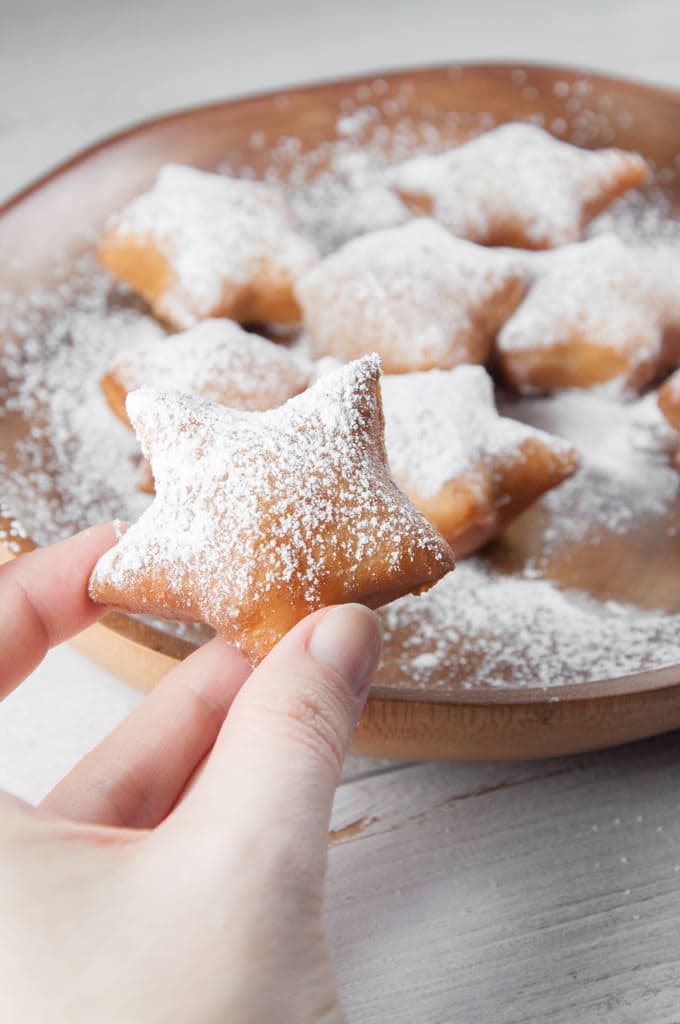 Looking for more festive recipes? You might want to check out the following collections: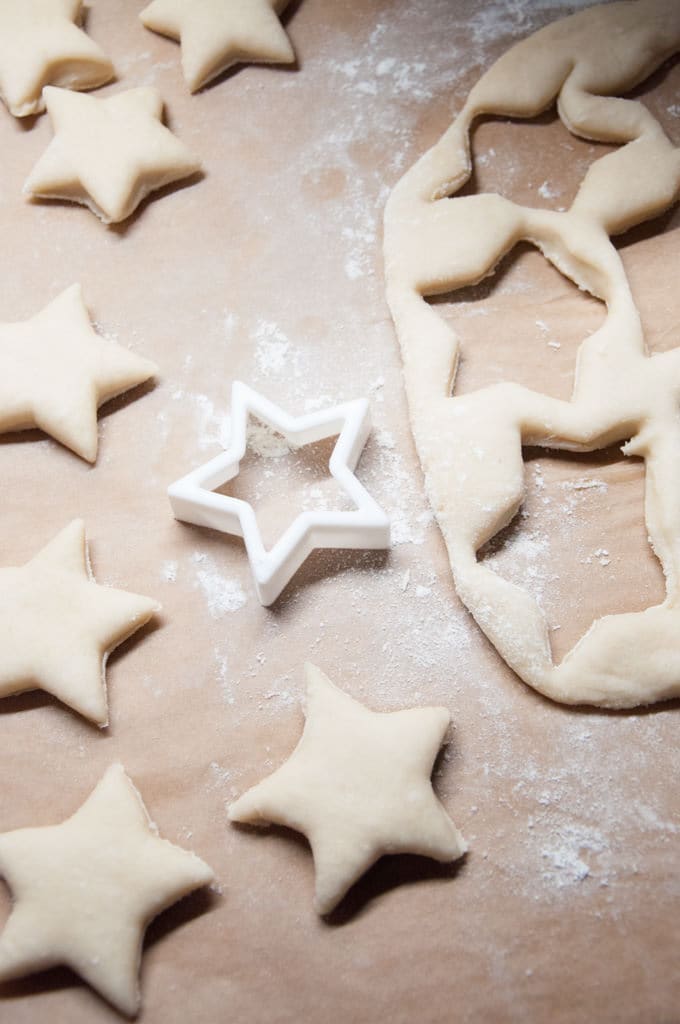 Alternatively, you can use any shape you like, but I'd recommend sticking to basic, simple shapes because they puff up a lot. Then the shape might be unrecognizable.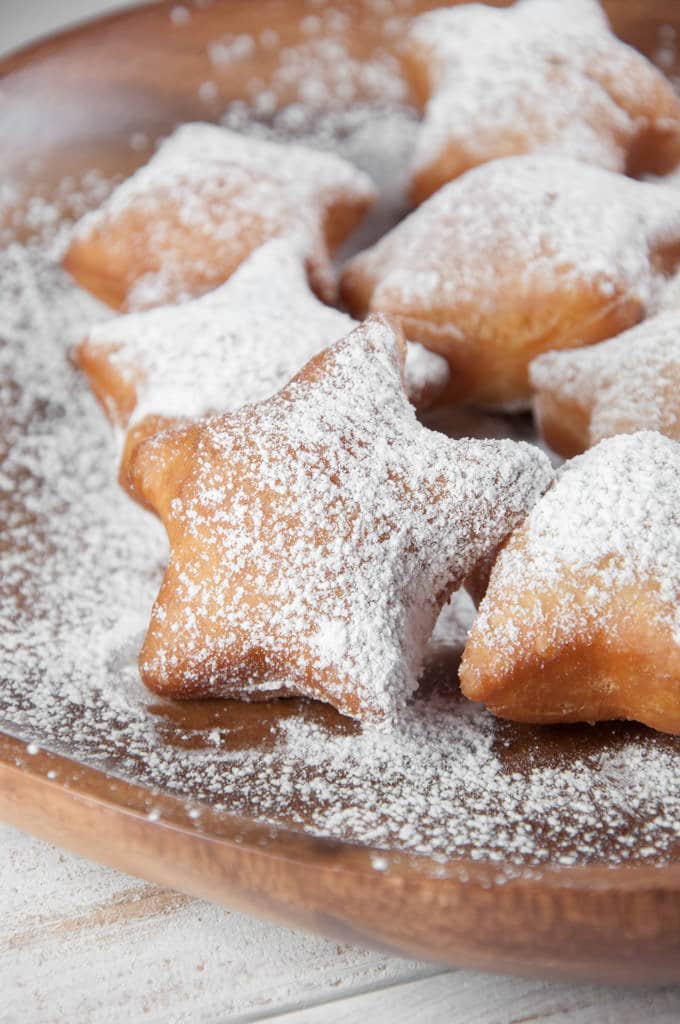 Powdered Sugar Snow Star Donuts
Recipe for vegan Powdered Sugar Snow Star Donuts, which are perfect for Christmas! They are easy to make, super fluffy on the inside, crisp on the outside - just like donuts should be.
Author:
Elephantastic Vegan
Ingredients
4 cups / 500g all-purpose flour
2 teaspoons / 7g instant dry yeast
⅓ cup / 65g granulated white sugar (make sure it's vegan!)
¼ cup / 80g coconut oil
1¼ cups / 300ml plant-based milk (I used unsweetened coconut-rice milk)
frying oil
powdered sugar
Instructions
Heat the plant-based milk and coconut oil in a small pot until the coconut oil melted, then let it cool down to body temperature (it shouldn't feel too warm). If the mixture is too hot, you'll kill the yeast and the dough will not rise.
Combine flour and sugar in a large mixing bowl, make a well in the middle, pour in the dried yeast. Then add a bit of the cooled down oil and milk mixture. Let it sit for about 10 minutes, until the yeast is bubbly. Then add in the the rest of the milk and oil mixture and knead (or let the kitchen machine knead it) until a smooth dough forms (if it's sticky, add more flour). Cover the bowl with a clean kitchen towel and let it rise for about 2 hours until the dough doubles in size.
Roll out the dough on a lightly floured surface to about ½-inch thickness. Use a cookie cutter to cut out the stars. Let them rest again for about half an hour.
Prepare your frying oil and fry the donut stars on each side until golden brown.
Transfer them on a paper towel to remove excess oil.
Dust with powdered sugar before serving and enjoy!
If you give these Powdered Sugar Snow Star Donuts a try I'd love to hear how they turned out for you! Leave a comment or post a picture on instagram, use the hashtag #elephantasticvegan and tag me via @elephantasticvegan to make sure I'll see it ^.^ I love to see all your lovely creations! Thanks! <3