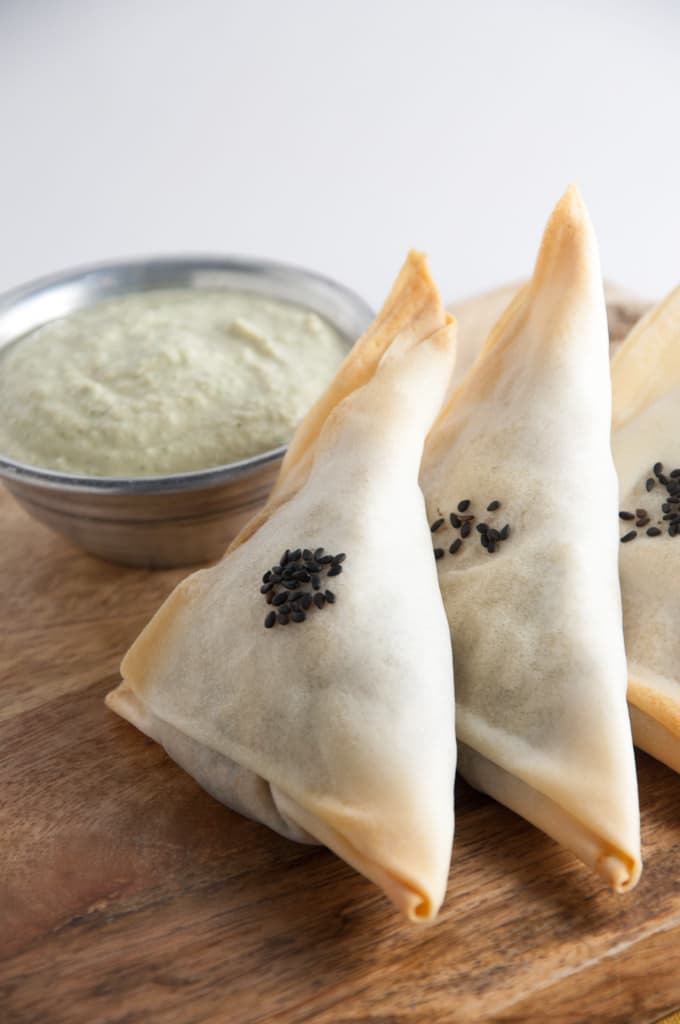 Samosas are little pastries with a savoury filling. They are typically fried, but I'm not a big fan of frying at home, so I opted for a baked version. There are also different forms and folding techniques, so you don't have to necessary stick to the one I've used, but if you want to, I've included a little video of how I folded them below. The black sesame seeds are completely optional, but if you want to make samosas with different fillings, you can mark them with black and/or white sesame seeds or sunflower seeds, so you'll know which ones are which. I filled my baked samosas with potatoes and spinach – classic combo.
Samosas are usually served as an entrée, appetizer or snack, which makes them perfect to serve at parties as well. Looking for more crowd-pleasing party ideas? You definitely want to check out this post > 12 Vegan Drinks & Eats for your next Party <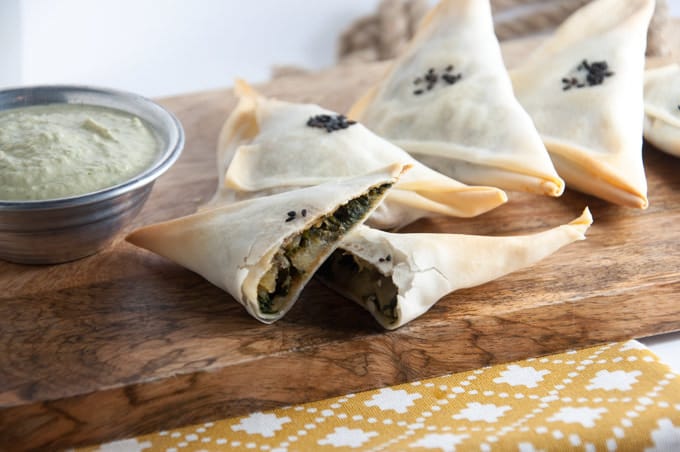 How to fold samosas
I made a little video to show how the samosas were folded. It's kind of difficult to explain with words, so seeing it will hopefully clear things up.
I've served them with this vegan Cilantro Lemon Sunflower Seed Dip and the combination was exceptional. I can only recommend making that dip as well!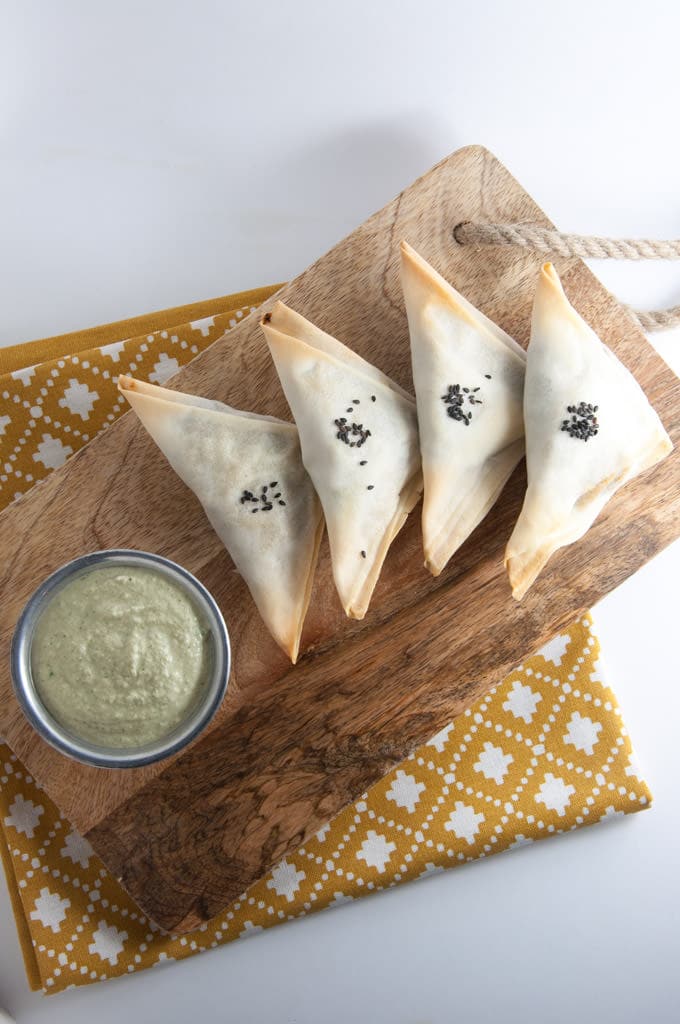 Baked Samosas filled with potatoes and spinach (vegan)
Recipe for vegan, baked Samosas filled with potatoes and spinach. Spring Roll Wrappers are used for the samosas and they are a served with a creamy Cilantro Lemon Dip.
Author:
Elephantastic Vegan
Ingredients
18 spring roll wrappers*
water for sealing the wrappers
olive oil for brushing the samosas
black sesame seeds (optional)**
Ingredients for the filling:
2½ cups chopped potatoes
2 red onions, chopped
1½ cups fresh spinach
½ teaspoon salt
¼ teaspoon curry powder
1 teaspoon olive oil
Instructions
First prepare the filling:
Put the chopped potatoes in a large saucepan and add about ¾ cup of water. Let it cook on medium heat (lid on the pan) until the potatoes are soft and the water has evaporated. If the potatoes are not soft enough and the water is gone, add more water and let it cook further.
Once the potatoes are soft, add the olive oil and chopped onions. Let it cook until the onions are golden-brownish. Reduce the heat and add the fresh spinach. Once the spinach wilted, season the filling with salt and curry powder. Let the filling cool off before filling them in the wrappers!
Assembling the samosas:
Pre-heat the oven to 400°F / 200°C.
Prepare your work station. You'll need the spring roll wrappers, a small bowl with water and the filling, olive oil for brushing the samosas, black sesame seeds (optional) and the baking sheet.
Fold the spring roll wrapper in half (seal it with water), fold a cone, insert the filling and close the filling, sealing it with water so it stays closed. (Watch the video in the post for better folding instructions!)
Brush the samosas with olive oil, add the black sesame seeds on top and bake them in the oven for about 15 to 20 minutes - until the sides are golden and crispy.
Serve with a homemade Cilantro Lemon Dip, for example, and enjoy.
Notes
*Make sure they're vegan. I've used frozen Spring Roll Wrappers and kept them in a damp towel when thawing to prevent them from getting too dry.
**If you make samosas with different fillings, you can mark them with black and white sesame seeds.
If you give these baked Samosas a try I'd love to hear how it turned out for you! Leave a comment or post a picture on instagram, use the hashtag #elephantasticvegan and tag me via @elephantasticvegan to make sure I'll see it ^.^ I love to see all your lovely creations! Thanks! <3