I couldn't be more excited to let you know that 'The Veginner's Cookbook – The Ultimate Starter Guide for New Vegans and the Veg-Curious' is up for pre-order! Read more about it ↓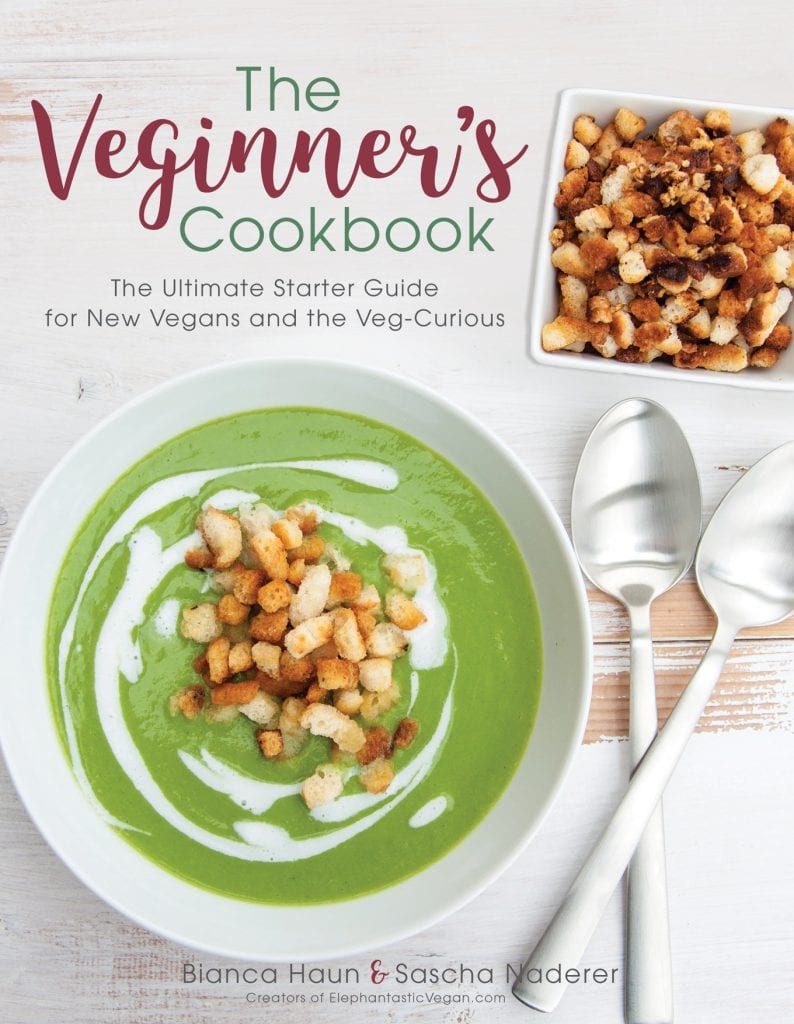 How to Preorder your copy today + get the Preorder Bonus eBook for free!
The Veginner's Cookbook comes out on 16 January 2018. You can preorder the cookbook on
Pre-order Bonus eBook: Have you preordered the book already? Then fill out this short form and claim your free bonus eBook! This Bonus eBook includes 5 exclusive recipes that you won't find anywhere else. These meals are easy to make and great to pack for work, school or university.
So what's in the book?
The Veginner's Cookbook is so much more than just a cookbook. It's the perfect guide for new vegans and the veg-curious, including a variety of kitchen hacks and articles that will help you make the switch!  
Our book includes:
75+ veginner-friendly and well-tested recipes (80% are exclusive, never-seen-before recipes) 

from all categories, such as basics, breakfast foods, soups, main meals, breads, snacks and party foods, sauces and dressings and of course: desserts.

Bianca's Kitchen Hacks

helps you find out some tricks and shortcuts for the vegan cook. Cooking is not your strong suit? That's okay, articles such as 'How to spot the perfectly ripe avocado' and 'How not to explode soup all over your kitchen when mixing hot liquids in a blender' are here to help!

Sascha's Landmine Situations are little guides to help you through your first steps of veganism. Snarky comments by coworkers? Look up 'at the workplace'. Nagging parents? Check out 'when visiting relatives'. Broke? 'How to be vegan on a budget' has got you covered!
A list of essential pantry, freezer and fridge staples for new vegans
Helpful articles for Veginners, such as 'How to avoid disputing your dietary preferences' or 'Substitutes that will make you forget about non-vegan food'.
Vegans are often bombarded with the same questions and arguments over and over again:
Are you really a vegan if you buy vegan cheese and meat alternatives?
We are carnivores, we're at the top of the food chain. We need protein to survive. It's only natural!
You can't change the world all by yourself, can you?
I get that you avoid meat, but milk and eggs?
I could never go through with this.
But how do you respond to that? We've covered all of these points in the How to answer to skeptics chapter.
Here's a sneak peek
What do others say about the book?
"These very impressive and most importantly, easy vegan recipes by Bianca and Sascha will have you returning to this book over and over again. Say yes to chocolate-covered almond cake, African peanut stew, three-ingredient caramel sauce, and so much more!" ―Chloe Coscarelli, bestselling author of Chloe's Kitchen and first vegan winner of Food Network's Cupcake Wars
"The Veginner's Cookbook is truly the perfect book for new vegans or those thinking of transitioning. Bianca and Sascha have created a wonderful resource of tips and guidance on being a new or transitioning vegan, as well as delicious and incredibly easy recipes. They have made it so simple and not at all intimidating. Veganism has never been easier with their book!" ―Brandi Doming, creator of TheVegan8.com
I hope you'll enjoy the book as much as I did writing it! Thank you so much for continued support. The cookbook would have never been possible without my blog readers. <3
Cheers,
Bianca
Affiliate Disclosure: This post contains affiliate links. If you click on a link and buy something I will get a small percentage. This helps me produce more great content and recipes.