With only 4 ingredients you can make tasty little treats for your furry friend! Dogs love these Peanut Butter Dog Treats! They are vegan, gluten-free and quick & easy to make!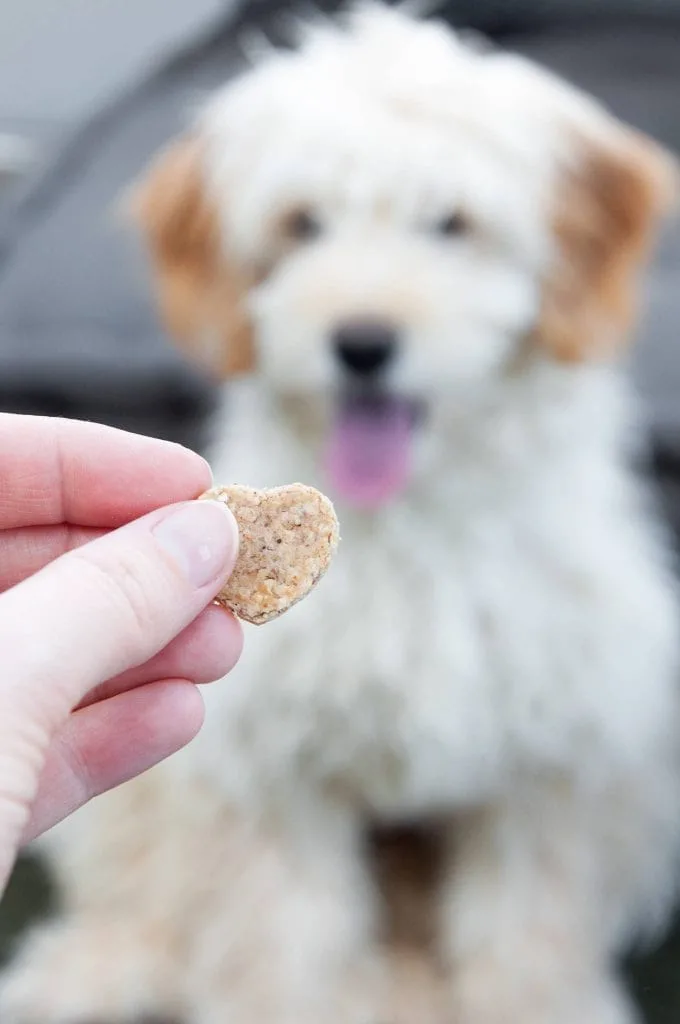 Meet Miso
In February 2018, my boyfriend and I finally adopted a dog! We have been wanting to get a dog for so long, but when I found him through an animal rescue site, I knew he's the one. And we didn't hesitate.
We named him Miso! He was five months old when we got him and he's the cutest dog ever. He was terribly frightened at the beginning, but only after a couple of hours with him, he was ready for play and belly rubs. He LOVES food and sleeps and he rather stays in than to go outside – I couldn't have found a better friend! :D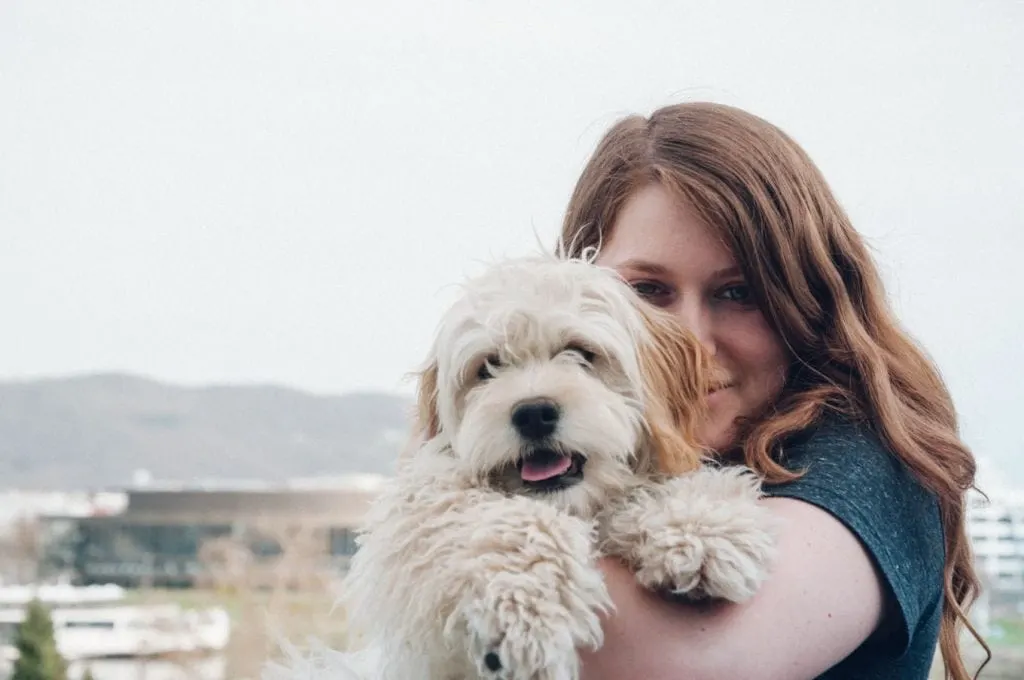 Peanut Butter Dog Treats
I love making homemade treats for Miso. And he loves them as well. I've made so many batches of these Peanut Butter Dog Treats already! We're using them as treats for training and in difficult situations where he doesn't feel too comfortable (e.g. when we are using the public transport or the vet). These are his super special treats! If he only knew how easy they are to make :)
These Peanut Butter Dog Treats are made with only 4 ingredients:
oat flour
cinnamon powder
peanut butter
water
They are vegan and gluten-free. It takes about 30 minutes to make them from start to finish.
I'm no expert in dog nutrition, so I googled all the ingredients to make sure the treats are safe for dogs.
Oat flour: Oat flour is often used in dog treats. It's also a great alternative if your dog is sensitive to gluten. You can buy oat flour or make your own by pulsing rolled oats in a blender until it's a fine flour. I always make my own oat flour because rolled oats are much cheaper than oat flour.
Cinnamon powder: Cinnamon powder is not only safe for dogs, but it also helps with bad breath, contains antioxidant and anti-inflammatory properties and can help counteract the effects of diabetes. Of course, spices should be used only in small quantities. Thanks to a pinch of cinnamon powder, these cookies smell amazing for dogs (and dog owners!).
Peanut Butter: I think it's a proven fact that all dogs love peanut butter. Peanut Butter makes these cookies irresistible for our furry friends. It's best to use peanut butter made from 100% peanuts – no additives, sugar or other ingredients. Definitely, make sure there's no birch sugar/xylitol sweetener in the peanut butter as it is toxic to dogs.
Water: Water and peanut butter hold the dry ingredients together. You might have to use a bit more or less water to get a smooth non-sticky dough.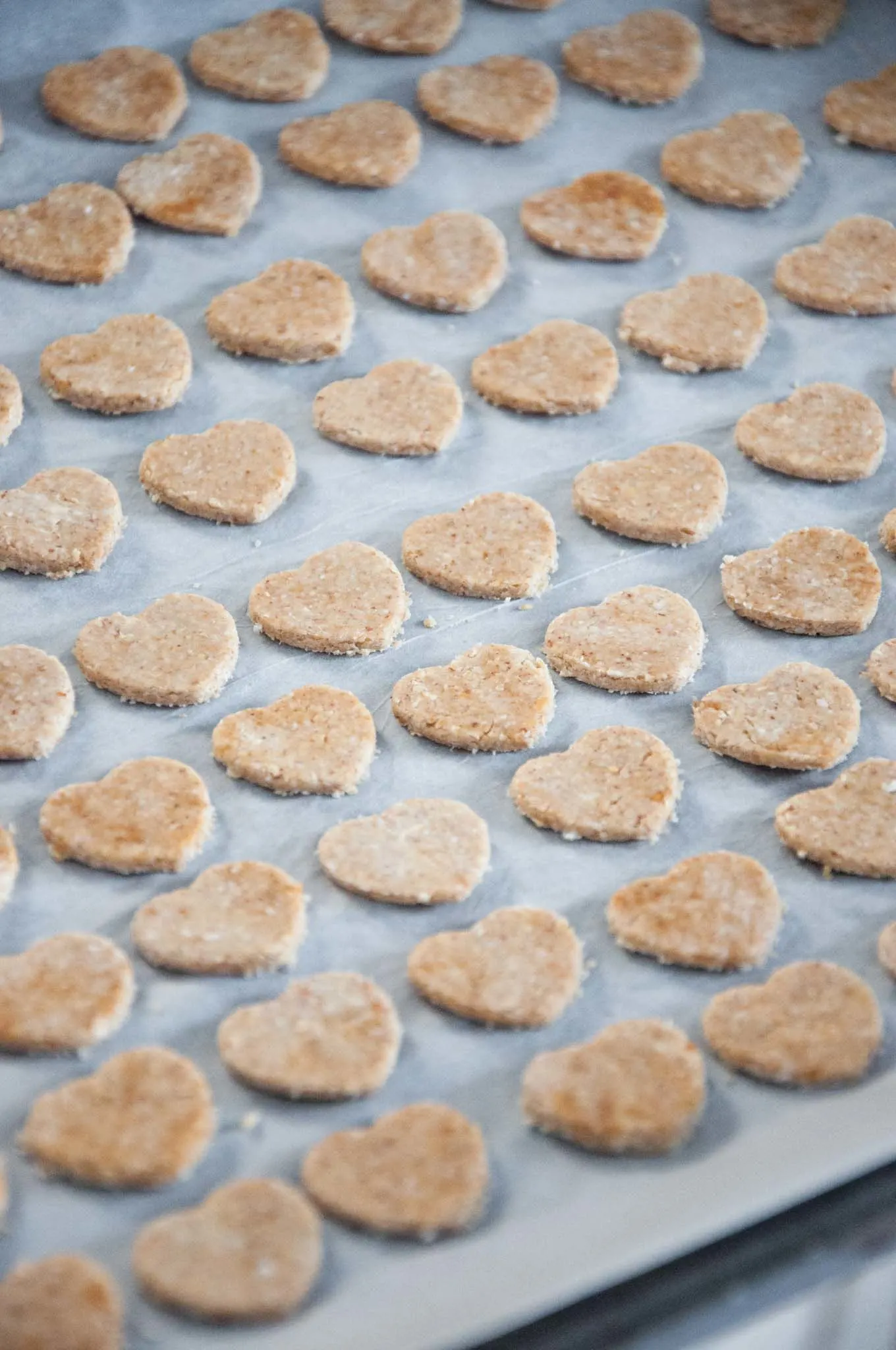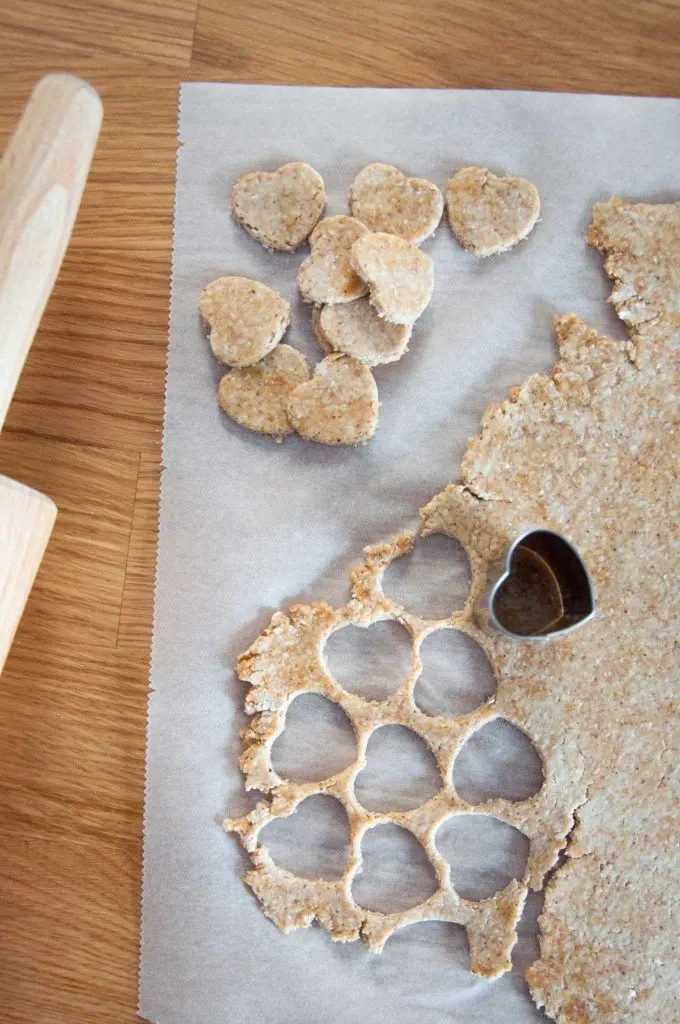 I bought a couple of smaller cookie cutters (for a previous recipe but I never ended up using them for that) and they are the perfect size for these dog treats!
This recipe makes a whole baking tray of cookies (about 90 cookies!). Of course, if you use a larger cookie cutter, you'll have fewer cookies.
If you want to skip the cookie-cutting process, you can use a pizza cutter to cut them into crackers. The good thing is, that you can make smaller cracker sizes for puppies and small dogs, or larger ones if you have a larger dog. And of course, this is much faster than cutting out the dog cookies.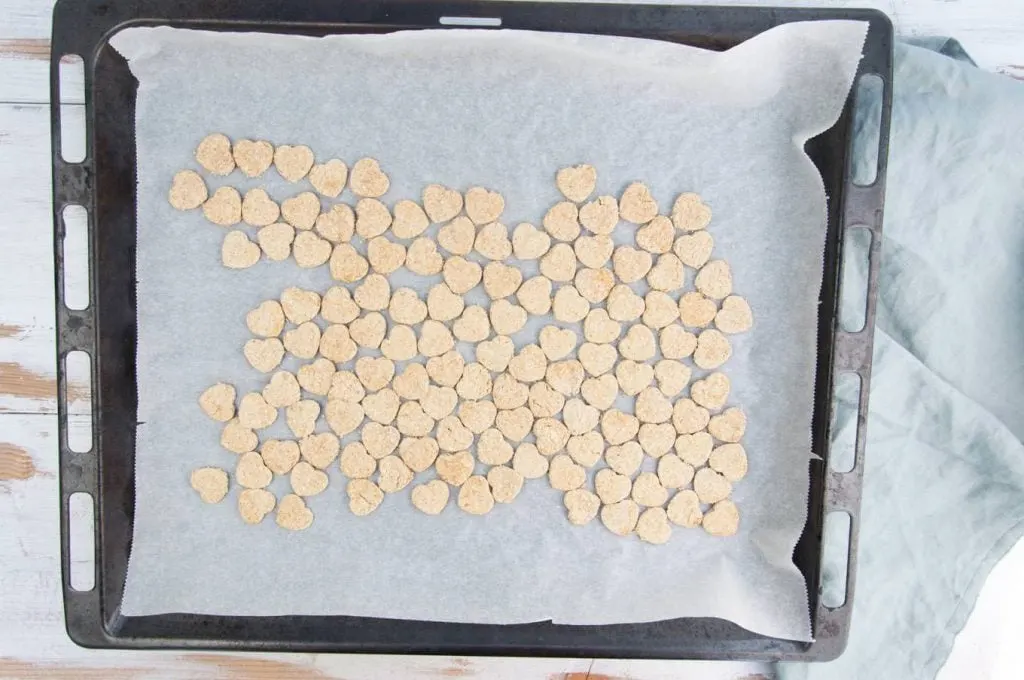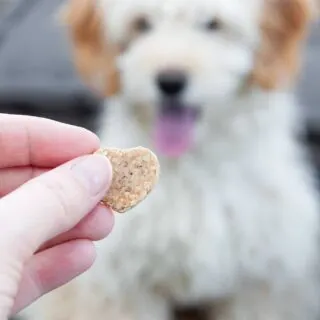 Peanut Butter Dog Treats
With only 4 ingredients you can make tasty little treats for your furry friend! Dogs love these Peanut Butter Dog Treats! They are vegan and glutenfree.
Ingredients
1

cup

oat flour

*

1

pinch

cinnamon powder

1

tablespoon

smooth peanut butter

(make sure it's peanut butter with no additives or sugar)

1/3

cup

water
Instructions
Preheat the oven to 360°F/180°C.

Combine the oat flour and cinnamon powder. Add in the peanut butter and water. Stir to combine and knead the ingredients into a dough with your hands until it sticks together. If it's too crumbly, add more water. If it's too sticky, add more flour.

On a lightly floured parchment paper, roll out the dough. Cut out the individual cookies with a cookie cutter (or use a pizza wheel to make them cracker-sized if you don't have any cookie cutters).

Bake them in the oven for 10-12 minutes. They should be baked all the way through and crispy. Let them cool off before feeding them to your dog!
Notes
* You can easily make your own oat flour! Add rolled oats in a blender and pulse until fine!
Storage: You can store these in an air-tight container at room temperature for up to a week or even longer! But let them cool off completely before packing them away.
Nutrition
Calories:
6
kcal
Sodium:
1
mg
Potassium:
6
mg
Calcium:
1
mg
Iron:
0.1
mg
Affiliate Disclosure: This post may contain affiliate links, which means I may earn referral fees if you make a purchase through my link. While clicking these links won't cost you any extra money, they will help me keep this site up and running!