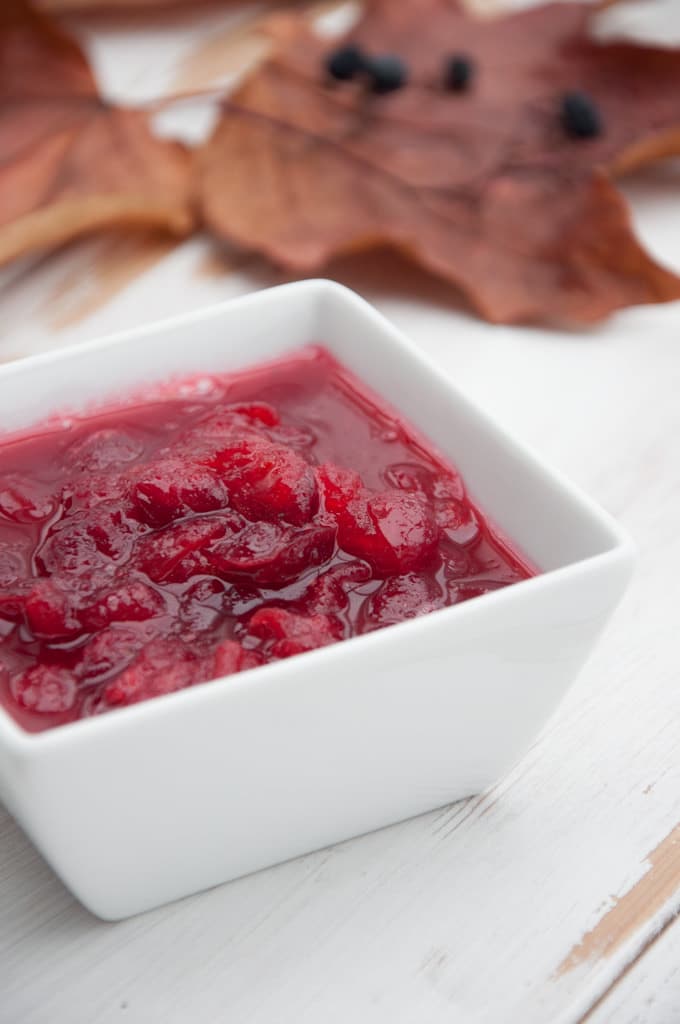 In Austria (where I am from), we don't celebrate Thanksgiving, but this  certainly does not keep me from celebrating with my US readers. My boyfriend and I have started to make our own small Thanksgiving celebrations a few years ago. And while it's mostly about the food for us (who can say no to huge thanksgiving feasts?!), we appreciate having a good reason to go a bit overboard with the food.
And what would a Thanksgiving feast be without from-scratch Cranberry Sauce? A pretty sad dinner, I'd say! And the sauce is too easy, not to make it, so let's get started!
For this super simple, vegan Cranberry Sauce you only need 3 ingredients: Fresh cranberries, sugar and blood orange juice. Instead of the blood orange juice, you could also use regular orange juice, but I prefer this version much more, because it's not THAT orange-y tasting and it complements the flavors of the fresh cranberries perfectly. So yeah, this is my spin on from-scratch Cranberry Sauce. I hope you like it!
Easy 3-Ingredient Cranberry Sauce Recipe Video
Easy 3-ingredient Cranberry Sauce
Recipe for an easy, 3-ingredient Cranberry Sauce made from scratch with fresh cranberries. Perfect addition for any thanksgiving dinner!
Author:
Elephantastic Vegan
Ingredients
1½ cups fresh cranberries
¼ cup white sugar (make sure it's vegan as some US companies use bone char filters)
¾ cup blood orange juice (juice can be non-vegan as well, make sure you use a brand that does not use gelatin for filtering)
Instructions
In a medium pot, heat the blood orange juice and white sugar on medium-high heat until it dissolved. Bring it to a boil.
Add in the fresh cranberries. Let it cook for about 10-15 minutes (with the lid off, so the juice can cook down)
Once the cranberries are soft and broken apart, let the sauce cool down. It will get thicker then.
If you give this simple 3-ingredient Cranberry Sauce a try I'd love to hear how it turned out for you! Leave a comment or post a picture on instagram, use the hashtag #elephantasticvegan and tag me via @elephantasticvegan to make sure I'll see it ^.^ I love to see all your lovely creations! Thanks! <3