These vegan Pistachio Rosewater Cookies smell and taste like roses! They are super romantic and perfect for Valentine's Day. Surprise your loved ones with these flowery smelling vegan cookies :)
The goal for these cookies was to create them completely in the food processor for two reasons: 1) the convenience of simply adding the ingredients to the food processor, chop, chop and ready is the cookie dough and 2) who likes to do the dishes?! hah, thought so!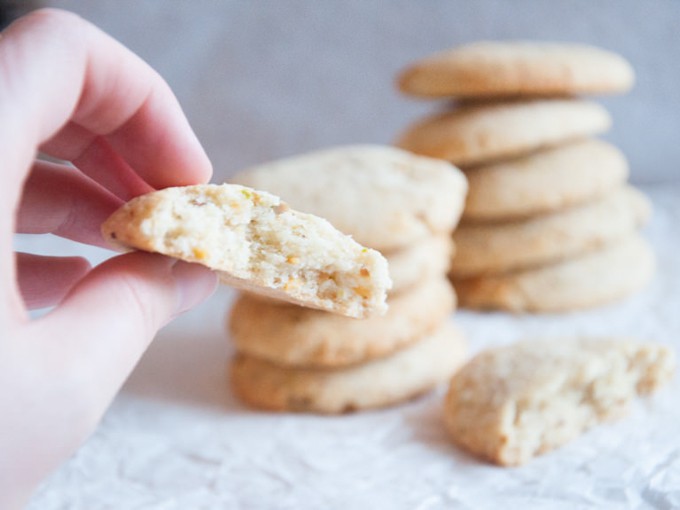 Pistachio Rosewater Cookies
Recipe for vegan Pistachio Rosewater Cookies. They smell and taste like roses. They are completely made in a food processor - so super easy and fast!
Author:
Elephantastic Vegan
Ingredients
¼ cup / 60g vegan butter (EarthBalance, Alsan,...), cold
⅓ cup / 65g Dextrose*
2 tablespoons / 50g Organic Rice Syrup**
½ teaspoon / 3g baking powder
1¼ cup / 150g all-purpose-flour
2 tablespoons / 20g pistachios, shelled
3 teaspoons / 15ml Rosewater
Instructions
Pre-heat the oven to 350°F / 180°C.
Place the pistachios in the food processor and chop until broken up, take them out and set them aside.
Place the butter in the processor and process. Add in flour, baking powder, dextrose and process again. Add in the rice syrup and rosewater until it's a smooth dough. Lastly add in the chopped pistachios and process until they're fold into the dough.
Form the dough in little balls and press them flat on a baking sheet.
Put the cookies in the oven for about 15 minutes until they start to get a golden color.
Let them cool off before eating and enjoy.
Notes
*I've used Dextrose in this recipe which is a fructose-free sugar, but you can sub it with your preferred granulated sweetener.
**Instead of Rice Syrup you can use any liquid sweeteners like agave syrup or maple syrup.
Should you decide to give these vegan Pistachio Rosewater Cookies a try I'd love to hear how it turned out for you! Leave a comment or post a picture on instagram, use the hashtag #elephantasticvegan and tag me via @elephantasticvegan to make sure I'll see it ^.^ I love to see all your lovely creations! Thanks! <3