The city of Warsaw is a vegan paradise right in the middle of Europe! Who would have guessed?! I just got back from my trip and now I'm sharing my favorite restaurants with you!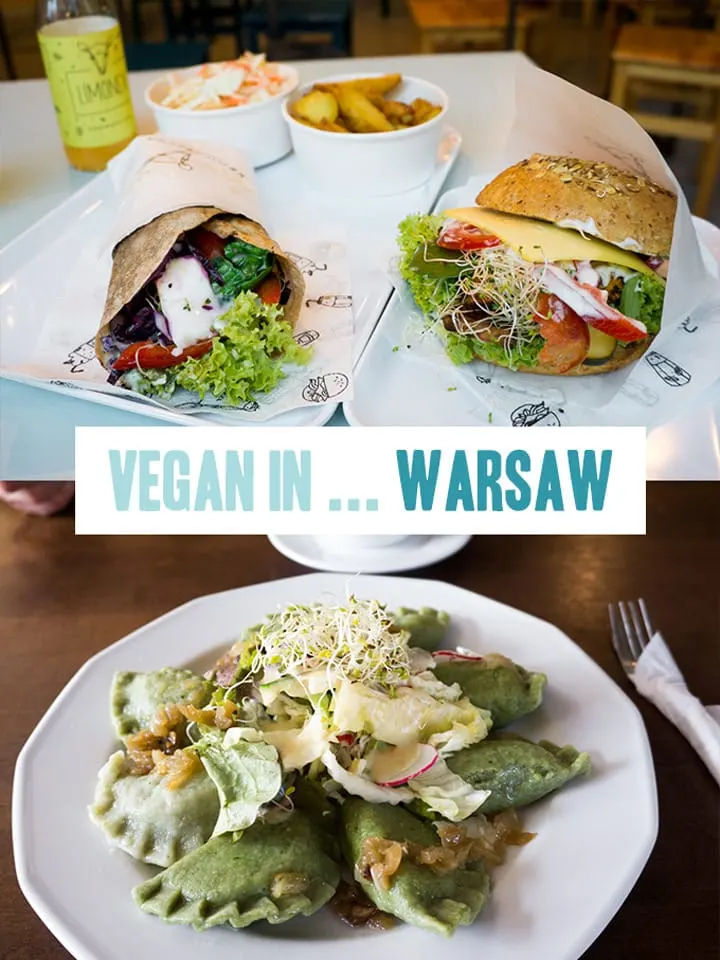 Vegan in … is a series of posts on Elephantastic Vegan where I write about my vegan travelling experiences. I love to travel especially to larger cities, rather than spending my days on the beach at some resort, but finding restaurants with vegan options in a foreign city isn't always that easy. With this post, I want to show you awesome places to eat for your next trip to Warsaw in Poland!
It's never a bad idea to use HappyCow to get a neat overview of your vegan eating possibilities. According to the app, there are 47(!!!) vegan restaurants in Warsaw.
My Favorite Vegan Restaurants in Warsaw
Lokal Dela Krem
Hoża 27a, Warsaw, Poland
Website
Lokal Dela Krem is a vegan bakery opening at 9 am (10 am on weekends) – so perfect for breakfast! I had the sandwich with tempeh and vegan mayo two times during my stay in Warsaw – delicious! All of the cakes and pastries we tried (and we tried quite a lot of them!) were super tasty!
Krowarzywa
Hoza 29/31, Warsaw, Poland
Website
Krowarzywa is a vegan burger chain with multiple locations in the centrum of Warsaw. You can create your very own burgers, wraps, and salads by choosing all the ingredients (tofu, millet patties, seitan, etc.), add-ins (like vegan feta, vegan cheese, etc.) and dips (dill, wasabi, mayo, etc.). The vegan feta is AMAZING. Actually, the combination of vegan seitan pastrami and vegan feta was my favorite! And we really loved the wasabi dip for the fries!
Mango Vegan Street Food
Bracka 20, Warsaw, Poland
Website
If you're in the mood for hummus, falafel, pitas, Mango Vegan Street Food is where you want to go! We shared a huge platter of 4 kinds of dips (including hummus, baba ganoush), falafel, avocado, and pita. It's the perfect snack!
Vege Miasto
Solidarności 60a, Warsaw, Poland
Website
On our way from the old town back to the centrum, we stopped at Vege Miasto for pierogis (polish dumplings). They offer lots of traditional polish food! This was something I was looking forward to a lot and they did not disappoint. Although the spinach and tofu filling could have used a bit more salt, the pierogis were delicious!
Youmiko Vegan Sushi
Hoza 62, Warsaw, Poland
Website
I saved the best for last. Youmiko Vegan Sushi was our FAVORITE vegan restaurant in Warsaw. My travel partner and I, both opted for the degustation menu. All of the sushi was insanely creative, tasted absolutely amazing, and the sweet sushi for dessert (a tofu pouch filled with rice and a fruit medley) was the perfect finish. Not only the sushi was mind-blowing, but the whole atmosphere, the kind staff, added to the perfect sushi experience. Go there!
Tell me: Have you ever been to Warsaw? Do you have any additional vegan-friendly restaurant tips? I'd love to know in the comments!