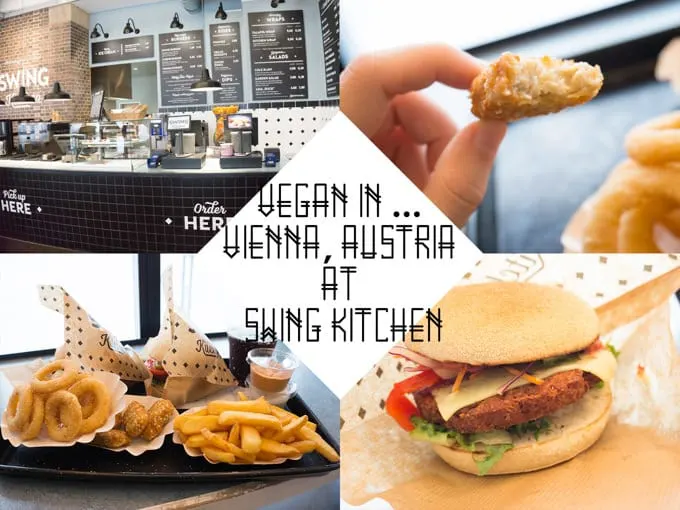 Since the launch of the all-vegan burger place Swing Kitchen in Vienna last year I've been dying to try it out. Jealously I've been envying anyone who posted photos of their burgers from Swing Kitchen – and now, after a few months of wait, my boyfriend and I finally decided that it was time. Burger time! We hopped onto the train and made a short trip to Vienna.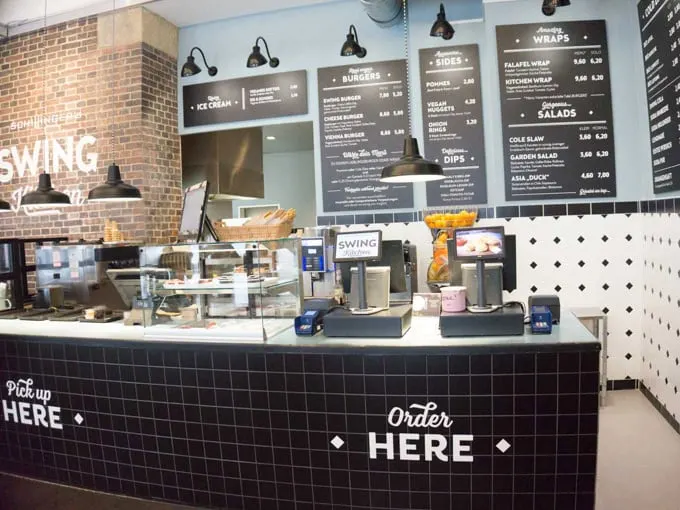 The interior of the restaurant is wonderfully designed. Everything – the music, the menu, the decor fits together just right. We went there in the early afternoon and were lucky enough to get a table. They offer burgers, sides, wraps, salads and desserts and everything is vegan – how cool is that?!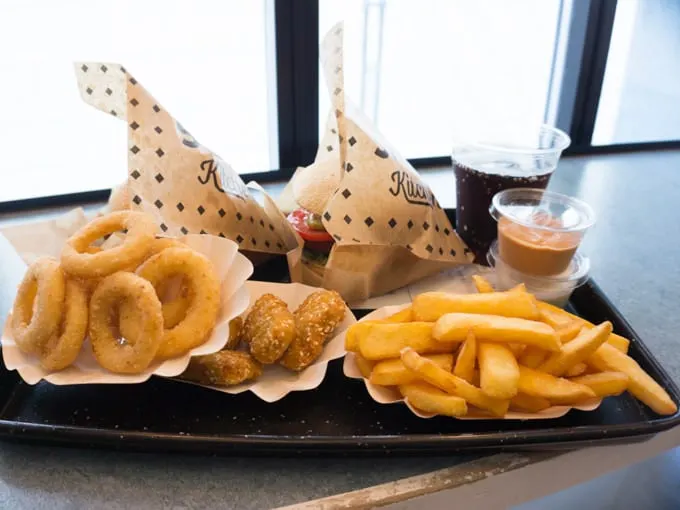 Here is what we ordered: The Swing Burger and the Cheese Burger, onion rings, vegan nuggets, fries, a bbq-dip & garlic dip and a drink. We paid 22€, which is very reasonable priced, because the portions were huge and super satisfying. The plastic is not real plastic, but made out of corn starch, it's biodegradable – which makes the whole concept of the Swing Kitchen even more lovable.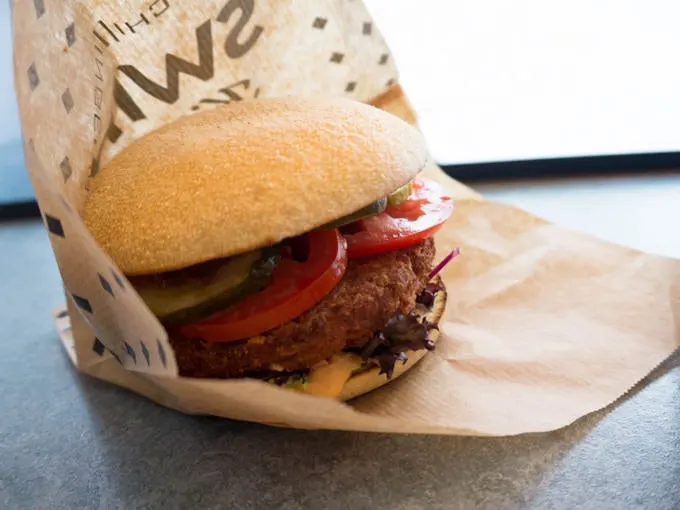 The Swing Burger is filled with a soy patty, fried onions, pickled cucumber, salad, tomato slices and their signature sauce.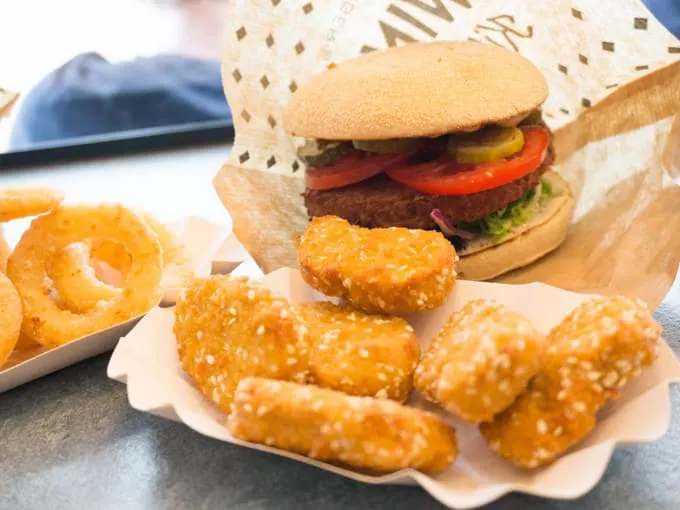 The vegan nuggets are coated with breadcrumbs and white sesame seeds. They were absolutely delicious.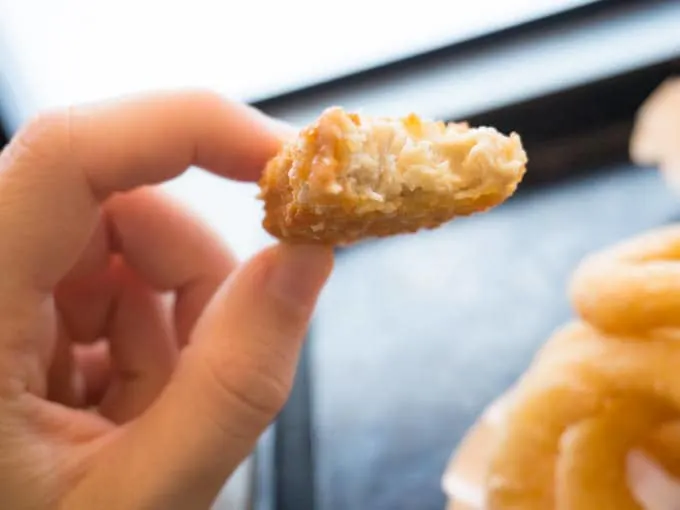 Especially the structure and consistency were amazing and far better than expected. I've never had vegan nuggets that tasted that real to "real chicken nuggets".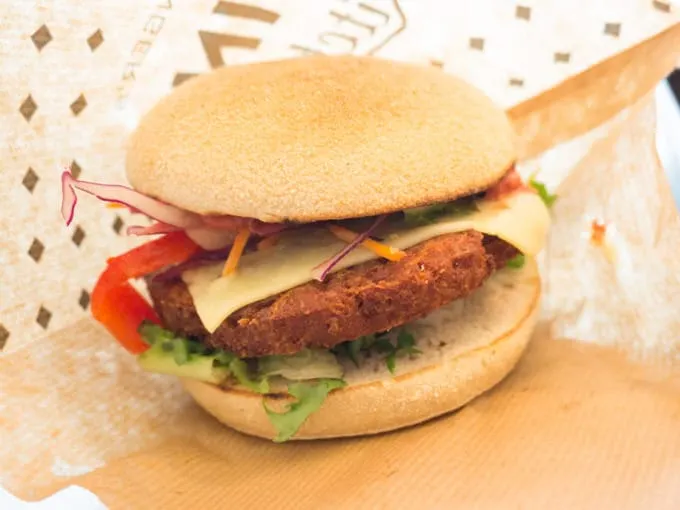 The Cheese Burger is filled with the same soy patty (as in the other burger), vegan cheese, salad, a red chili-tomato sauce, red onion, carrots, paprika and red cabbage. It was amazing! My boyfriend chose the Cheese Burger and I ordered the Swing Burger, but after trying both we decided that we liked each other's burger more and swapped. Ha, what a great deal! They are both super tasty and delicious – I've never had better vegan burgers in my life. There wasn't a single thing to complain about.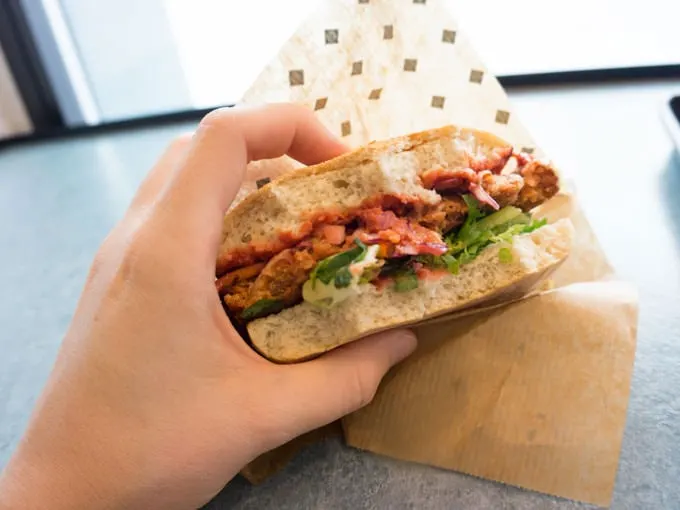 What I loved about the Swing Kitchen from the beginning was that they have a neat menu with 3 burgers and those are amazing. They've put a lot of effort into the composition of the burgers and that's something you can taste and see when you have them in front of you. They are well crafted and beautifully designed – from the outside and the inside. The red sauce in the cheese burger makes it look very real and "bloody".
Of course I couldn't leave without getting dessert. I opted for the cheesecake which I got to take-away because I was too full to eat it but it was a delicious treat once I was back home. It was so good and the ideal finisher for an awesome day.
I'll definitely visit again and I'm already planning my next trip to Vienna. So should you visit Vienna, make sure you get your vegan burger fix at Swing Kitchen!
Swing Kitchen
Website
Opening hours: 11am-10pm
Address: Schottenfeldgasse 3, 1070 Wien