Prague is such a great city for vegans! In this post, you'll find all the vegan restaurants I visited during my trip. Don't forget to try vegan trdelnik (chimney cake) and traditional Czech dishes!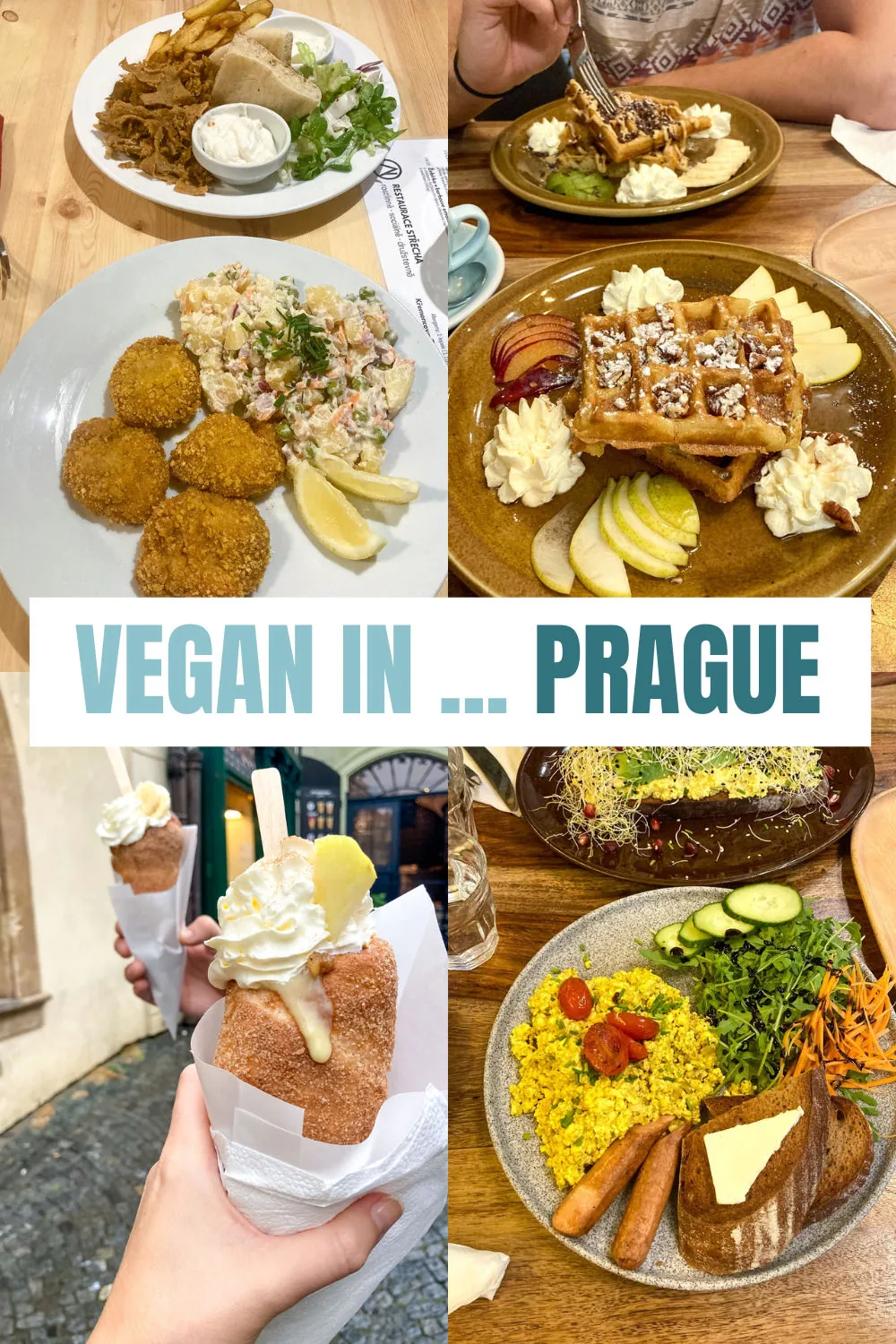 Vegan in … is a series of posts on Elephantastic Vegan where I write about my vegan travelling experiences. I love to travel especially to larger cities, rather than spending my days on the beach at some resort, but finding restaurants with vegan options in a foreign city isn't always that easy. With this post, I want to show you awesome places to eat for your next trip to Prague in the Czech Republic!
It's never a bad idea to use HappyCow to get a neat overview of your vegan eating possibilities. According to the app, there are 49(!!!) vegan restaurants, cafés, and bistros in Prague.
But before we get started with the food, a little bit of sightseeing.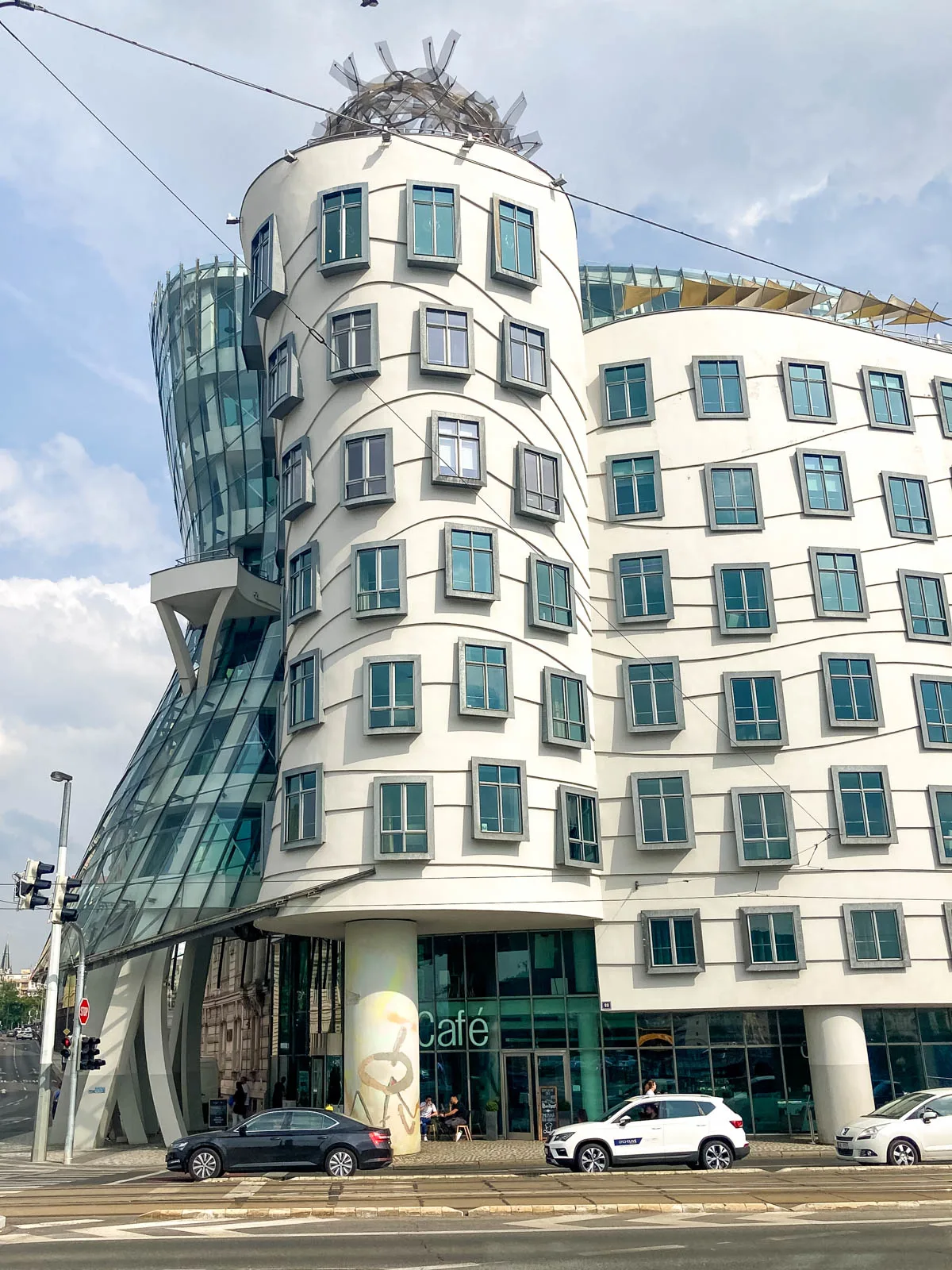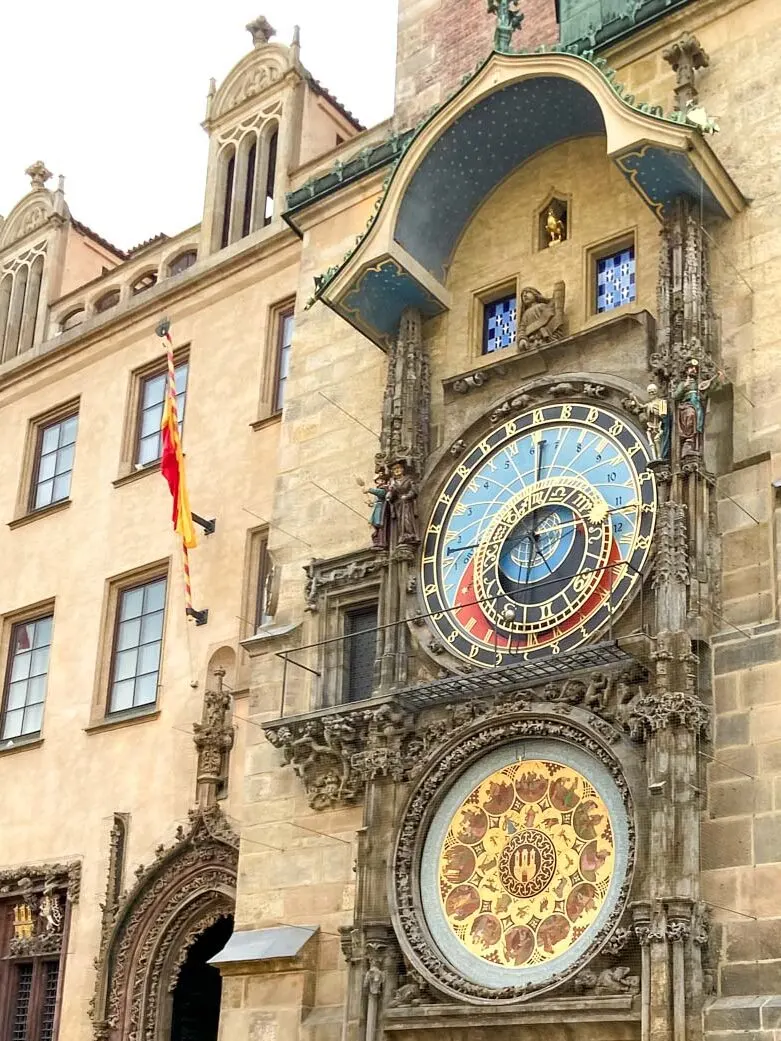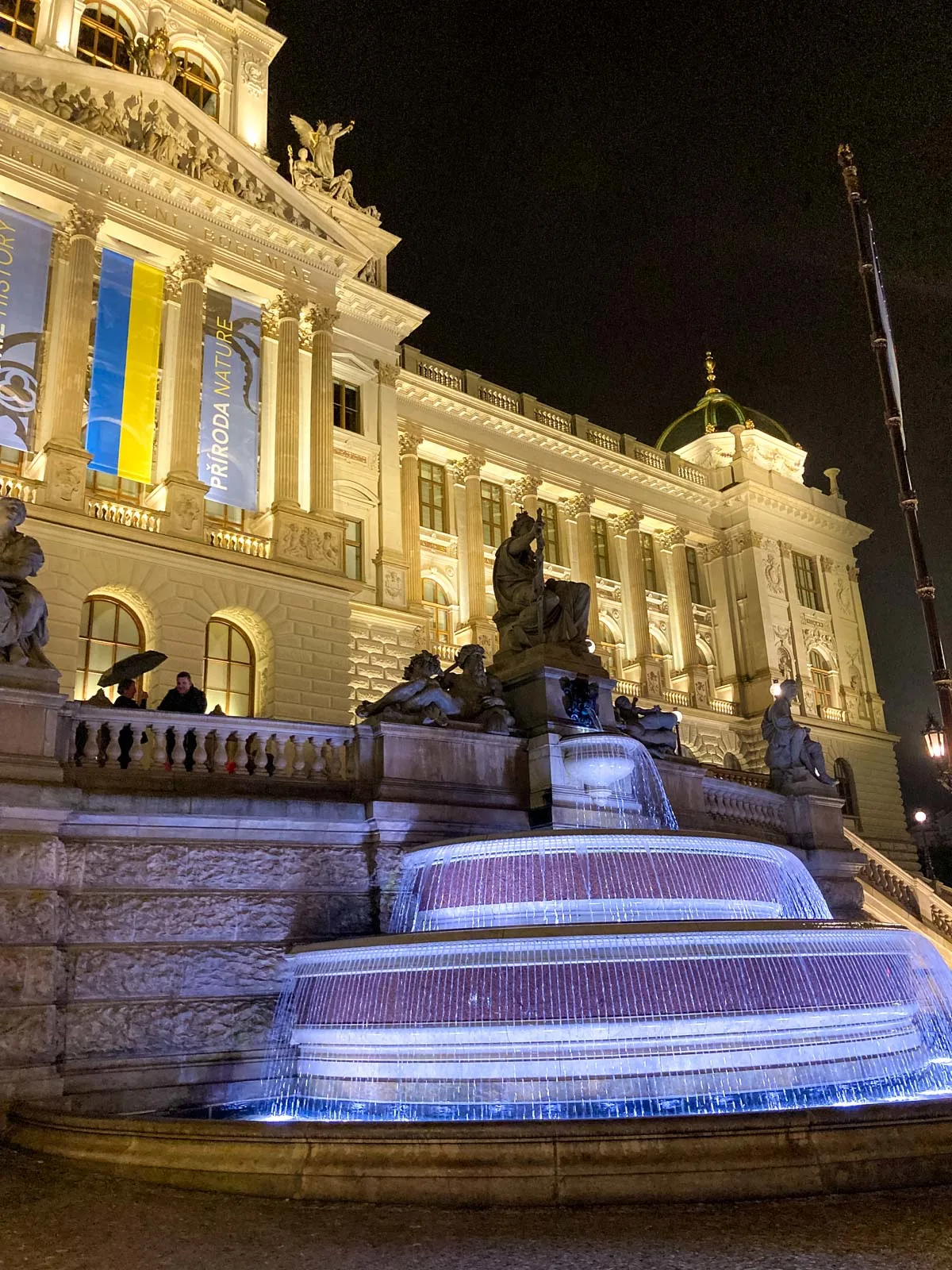 My Favorite Vegan Restaurants in Prague
Palo Verde Bistro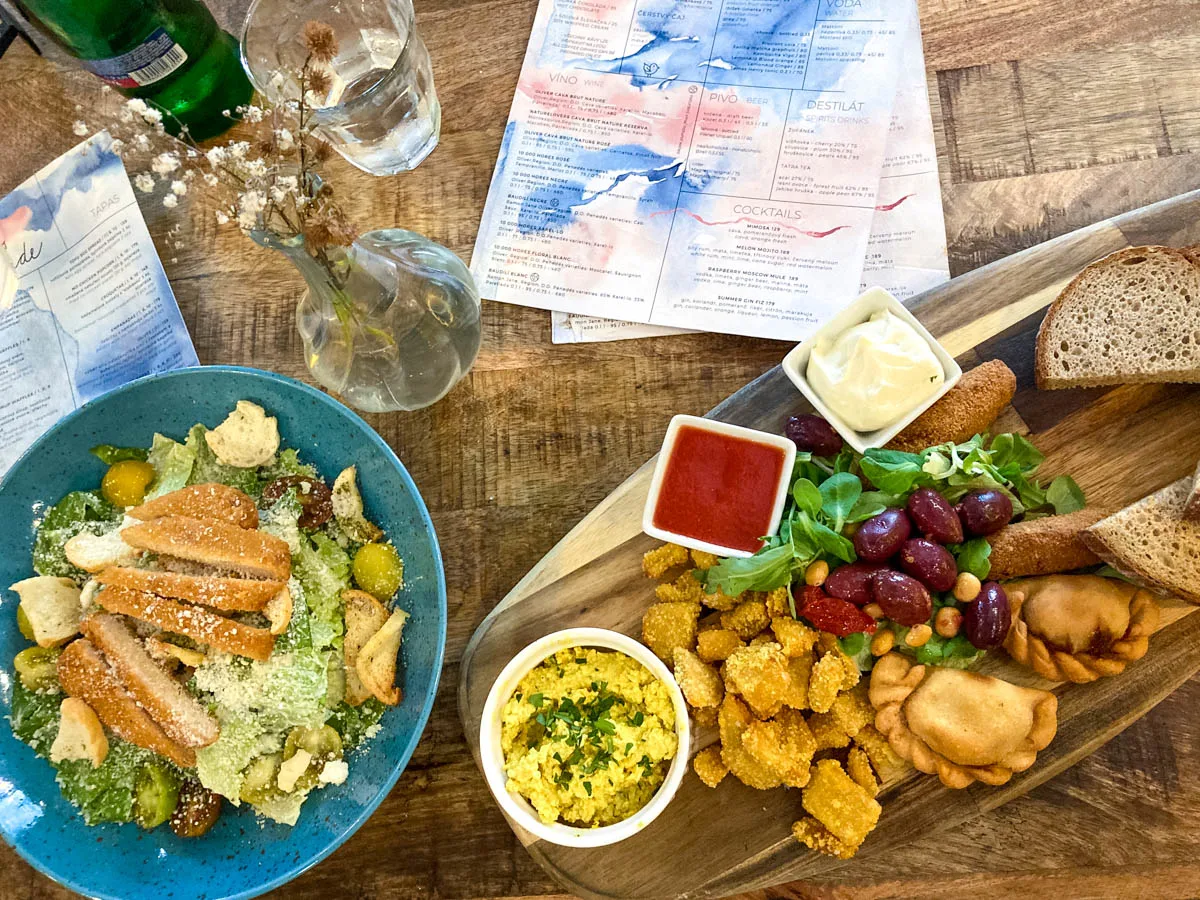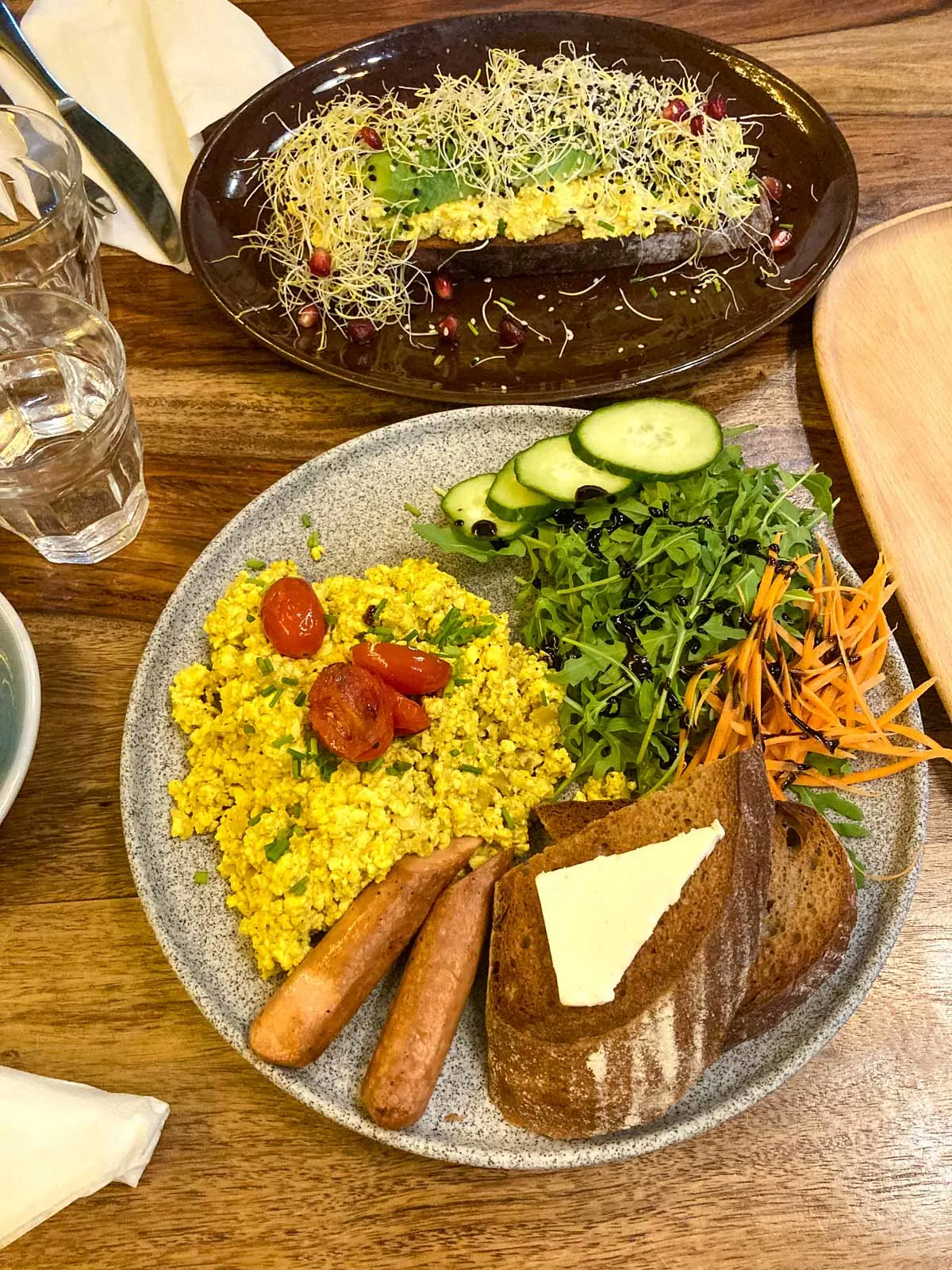 Žitná 45, 110 00 Nové Město, Czechia
During our 3-day visit to Prague, we went to Palo Verde Bistro thrice. Once for lunch and twice for breakfast (which was really convenient because it was close to our hotel). Everything I ate there was delicious. My favorites were definitely the tapas platter and the waffles! Highly recommended!
Mooi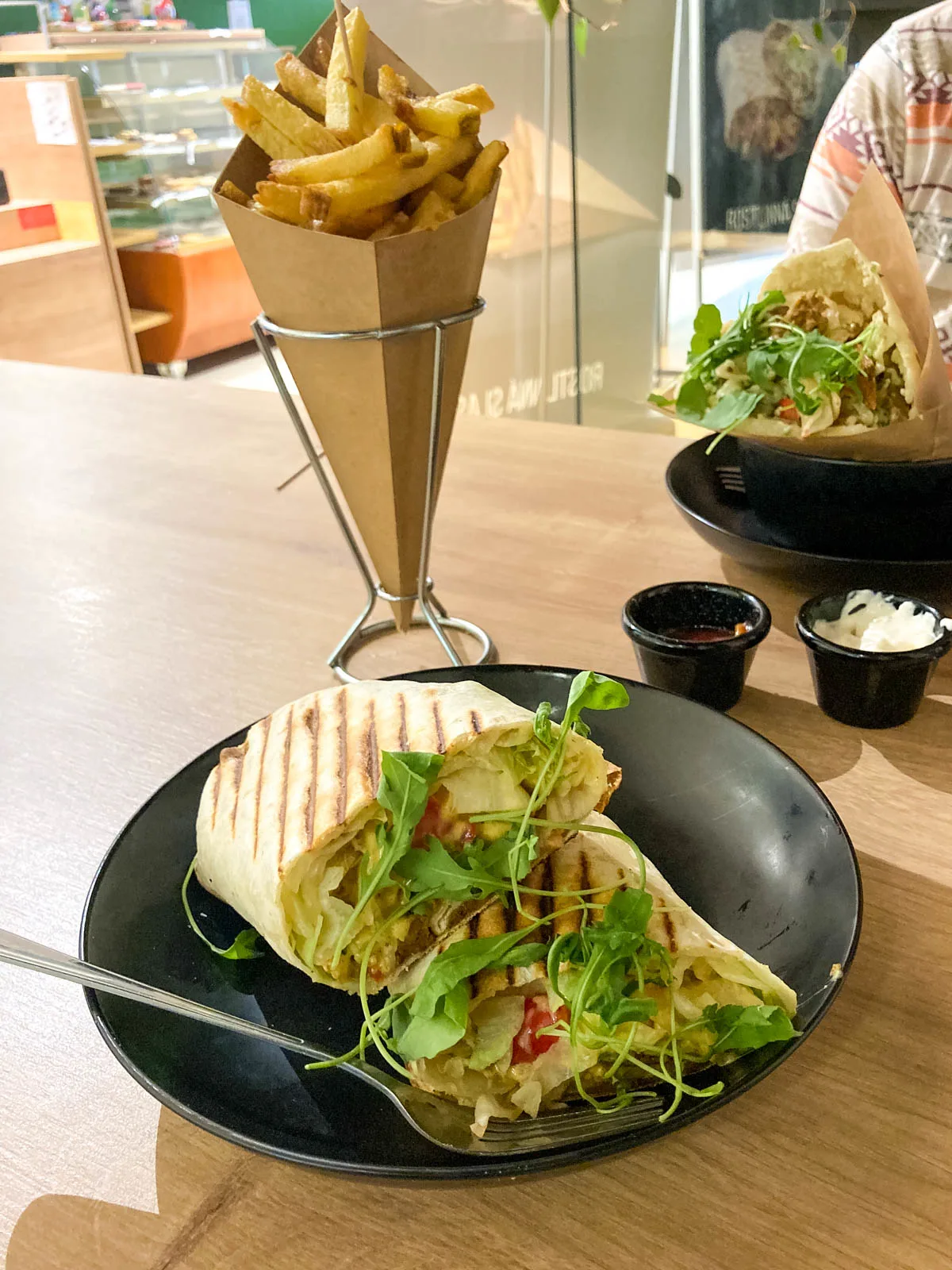 Na Poříčí 25/1067, 110 00 Nové Město, Czechia
Mooi's Menu is pretty simple, you have like 5 different options (vegan meat with combinations of veggies and sauces) and you can get it in a wrap, kebab, or as a salad. I had the Maithai (Mooi Meat (their homemade meat substitute), mango curry sauce, hummus, lettuce, red and green bell pepper, peanuts, fried onion, coriander, and mungo sprouts) in a wrap, and of course fries. It was good and filling!
And right next to the restaurant is a vegan supermarket called World Vegan which is also open on Sundays.
Střecha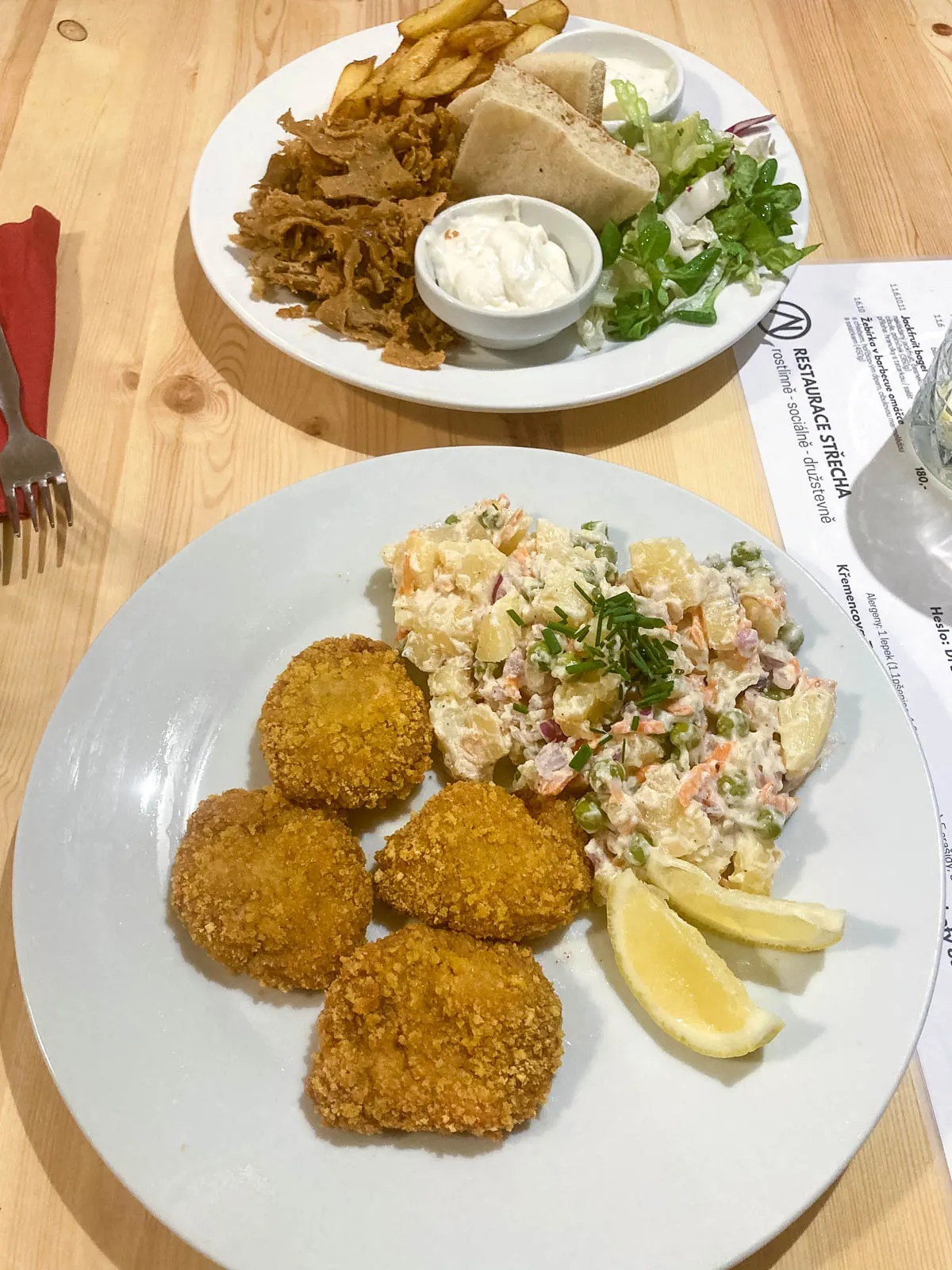 Křemencova 7, 110 00 Nové Město, Czechia
I LOVE the concept of Střecha (translates to 'The Roof'). They offer employment to people without homes and/or after serving a sentence. The food is cheap, the restaurant is casual. I had the vegan schnitzel with potato salad, which was fine. The cakes are really good, though.
Café U Kajetána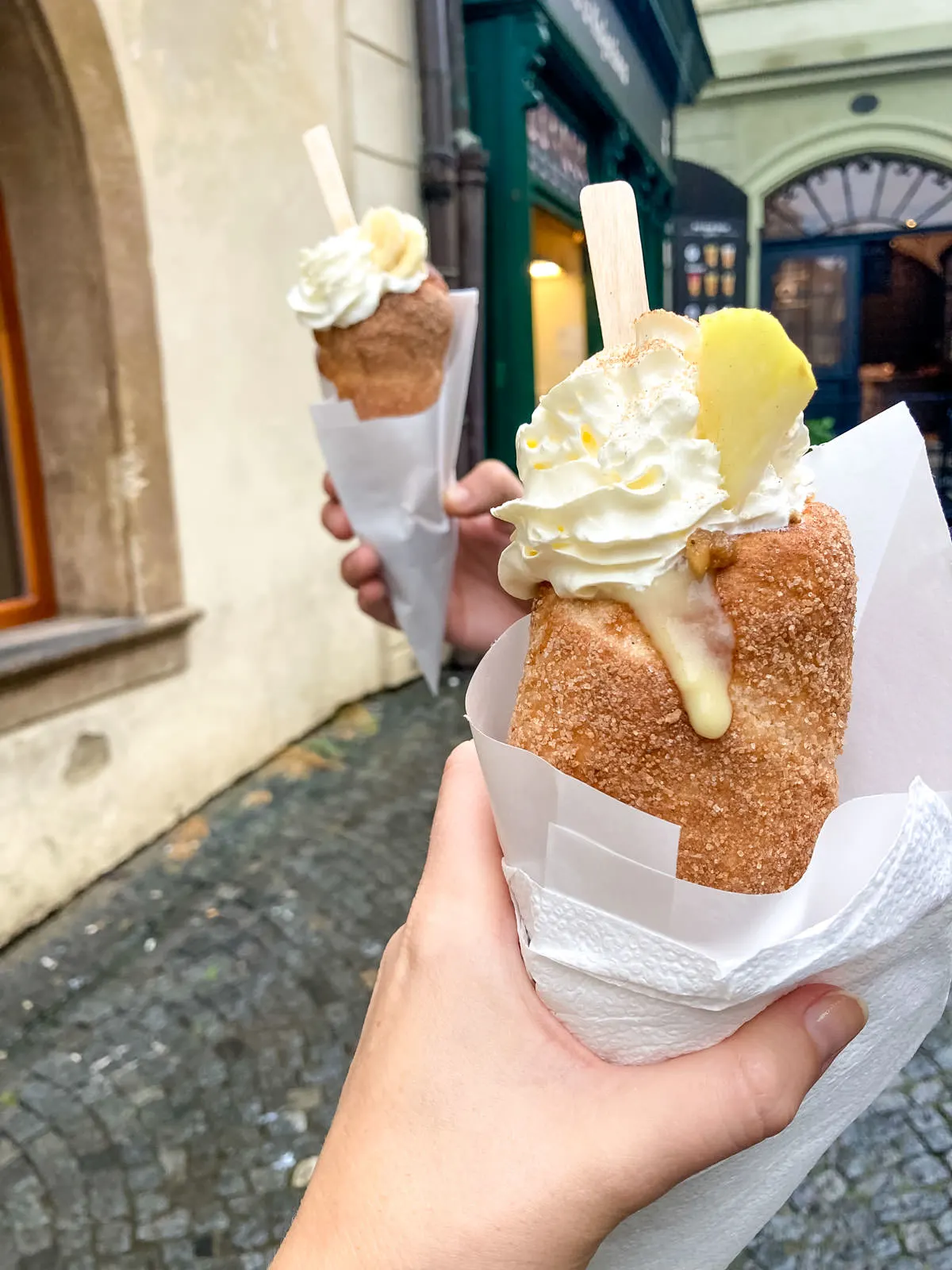 17, Nerudova 248, Malá Strana, 118 00 Praha, Czechia
In Prague, you can get Trndelnik (the traditional chimney cake) every two meters, but finding vegan Trndelnik is a different story. There is one place, though, and that's Café U Kajetána, thank god! It's very close to the Prague Castle. They even have filled Trndelnik! Mine was filled with whipped cream, vanilla sauce, grated apples, and cinnamon. So, so good!
Vegan's Prague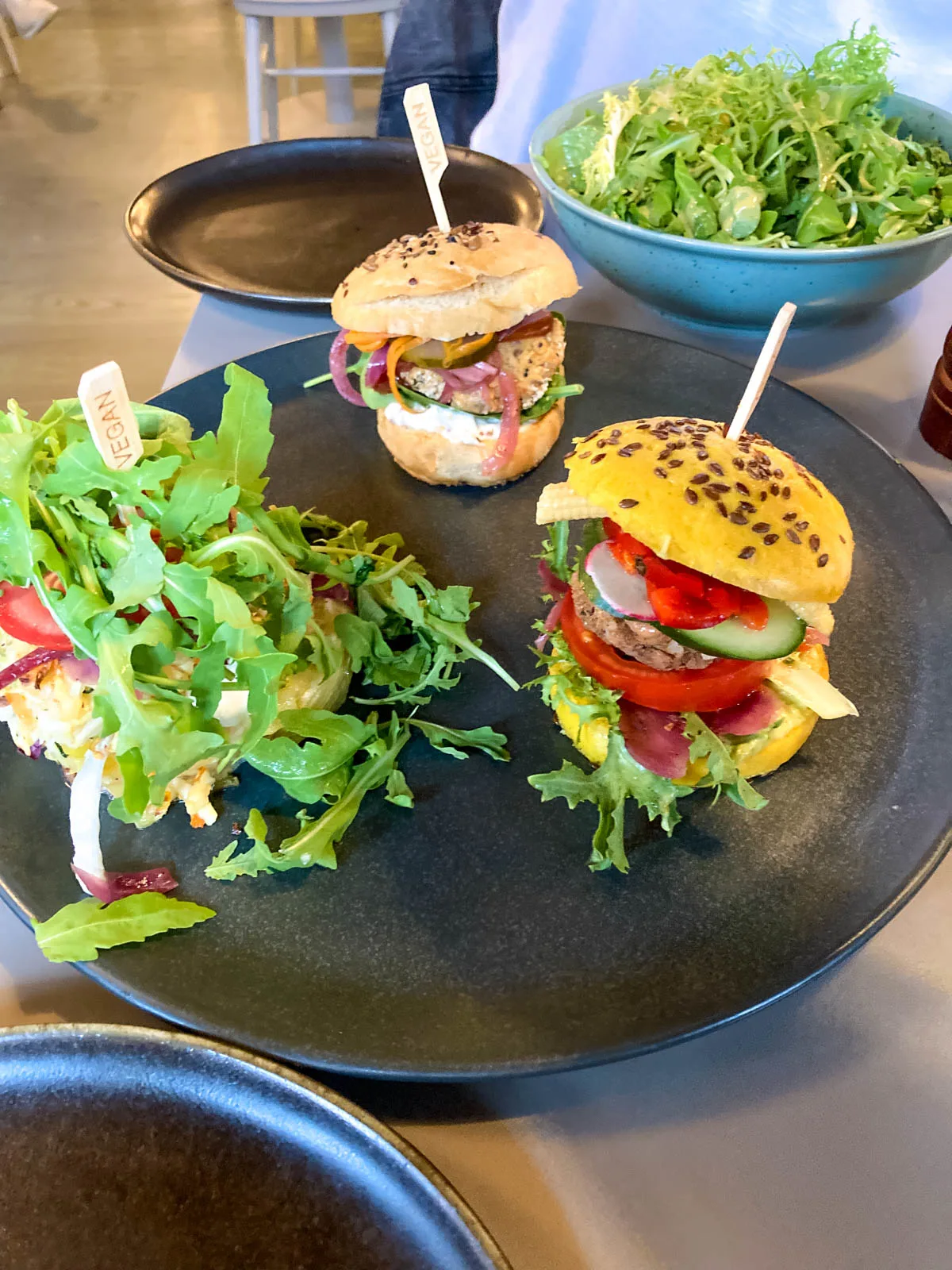 36, Nerudova 221, Malá Strana, 118 00 Praha 1, Czechia
Vegan's Prague is also very close to the Prague Castle (and to Café U Kajetána where you can get vegan Trndelnik). We had a variation of mini burgers, which was really interesting because every burger tasted totally different.
Shromaždiště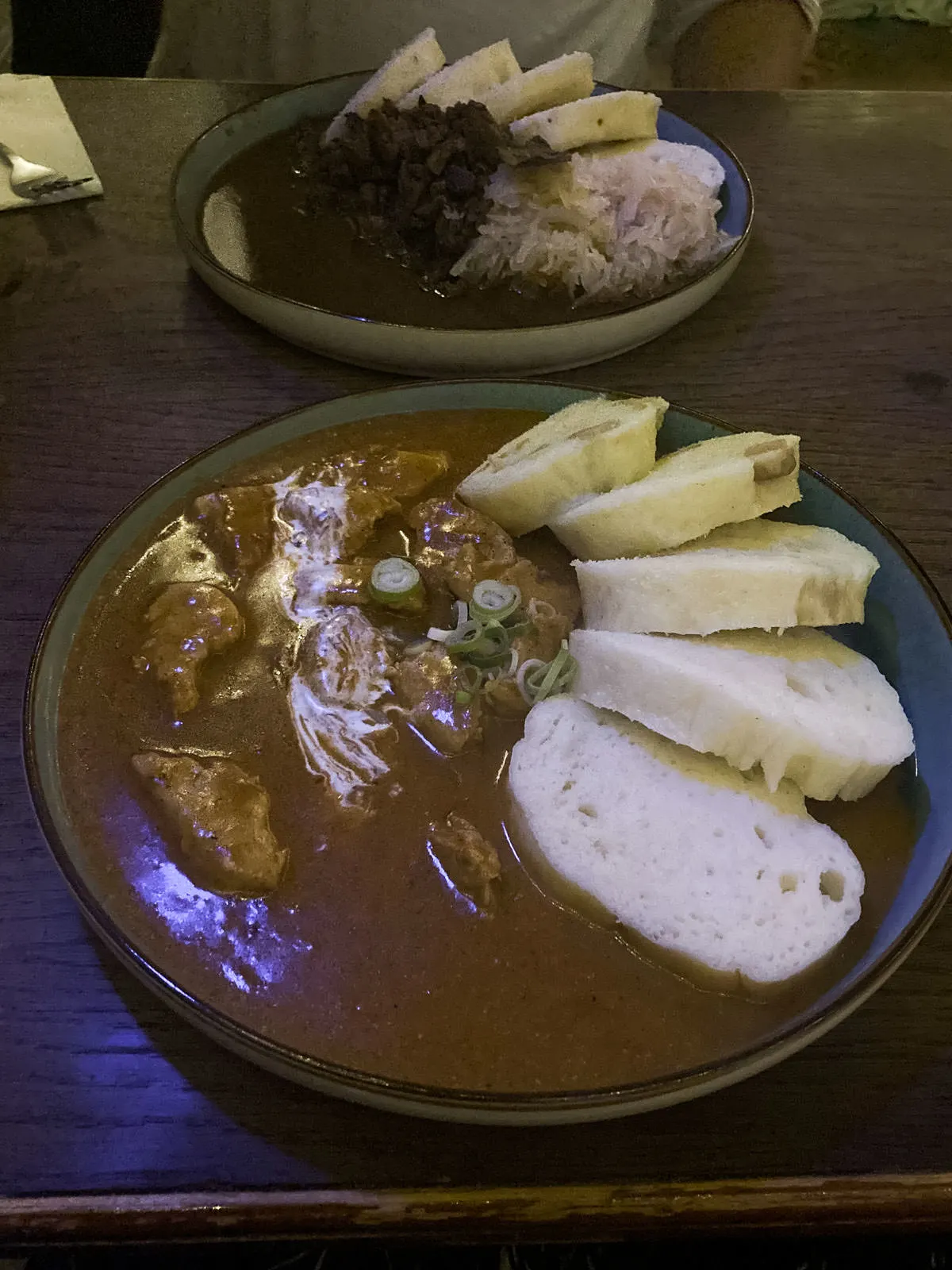 Krásova 13, 130 00 Praha 3-Žižkov, Czechia
And now for the grand finale! I am so sorry about the bad photo but I wouldn't have included this if the food wasn't absolutely amazing. This was actually my favorite meal in Prague! Shromaždiště has the most delicious traditional Czech dishes. I'm obsessed with the Czech dumplings, the creamy sauces, and the vegan meat. If you want to taste veganized Czech cuisine, go to Shromaždiště. You won't regret it.
Tell me: Have you ever been to Prague? Do you have any additional vegan-friendly restaurant tips? I'd love to know in the comments!