In August we made a really short trip to Ljubljana, the capital of Slovenia. We stayed there only for one night, because it wasn't our main destination. It was my first time there and I didn't expect it to be that hip. Also there are some really nice vegan options there, even in normal restaurants and bars are often vegan sandwiches in their selection.
Bobenec
First we ate in the completely vegan restaurant Bobenec, which is located in the hip part of Ljubljana where a lot of bars are. They offer soups, rice dishes, sandwiches, wraps and more. I wanted to try the vegan kebab wrap but it has sold out, so I ordered the avocado sandwich, it was really big, cheap (about 3€) and good. Especially the bread. My boyfriend took the vegan salami sandwich, which tasted also really great. This restaurant is definitely a recommendation.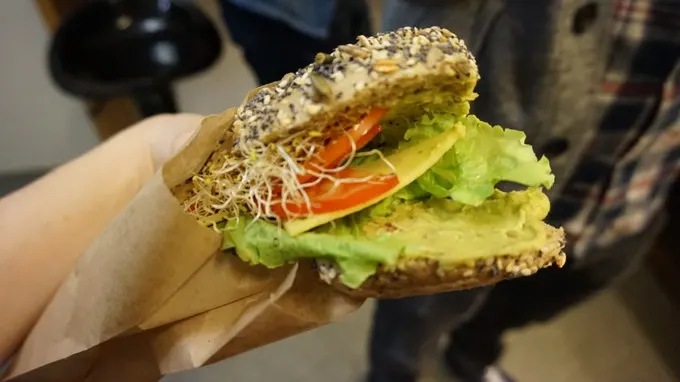 Loving Hut
On the next day we went to the Loving Hut. I really like the idea of having a vegan restaurant chain all over the world to give vegans a safe option to go to and I am really happy whenever a Loving Hut is in the city I am staying. But this Loving Hut was different. It had a buffet with mainly pasta dishes, rice, beans and a salad buffet. It was quite cheap (4€ for my plate), but the food was not to my satisfaction. It was rather tasteless and similar. Our omnivore friend said that he wasn't surprised by the dishes at all and he was right. None of my friends enjoyed the food, but the restaurant was full with other guests. Hmpf.