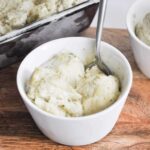 Print
Vegan Minty Cotton Candy Ice Cream made with Aquafaba
Recipe for a vegan & gluten-free Minty Cotton Candy Ice Cream which is made with Aquafaba (Chickpea Liquid). It's sweet, airy and fluffy - like cotton candy!
1/2

cup

Aquafaba*

(liquid from canned chickpeas)

2

tablespoons

confectioner's sugar

(or more to your personal preference)

1/2

teaspoon

vanilla extract

1/4

teaspoon

vanilla powder

(ground vanilla beans)

1/2

teaspoon

peppermint liqueur

(or extract**)
Drain the chickpeas and fill the liquid of the canned chickpeas in a mixing bowl.

Slowly add in the confectioner's sugar, vanilla extract and powder and peppermint liqueur and whisk it again for a few minutes. At this point, it's a good idea to taste it and to add more sugar or peppermint liquor to your preference.

Then fill it in a freezer-safe dish*** and put it in the freezer for at least 6 hours or overnight. (You don't have to give it a mix every x hours, I didn't and it turned out great.)

After that it's good to go! Serve and enjoy immediately. The ice cream melts a bit faster than regular ice cream.
GENERAL NOTE: This is probably the trickiest recipe I have on the blog. Aquafaba is not always easy to work with, so there is a chance that this recipe doesn't work for you, even if you follow the instructions. I have had readers tell me that the recipe worked for them, for others the liquid separated in the freezer. It's just a heads up, but if you do try it out, let me know how it works out for you! :)
*Aquafaba is the fancy term for the cooking liquid of beans and legumes, discovered by Goose Wohlt. You can read all about aquafaba on aquafaba.com.
**If you're using peppermint extract or essence, start with less and add more to taste.
***The container I used is 10 inches long, 4 inches wide and 2 inches high (25x11x5cm)
Calories:
46
kcal
|
Carbohydrates:
4
g
|
Sodium:
1
mg
|
Sugar:
4
g