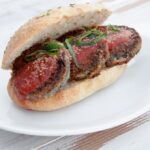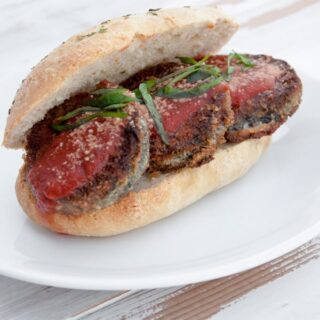 Print
Vegan Eggplant Parmesan Sandwich
Recipe for a Vegan Eggplant Parmesan Sandwich consisting of breaded eggplant slices, marinara sauce, cashew parmesan and chopped basil in a homemade sandwich bun.
Total Time
1
hour
40
minutes
Instructions for the bread
Add the flour, instant yeast, and salt in a large mixing bowl. Add in the rest of the ingredients (oil and the rest of the water) and knead by hand until a soft dough forms or put all the ingredients in a kitchen machine and let the machine knead the dough.

Let it sit, covered under a clean kitchen towel, in a warm spot until it doubles in size (about 1½-2 hours).

Preheat the oven to 250°C or 480°F.

Cut the dough in 6 equal pieces and form the sandwiches.

Brush the surface with olive oil and sprinkle with chopped basil. Carve the surface of the dough lightly with a knife (I've made two long cut across each sandwich).

Then put the bread in the oven and take it out when the surface is golden. You can knock on the bottom of the bread and when it sounds hollow it's done!
Instructions for the Eggplant Parmesan
Wash and slice the eggplant in equally thick slices - about 1/2 inch thick (=1.5 centimeter).

Sprinkle the eggplant slices with salt, put them on a clean kitchen towel, put another kitchen towel on top of them and put a few heavy books on them so they get pressed and lose some of their water. Let them rest for about 1-2 hours.

In one bowl, mix the all-purpose flour, salt and water. In another bowl, mix the breadcrumbs, nutritional yeast, dried basil and dried oregano.

Once the eggplant slices have softened a bit, dip them first in the flour-water-mixture, then in the breadcrumbs and put them on a baking tray lined with parchment paper. Spray with oil and bake them in the oven for about half an hour, flipping them once after 20 minutes.

For a nice golden color, add enough oil to a large pan so that the bottom is fully covered and pan-fry the eggplant slices over medium to high heat for a minute or so until brown.
Instructions for the marinara sauce
Heat the tomato purée and season with salt, dried basil, dried oregano and garlic powder. Use less if your tomato purée is already pre-seasoned.
Assembly time!
Place three eggplant parmesan slices into each sub, add marinara sauce, sprinkle with cashew parmesan and top with finely chopped basil. Enjoy!
Serving:
1
sandwich
|
Calories:
449
kcal
|
Carbohydrates:
87
g
|
Protein:
16
g
|
Fat:
4
g
|
Sodium:
569
mg
|
Potassium:
600
mg
|
Fiber:
9
g
|
Sugar:
5
g
|
Vitamin A:
4
%
|
Vitamin C:
6.2
%
|
Calcium:
5.4
%
|
Iron:
32.7
%