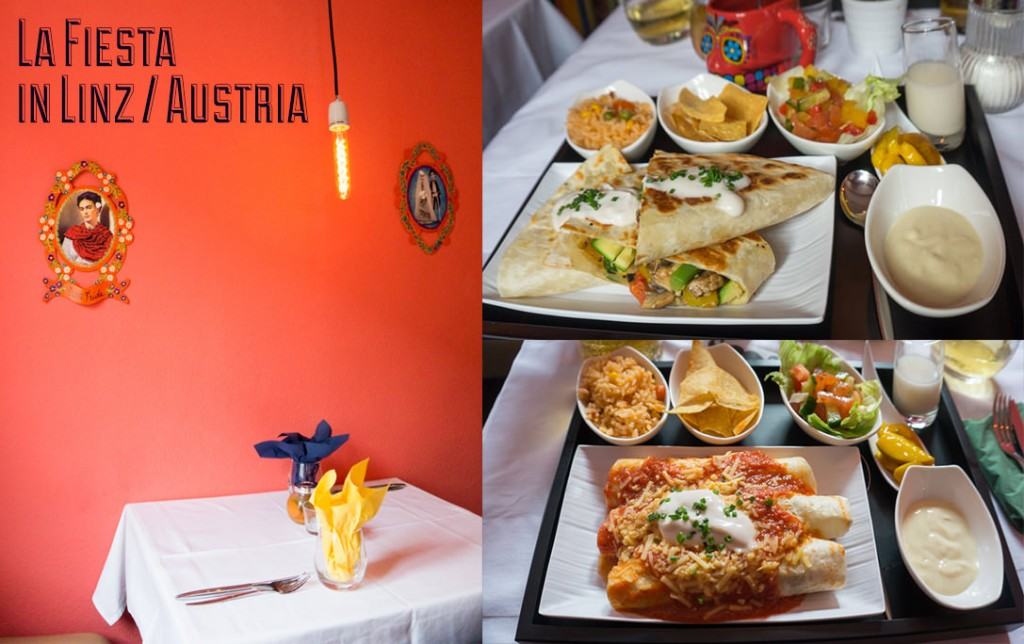 A few weeks ago a new restaurant opened up in Linz: La Fiesta. It's a Mexican restaurant and of course I had to try it out. My boyfriend and I went to eat lunch there, because they offer great lunch menus! La Fiesta is not a vegan restaurant, they serve meat as well, but they have a whole site on the menu with vegan options (including enchiladas with vegan chicken and chili con carne vegano with vegan beef) and also have vegan options in the lunch menu.
All the people working there were so nice! One feels very welcome and it had a great atmosphere. I ordered some tropical tea and I really liked the cup! Yes, it's that red skull cup which is totally kitsch but it matches the restaurant's style.
The lunchbox or like they call it "lonchera" costs 8,80€ from Monday to Friday (10,80€ on Saturdays and Holidays). We tried the Quesadillas #vegano and Tacos #vegano (as written in the menu). Included in the lunchbox is a soup and a whole bunch of things!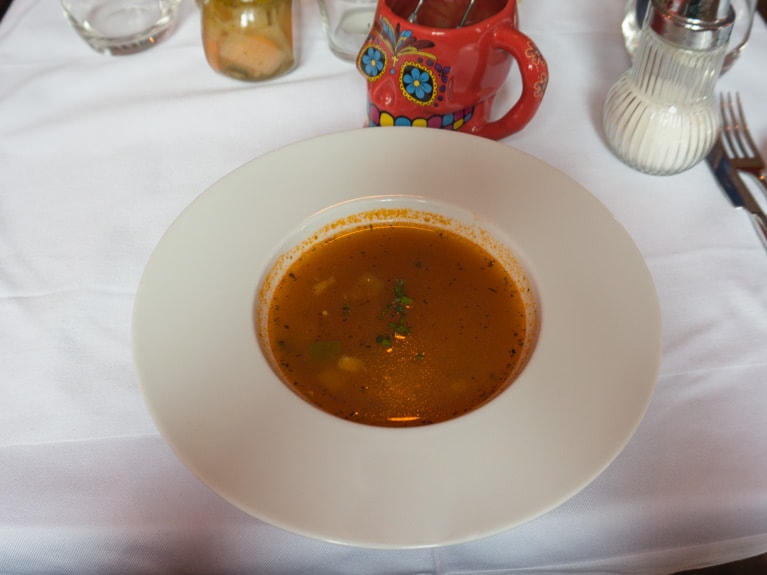 Included in the lunch menu is a soup, which wasn't further specified in the card but it turned out it was a paprika-vegetable soup with corn. It was really good, not spicy but tasteful.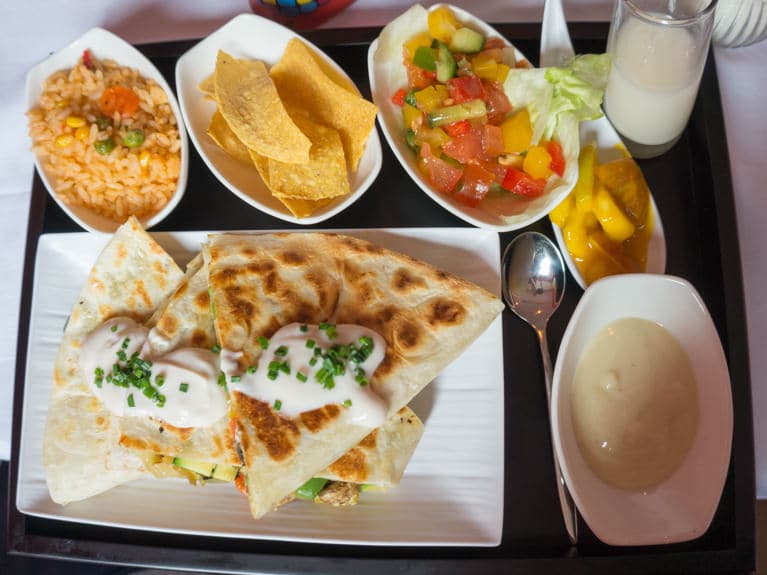 I opted for the vegan Quesadillas. They came on a tray with a small portion of spiced rice with vegetables, tortilla chips, a salad, an fruit salad covered in a mango sauce (I think), a sweet soy yoghurt and Horchata (a Mexican sweet drink with rice milk). I liked the presentation of the food, it looked very appealing and I loved the idea of having so many small portions as a side to try. The quesadillas were filled with vegetables, mushrooms and vegan cheese and topped with a yoghurt sauce. I really enjoyed it, it was sooo good.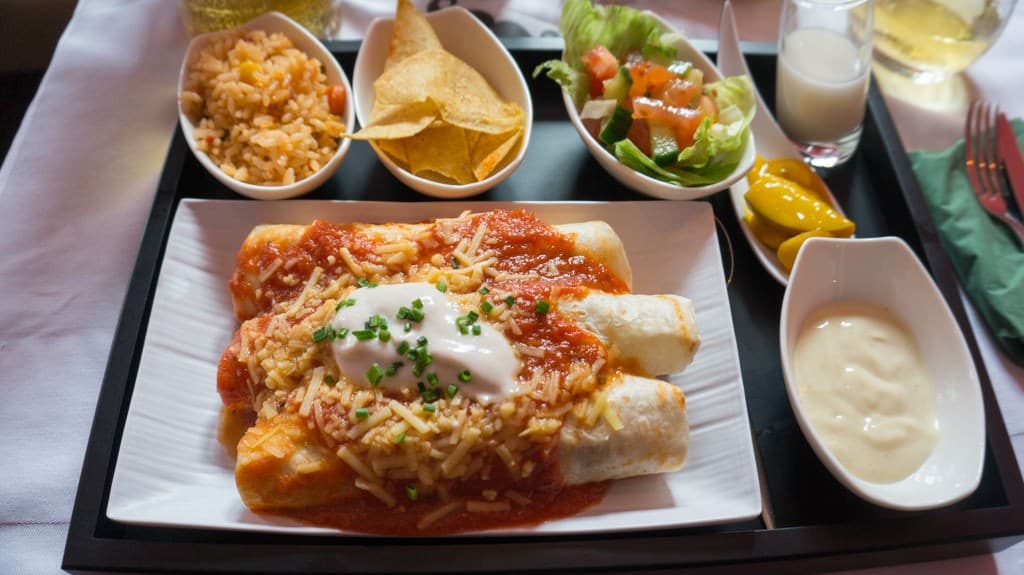 My boyfriend chose the tacos #vegano and got what I think were more like enchiladas? But I'm no expert in the Mexican cuisine. We shared so both of us could try each of the dishes. I really liked the tacos as well, they were topped with a spicy enchilada sauce, vegan cheese and a yoghurt sauce. The food wasn't super hot, but we didn't have to wait very long for it, so that's definitely a plus when you don't have a lot of time for lunch.
I really liked the decor! The restaurant has a few rooms that are all painted in different saturated colors. The walls are covered with Mexico-related images and masks. Above every table a modern light bulb provides a really nice atmosphere and there's background music that set me immediately in a vacation mood. I really loved the atmosphere there in general.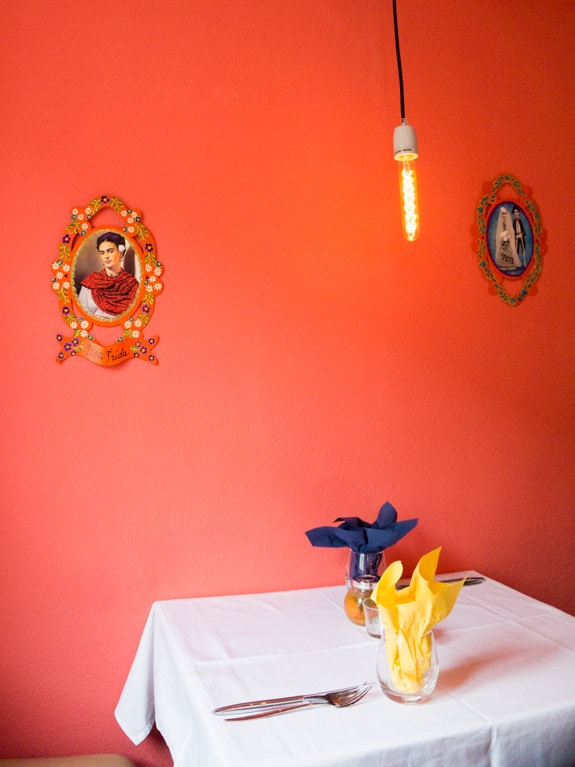 I can totally recommend going there should you be in Linz and looking for some vegan options! Especially the lunch menu is very reasonably priced for what you are getting. They also have cocktails and a happy hour so I'll definitely going to try these out too! :)
More information and opening hours at LaFiesta.at
The restaurant is located at Magazingasse 10, 4020 Linz
Disclaimer: I did not get paid to write this post! I just really enjoyed it so I wanted to share it with you. ;)