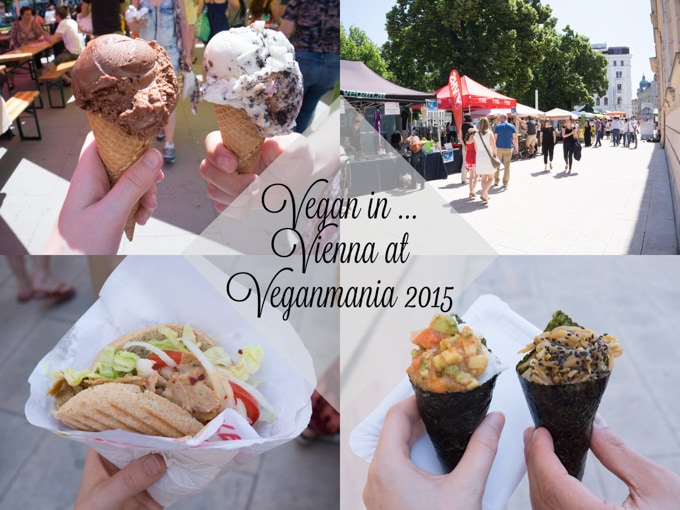 On our way home from Barcelona we stayed an additional night in Vienna to visit the Veganmania the next day. The Veganmania is an annual festival in selected cities in Austria and Germany with vegan food, clothes, and educational stands. This year's Veganmania in Vienna was from June 3rd to June 6th.
I had been anticipating the day of the Veganmania for the whole year and it was my first time going there in Vienna. Not only did I have the chance to meet the lovely Alice, but also I got to try many new vegan dishes I wouldn't have tasted otherwise. It was impressive – so much delicious food! I didn't even have the chance to try everything because there were simply so many choices!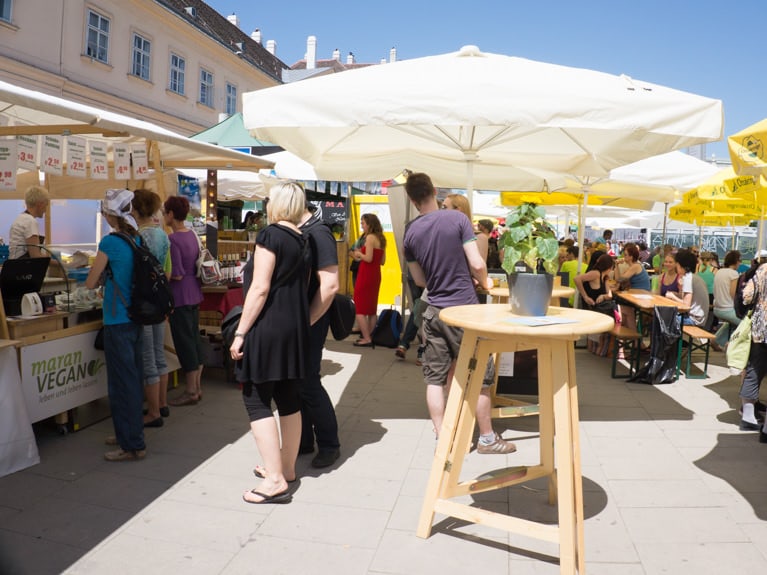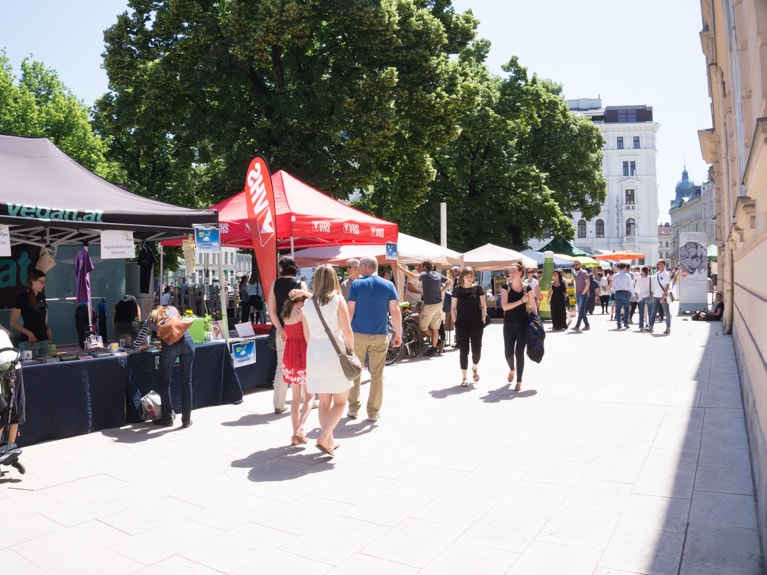 The location for Vienna's Veganmania was perfectly chosen. The festival was in front of the Museumsquartier, which offered a large enough space for all the vegan stands, a stage for bands and DJs, seating areas and children activities like bouncy castles.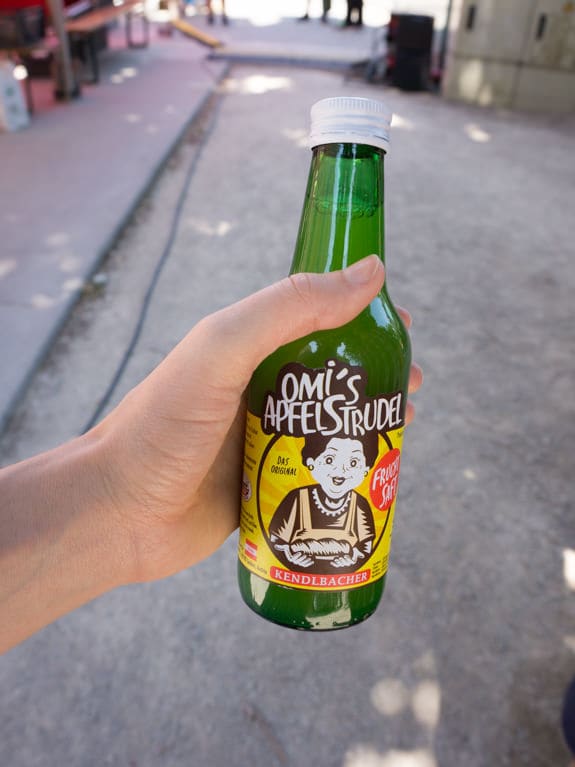 We had the chance to try Omi's Apfelstrudel (translating to Grandma's Applestrudel) which is an apple juice that really tastes just like apple strudel. It's without additional sweeteners but has a nice sweet apple-cinnamon taste. Along with ice cubes, it was the perfect refreshment for the hot, sunny day.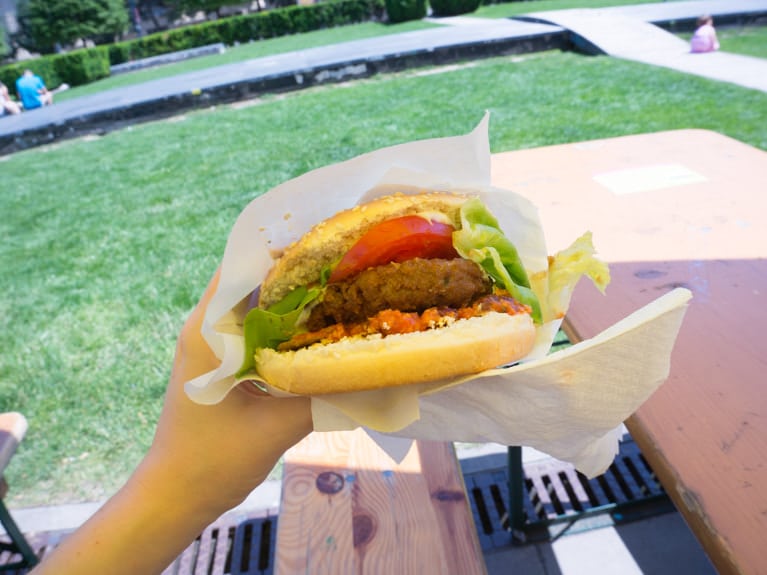 First, we had to try the Burger by Fiore – an Italien restaurant in Vienna with many, many vegan options. They even have an entire menu with vegan dishes (including "meat" and "fish" dishes – so it's not only pizza without the cheese!). Although I haven't had the chance to visit their restaurant yet, the burger was really good. It even contained a chili sin carne layer which gave the burger a nice new twist.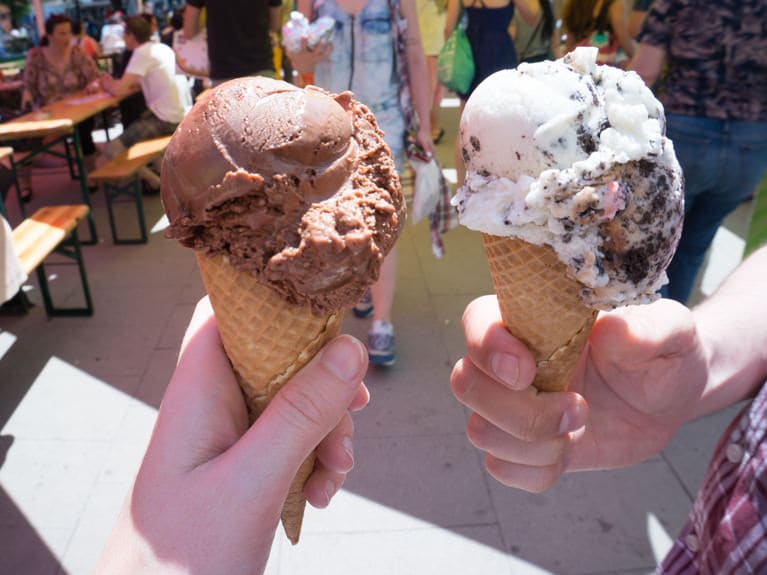 I was super excited to see Veganista – the (in my opinion best) vegan ice cream parlor – having a stand at the Veganmania as well! I L.O.V.E. their Ice cream and it's not surprising to me that they are super successful at what they do! They even opened a second shop in Vienna and an additional one in Los Angeles. Whenever I'm in Vienna, I make sure to stop by to try some of their always-changing new flavors and some of my old favorites (hazelnut <3). At Veganmania, they had a limited selection, so I tried the Brownie ice cream (left) and my boyfriend had the Cookies ice cream (right). Both were excellent – as always.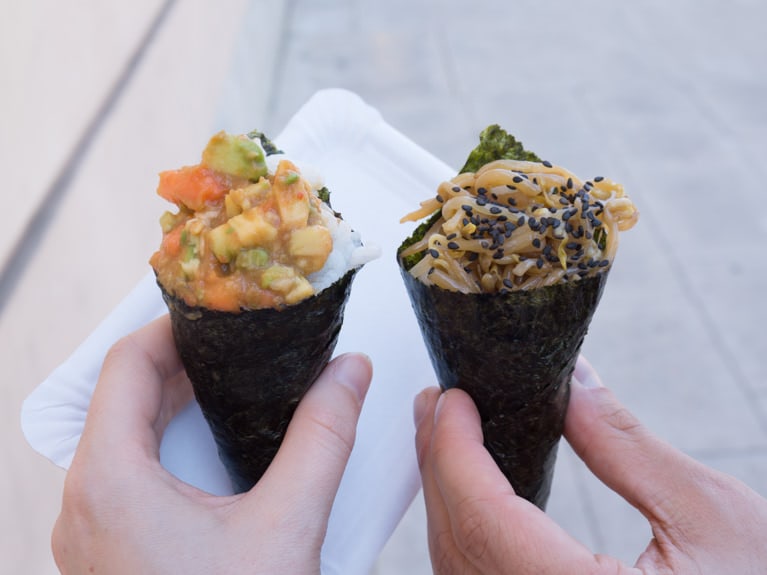 Vienna got its first vegan sushi restaurant, Pirata Sushi, a few months (?) ago and it's pretty amazing! They have really creative variations and I loved the Temaki they had at the Veganmania. On the left is a Temaki with Papaya, Avocado and a spicy sauce with chili and red beet. The right one is Temaki filled with pickled soy sprouts and black sesame. I liked the one with the soy sprouts better because they were really flavorful and they had black sesame seeds on top!!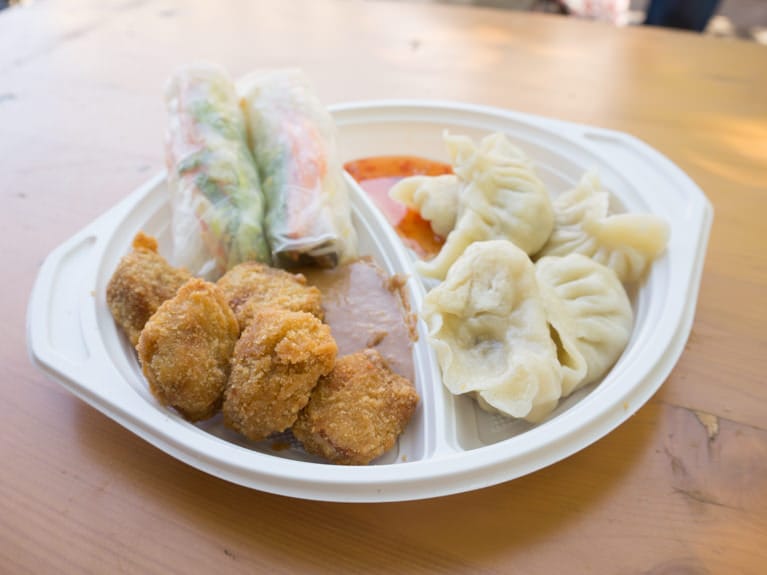 Loving Hut – the vegan fast food chain – was there too! They have two restaurants in Vienna and in some way a visit to a Loving Hut started my vegan journey a few years ago so I still love eating there! At Veganmania, we had vegan chicken nuggets, summer rolls and wontons with a peanut butter dip and a sweet-sour dip. Summer rolls on hot days = yes please! :D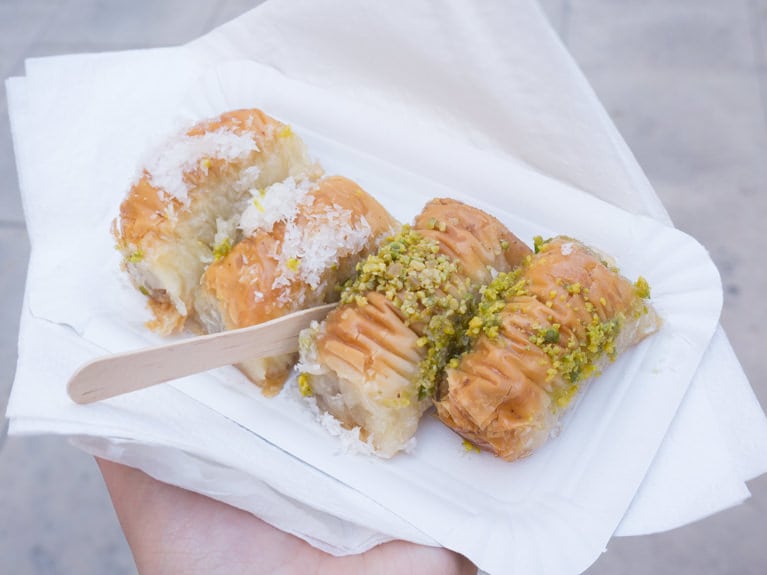 The vegan baklava and the kebab (next picture) are both from the Makam stand. They are touring constantly and are at most vegan festivals, so I'm always super excited when I have the chance to eat their delicious vegan seitan kebabs. The baklava was great as well and I couldn't find any difference to "real" baklavas – it was super sweet, so I could only eat one piece but awesome nonetheless.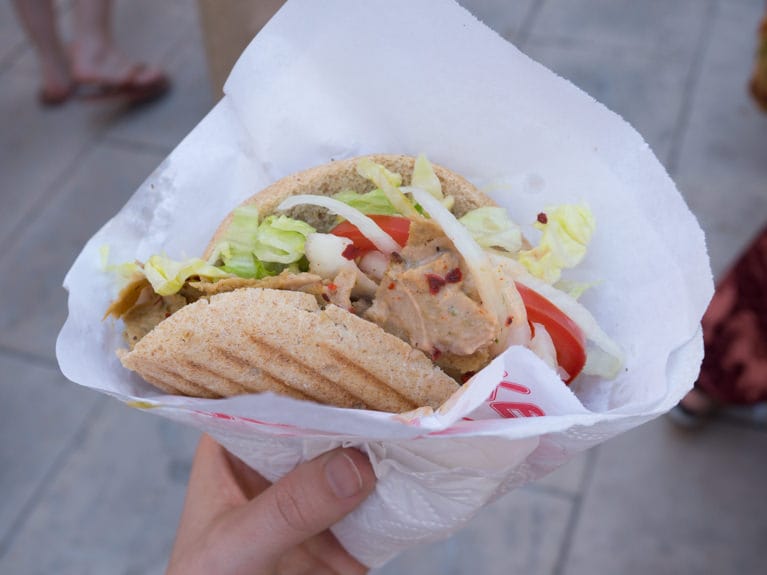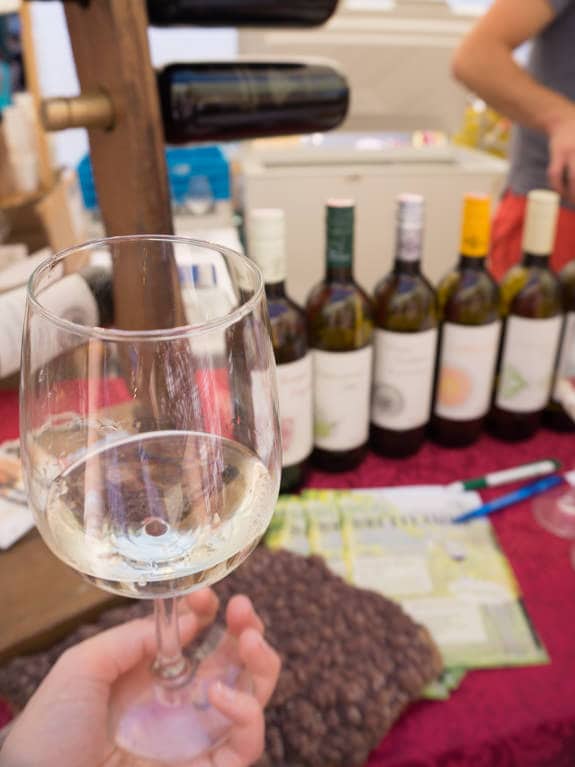 After all the delicious food I had to visit the Winery Fürnkranz stand offering vegan wines to taste. The white wine "Junger Veganer" was so convincing that I had to buy a whole bottle to take home. The bottle was only about 5€ – it was a complete surprise to me that it was that inexpensive.
All in all, I had a lovely day at the Veganmania and I wanted to share my experiences with you all. Should you ever have a chance to visit a Veganmania I can highly recommend it. I'm already looking forward to the next one!