In June 2017 I visited Barcelona for a couple of days. In this post, I'm sharing with you my favorite vegan foods that I found in this amazing city!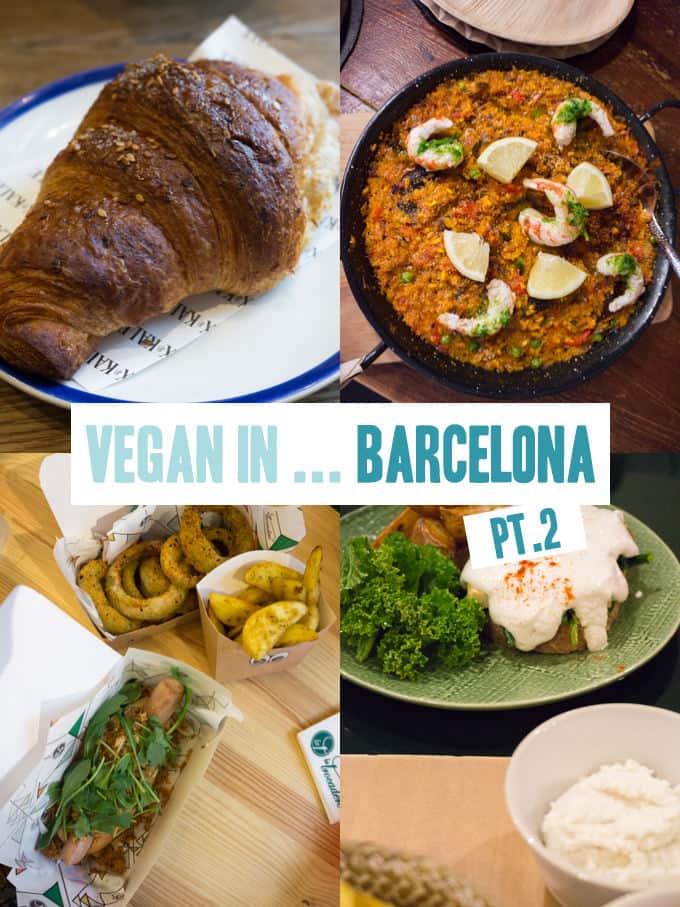 Vegan in … is a series of posts on Elephantastic Vegan where I write about my vegan travelling experiences. I love to travel especially to larger cities, rather than spending my days on the beach at some resort, but finding restaurants with vegan options in a foreign city isn't always that easy. With this post I want to show you awesome places to eat for your next trip to Barcelona, Spain! :)
It's never a bad idea to use HappyCow to get a neat overview of your vegan eating possibilities. This post only contains the few options that I've tested & tried. But you can find more recommendations in my post Vegan in Barcelona part 1.
Sopa
Roc Boronat 114  + there are more locations
Website
Let's start with breakfast! Sopa is a vegetarian café with two locations in Barcelona and they have a few vegan options. They have vegan cakes, cookies and a few vegan sandwiches on the menu. I opted for the hummus and veggie sandwich in a seedy bread (yumm!), which was freshly prepared, inexpensive and delicious.
Buenaventura Café
Trafalgar, 50
Website
By accident we found this café while strolling through the city and I'm so glad we did. We saw that they had vegan eggs benedict on the menu, so of course, we had to check it out! It was delicious! Served with salad and potato wedges, the eggs benedict consisted of a slice of toast, tofu, spinach and topped with white sauce (which I think was almond based – not sure!). We also had nachos with guacamole, salsa and homemade almond cheese. Everything was so good!
Flax & Kale
C/ Tallers 74B
Website
In every trip, there's this one restaurant that totally surprises you. For me, this was Flax & Kale. I LOVED the atmosphere and vibe of the restaurant. I went there for breakfast and while they are not 100% vegan, they have lots of vegan options. I had a vegan spelt croissant (which I'm still dreaming about – it was perfectly flaky), avocado toast and a chia flax bagel which was filled with cashew cream, tempeh and vegan cheddar. If you have a chance to go there, do it! It's amazing!
Bar Celoneta
Calle Sevilla 70
Website
You can't be in Spain and not eat paella, it's just not possible – but finding vegan paella in a regular restaurant isn't that easy. Thankfully, there's this cute little restaurant/bar called Bar Celoneta (it's not far from the beach) that offers vegan paella on Thursdays. Up until now, I wasn't a fan of vegan seafood because it just tasted weird but these vegan calamari tasted actually really, really good. The consistency was really close to the "real thing". I was pleasantly surprised. They also have a huge selection of sangrias – I could have spent my whole day there. :)
La Trocadero
Carrer de la Marina, 269
Website
La Trocadero is a hip, completely vegan restaurant. We tried the Hot Dog topped with Guacamole (omg, that sausage was almost too authentic!), fries and onion rings (that seasoning!! <3) and a Cheese Burger with vegan bacon. I mean, how good does this look? It was one of our favorite meals from the whole trip.
Bacoa
Av. del Marquès de l'Argentera, 1 + there are more locations
Website
Bacoa is a burger chain with vegan options. At the time I went there, they had two vegan burgers on the menu: Roast Beet Burger consisting of a beetroot and quinoa patty, grilled beetroot, bbq sauce and homemade vegan aioli and then there's the Gran Vegano with a chickpea spinach patty, tomato chutney and whipped avocado. We also had thinly cut french fries. Delicious and inexpensive!
Ale & Hop
Basses de Sant Pere 10
Website
We actually went to Ale & Hop on our first day in Barcelona for drinks and foods. They have a couple of vegan options there like the nachos with guacamole and a few vegan burgers – we had the Mexican burger that also came with sweet potato fries. Oh, and we had olives, because why not :)
Vegetalia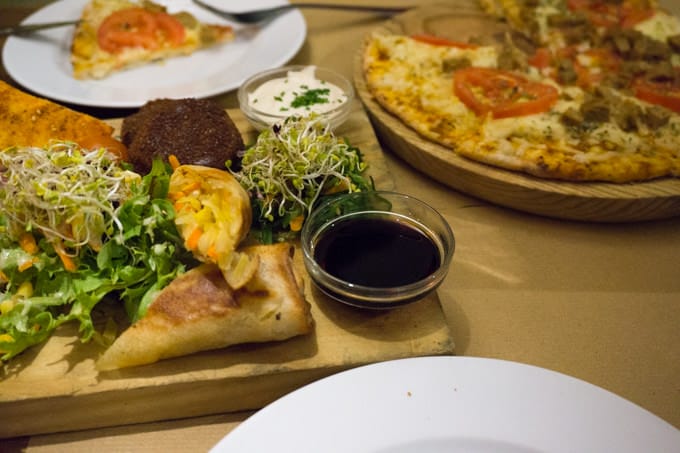 C/ Escudellers 54 + there are more locations
Website
Vegetalia was for us one of these, walk by, notice, walk in restaurants. Together with a friend who we've met in Barcelona we were looking for something to eat, when we found Vegetalia in the Barri Gòtic (the Gothic Quarter). There was a bit of a wait, so we had another cocktail in a nearby bar, until they had a table ready for us. We then ordered the pica pica "Vegetalia" which was a selection of starters consisting of pita bread, spring rolls, hummus, nuggets of tofu and shiitake mushrooms, salads and sauces. And there was a option to make the pizzas vegan, which we did and we shared a pizza with seitan. I really liked the vegan cheese, the pizza was rather small though for 10,50€.
La Mezcla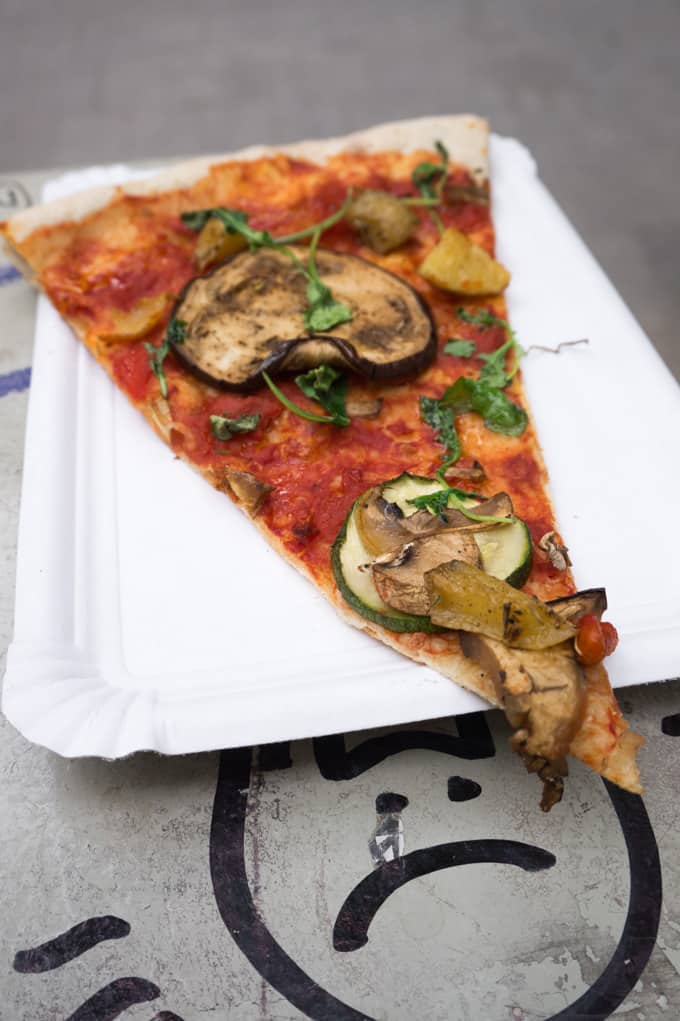 Plaça Sant Pere, 10
Website
La Mezcla is a small pizza place near the Arc de Triomf. They have a few vegan options – some of which are with vegan cheese. They only had one vegan pizza left – one with veggies and no vegan cheese – when we went there, so took a slice of this one. It was a delicious quick snack for the go.
Cat Bar Cat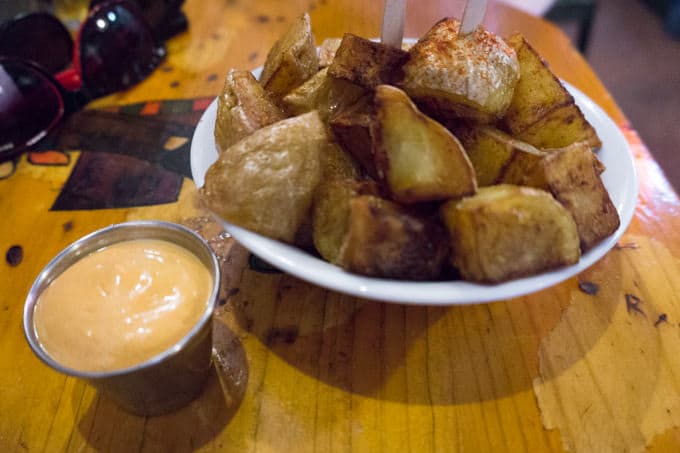 c/ Boria 17
Website
This wasn't our first visit at Cat Bar, we were there a few years back already, so we knew what we could expect: the best vegan patatas bravas in town! There are a few sauces to choose from but we opted for the brava sauce – which was spicy – but in a good way. This place is entirely vegan and they have delicious vegan burgers as well, but unfortunately we weren't hungry enough, so we only stopped by for a quick beer and potatoes.
Have you ever been to Barcelona? What are your favorites? Do you have any additional vegan restaurant tips for Barcelona? I'd love to know in the comments! 
More Vegan in Barcelona Recommendations – Part 1