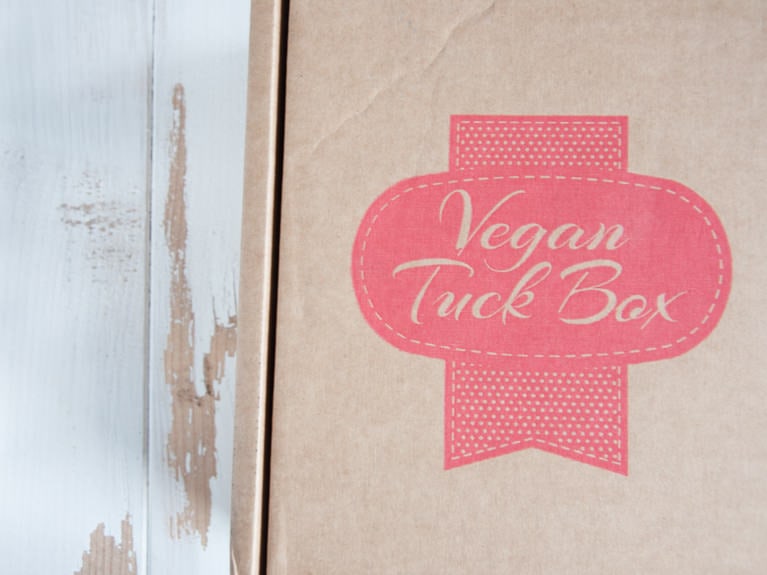 Disclaimer: I was provided with a Vegan Tuck Box to review. All opinions are my own. 
Monthly vegan subscription boxes are super popular right now because let's be honest – everyone loves getting monthly packages of vegan snacks & sweets. It feels like Christmas, Easter & Birthday combined when the package arrives! As I've been envying everyone who has posted their vegan Snack Box photos on Instagram I was lucky enough that the friendly people of  Vegan Tuck Box provided me with the March edition of their box of goodies!
The Vegan Tuck Box is run by two vegans and all the snacks in the box are carefully handpicked and chosen by them. They are situated in the UK, which makes The Vegan Tuck Box especially interesting for europeans, although they do send it to the rest of the world as well.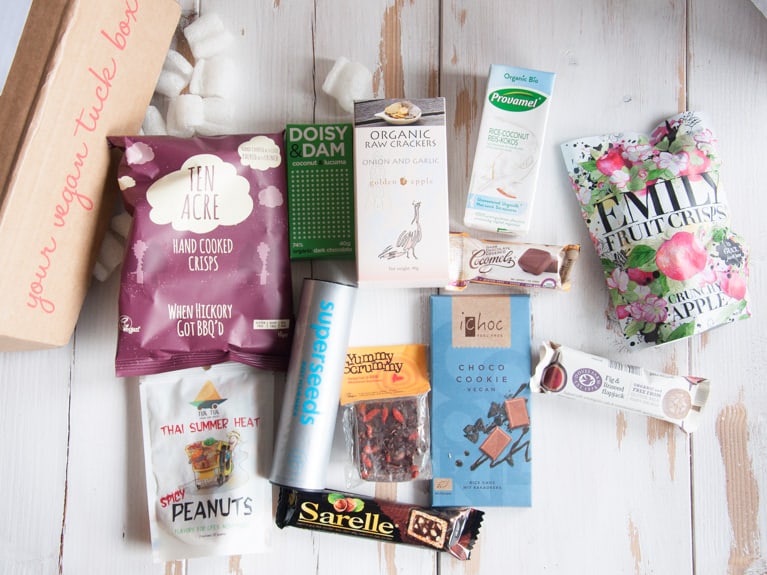 The Vegan Tuck Box comes in a few different varieties that you can subscribe to. You can also buy a single box if you don't want to commit. Of course, you can save a few bucks when you opt for a subscription.
Subscription boxes:
Classic (£17 in a subscription, £19 for a single box): Carefully picked selection of 10 to 12 vegan snacks. This is the box I've reviewed. You can alternatively choose the gluten-free option.
Mini (£8.50 in a subscription, £9.50 for a single box): Smaller version of the classic box with 5 or 6 vegan snacks. You can alternatively choose the gluten-free option.
Gift Boxes with unchanging content:
Chocolate Lovers Box (£12): Box with 6 different vegan chocolates.
Vegan Starter Box (£17.50): A box with everything you need to start your vegan journey.
You can see all of the Vegan Tuck Boxes & prices here.
Finally, here is what I got in my box: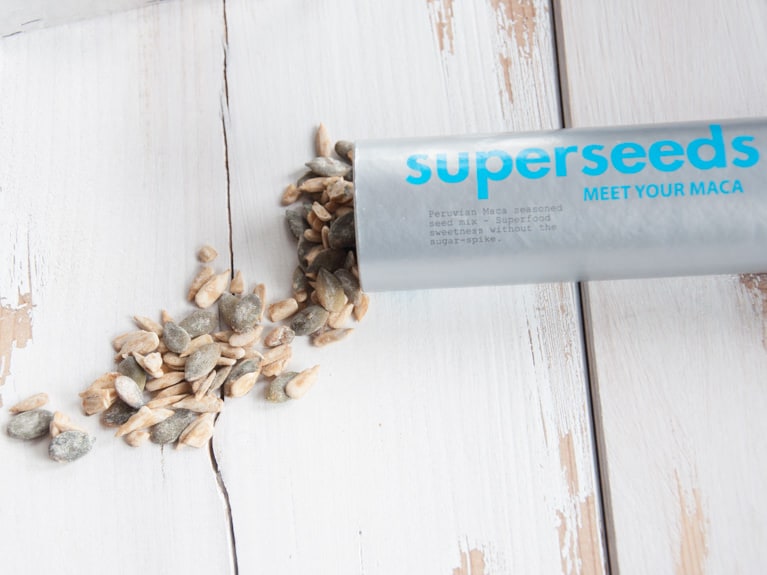 Superseeds – Peruvian Maca seasoned seed mix
Doisy and Dam Coconut and Lacuma Dark Chocolate Bar
Dove's Farm Fig and Linseed Flapjack
Provamel Rice Coconut Drink
Elements for Life Yummy Scrummy Raw Chocolate Brownie
iChoc Choco Cookie Bar
Golden Apple Raw Onion and Garlic Crackers
JJ's Sweets Chocolate Covered Vanilla Cocomels
Sarelle Dark Chocolate and Hazelnut Cream Wafer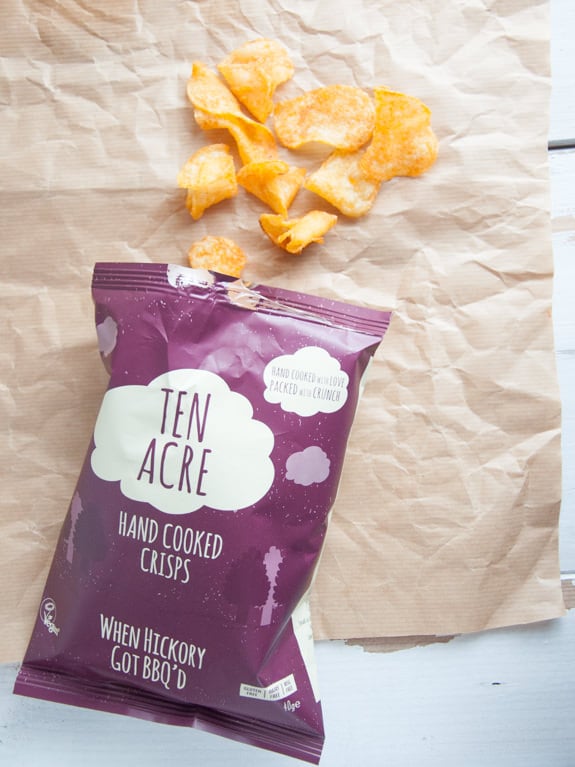 Ten Acre Hickory BBQ Crisps
If your a fan of hickory and BBQ flavors you'll definitely love those. A lot of chips look promising and all but those really fulfill what it says on the package. So good!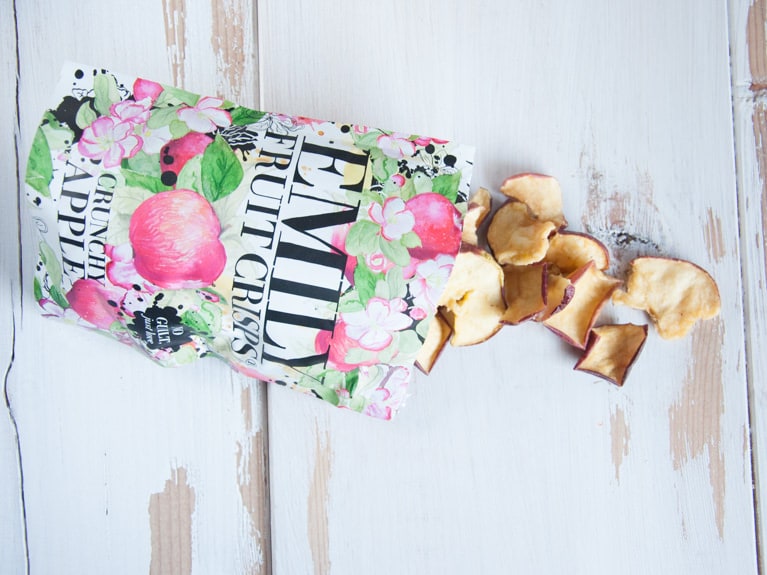 I was totally surprised about how good those Apple Crisps were! They are so simple but so crispy, fresh, perfectly sweet and delicious. Oh and the package is so pretty!!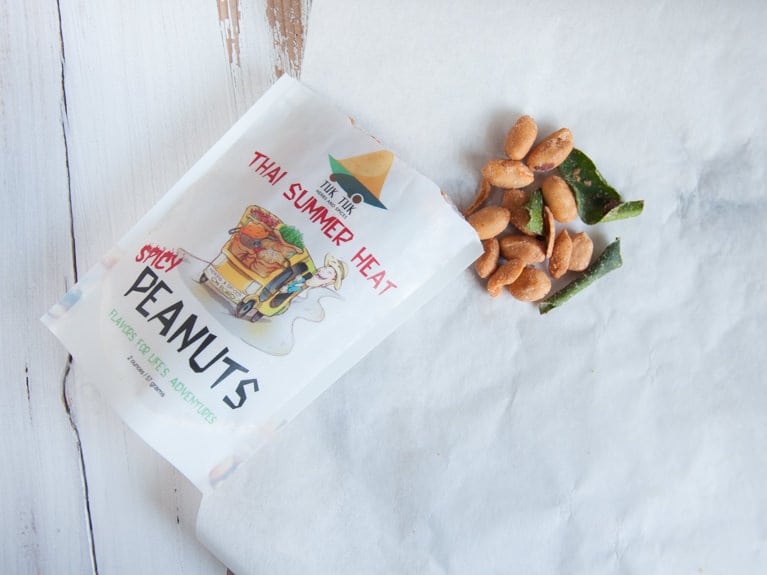 Tuk Tuk Thai Spicy Peanuts
Yes! Those are really spicy. What I really enjoyed about those were that they contained lemongrass and makrut lime leaves and those gave it such a delicious and unique taste. They were definitely the best roasted peanuts I've ever had.
I haven't tried all of the products yet, and while I found the raw onion & garlic crackers a bit strong for my taste, most of the snacks I've tried so far have been really good and unique! The fine people of Vegan Tuck Box have put together a carefully selected assortment of delicious (and beautifully packaged!) goodies. I love trying new vegan snacks & sweets so this box is the perfect way for me to get to these treats that I would have probably never gotten to try.
Use the coupon code "blog20" at checkout to save 20% off your first box! 
Disclaimer: I was provided with a Vegan Tuck Box to review. All opinions are my own. 
Affiliate Disclosure: This post contains affiliate links. If you click on a link and buy something I will get a small percentage. This helps me produce more great content and recipes.