Disclaimer: I received a free Coco Jack for the review. The post contains affiliate links. 
I love, love, love Young Thai Coconuts! I still remember the first time I opened a Young Thai Coconut – it was amazing. Young Thai Coconuts contain so much more coconut water than regular brown, hairy coconuts, the water tastes much better and the coconut meat is softer. Ever since I've had my first Young Thai Coconut, I didn't care for the brown coconuts anymore. But opening Young Thai Coconuts can take a lot of time, be dangerous (I managed to nearly cut off my finger a couple of times) and tiring.
When I heard about the Coco Jack I was intrigued and when I had a chance to review the tool for the blog, I was excited! The Coco Jack allows a new, safer way to open Young Thai Coconuts (it won't work on the brown, hairy ones or the green, uncut ones). Spoiler Alert: You'll find a worldwide giveaway to win the Coco Pack Deluxe at the very end of this post! Unfortunately, the giveaway has already ended, but make sure you subscribe to my newsletter so you won't miss the next one! 
I even made a little video – I hope you like it!
Watch the video to see the Coco Jack in action (1.5 min)
I love the Coco Jack because it's so much easier to open Young Thai Coconuts with it – and it's way safer than whacking them open with a huge cleaver. It's totally worth it and especially when you're buying coconuts on a regular basis, the Coco Jack is such a time saver. I hosted a coconut party recently (young thai coconut + rum = delicious glory) and I would never have done it without the Coco Jack. Imagine opening a couple of coconuts in one evening – it would have taken me such a long time but with the Coco Jack – opening all these coconuts was a breeze. And with the Coco Jack the opening looks so professional and pretty every time.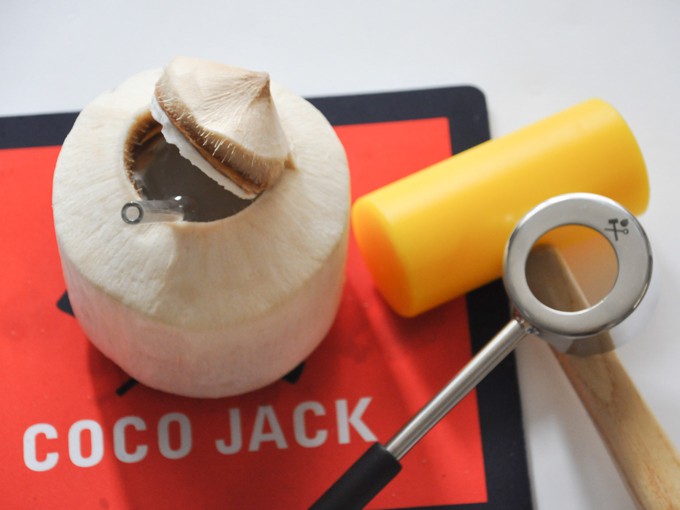 Coco Jack offers a few sets, but you can also buy the single products in the official Coco Jack store separately. For the purpose of opening the coconuts, the Coco Jack Set consisting of the Coco Jack and the Coco Mallet is basically all you need. The Coco Jack Pack includes, besides the Coco Jack and the Mallet, the Coco Scoop Tool (which is really, really cool to get out all the coconut meat) and the Coco Sack.
The Coco Pack Deluxe (that's the one you can win below!) contains:
1 Coco Jack (it's the metal thing for opening up the coconuts, it comes with a 1 year/1000 coconuts guarantee)
1 Coco Mallet (the yellow hammer)
1 Coco Scoop Tool (with this you can scoop out all the coconut meat – hassle-free)
1 Coco Noodler Tool (used to make raw coconut noodles out of the coconut meat)
1 Coco Shock (the pretty red mat to reduce the noise and vibrations)
2 Coco Sippers (glass straws! fancy!)
1 Baby Brush (to clean the glass straws)
1 Coco Sack (to store all products while not in use)
If you want to order your Coco Jack now, use the coupon code "EVEGAN" to get 10% off your purchase in the Coco Jack store.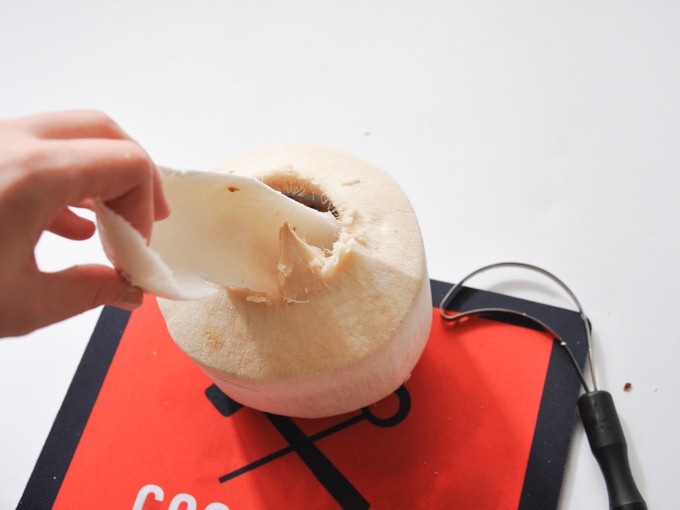 The Coco Scoop Tool, as seen on the photo, is amazing! With this simple tool, you can scoop out the young thai coconut meat without problems and pretty much in one piece. You can eat the coconut meat like that or use it in Homemade Coconut Milk, Raw Cocoa Coconut Pomegranate Tartelette or this Kiwi Banana Coconut Smoothie.

Worldwide Giveaway | Win a Coco Pack Deluxe! CLOSED.
The giveaway ends on 2015-10-28 11:59:59 PM ET.
The giveaway is a worldwide / international giveaway. Everyone can participate :)
There will be 1 winner, which will be randomly chosen by the plugin.
The winner will receive one Coco Pack Deluxe including the 1 Coco Jack, 1 Coco Mallet, 1 Coco Scoop Tool, 1 Coco Noodler Tool, 1 Coco Mat, 2 Coco Sippers, 1 Baby Brush & 1 Coco Sack.
The winner will be notified by mail and has 48 hours to respond – otherwise I'll have to repick.
The prize will be sent out by Coco Jack (I'll be not held responsible for lost/damaged packages).
If you have any problems with the giveaway plugin below, please don't hesitate to drop me a mail!
I will be hosting giveaways in the future as well! By subscribing to my weekly newsletter, you can make sure that you'll never miss those. ;)
Disclaimer: I was provided with a Coco Jack (Thank you!) to review. The opinions expressed in this post are my own and honest! I only recommend products that I love! 
Affiliate Disclosure: This post contains affiliate links. If you click on a link and buy something I will get a small percentage. This helps me produce more great content and recipes.