Do's and Don'ts
If you want to feature one of my recipes on your website: You can use a photo if you link back to my site with a visible link named "Elephantastic Vegan" or "ElephantasticVegan.com". However, copying and pasting the whole recipe (ingredients + instructions) onto your site or using a photo without proper credit is copyright infringement. You can always shoot me a message if you're unsure!
For reprint permission, please contact me first.
[contact-form-7 id="9605″ title="Contact form 1″]
My previous features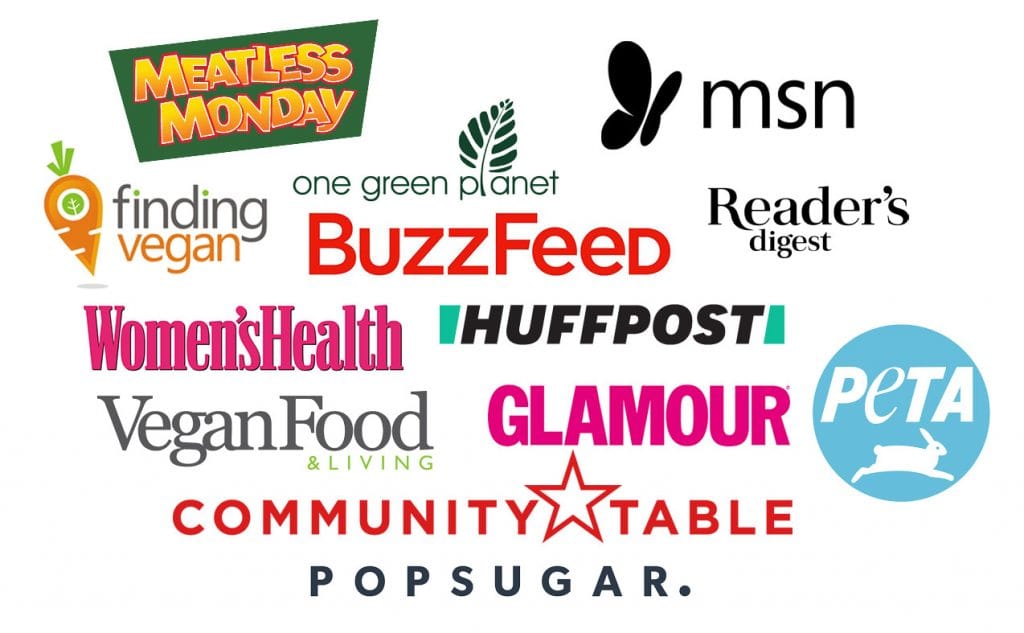 02/2018 Interview Series: Bianca Haun – Chic Vegan
02/2018 The Veginner's Cookbook – Toronto Vegetarian Association
02/2018 Basic Vegan Cheese Sauce and The Veginner's Cookbook Review – The Urben Life
01/2018 10 Interesting Jackfruit Recipes To Replace Meat Dishes – Livekindly
01/2018 How to Make the Best Banana Bread, No Matter What – Chowhound
12/2017 18 Jackfruit Recipes That Will Make You Forget All About Meat – Good Housekeeping
12/2017 21 Cauliflower Recipes to Spruce Up Your Winter Meal Planning – Viva Glam Magazine
10/2017 50+ Spooky and Sweet Halloween Treats – Country Living
09/2017 5 vegan recipe videos created with Pulpmedia for Hofer
09/2017 31 Sweet and Savory Pumpkin Recipes With No Meat Or Dairy – Buzzfeed
07/2017 16 Protein-Packed Vegan Breakfast Recipes – Care2
07/2017 18 Vegan Ice Cream Recipes for Summer – Care2
01/2017 Recipes Features in the Vegan Food & Living Magazine
04/2017 Adult Easter Par-tay – Eat By Chloe
03/2017 Recipes Features in the Vegan Food & Living Magazine
03/2017 11 Gluten-Free Summer and Spring Roll Recipes – the spruce
02/2017 27 Desserts If You Love Sweets But Are Trying to Eat Healthier – Buzzfeed
01/2017 50 Brilliant and Easy Valentine's Day Ideas Anyone Can Pull Off – Glamour
01/2017 10 Things to Make with Avocado That Aren't Guac – Women's Health
01/2017 Recipes Features in the Vegan Food & Living Magazine
12/2016 30 Appetizer Hacks to Make Hosting Holidays A Breeze – Gourmandize
11/2016 29 Unconventional Thanksgiving Sides That Should Be the New Normal – Greatist
11/2016 Blogger Relations: Eine Checkliste für Unternehmen (Do's and Don'ts when working with bloggers) – APA
11/2016 35 Holiday Appetizers That Are Perfect For All Your Holiday Parties – Huffington Post
10/2016 Vegans We Love: Part 17 – Benbella Vegan
09/2016 Virtual Halloween Movie Party: Blogger Share Recipe + Flick Faves! – Healthy Happy Life
09/2016 24 Ridiculously Easy Three-Ingredient Vegan Recipes – PETA
08/2016 18 Oil Free Vegan Meals with 10 Ingredients or Fewer – Care2
07/2016 Feature in Raw Food Magazine
06/2016 10 Delicious Dairy-Free Ice Cream Recipes – MSN
06/2016 14 Mouthwatering Foods To Eat At Suhoor During Ramadan – Buzzfeed
05/2016 Falafel Curry – Chunky on Chia
05/2016 12 Surprising Uses for Avocados – Care2
04/2016 Cookbook Collaboration: Vegan Friends Cookbook – Amazon
03/2016 Incredibly Easy Vegan Dessert Recipes Everyone Will Love – OOLA!
03/2016 16 Chocolate Cakes You're Guaranteed To Fantasize About – Buzzfeed
03/2016 22 Ridiculously Delicious Treats For Matcha Lovers – Buzzfeed
03/2016 Du bist was du isst – Also ran an den Herd – OÖ Nachrichten (online and print)
02/2016 The Snack: Homemade Healthy Crackers – Running
02/2016 21 Three-Ingredient Vegan Desserts That Are As Easy As They Are Delicious – Buzzfeed
01/2016 The 54 Most Delish Omelets – Delish
01/2016 29 Best Buddha Bowls & Healthy Bowls Recipes – Buzzfeed
01/2016 28 Foolproof Ways To Eat Pizza Every Damn Day – Buzzfeed
12/2015 18 Decadent Ways To Have Cake For Breakfast – Buzzfeed
12/2015 18 Insanely Delicious Vegan Christmas Cookies Santa Would Approve – Buzzfeed
11/2015 9 Meatless Soups & Stews to Warm Up Winter – Meatless Monday
11/2015 Recipe Feature in Healthy Juicing Magazine
11/2015 9 Healthy Vegan Snacks to Curb Those Hunger Pangs – iDIVA
11/2015 30 Days of Vegan Desserts – Free-From Heaven
10/2015 10 Wonderful Ways with Avocado – Reader's digest
10/2015 30 Days of Vegan Lunches – Free-From Heaven
10/2015 Oktoberfest Time! 24 Recipes to Get You Dancing – Community Table
10/2015 15 Fresh Zucchini Recipes My Kids Love – Momtastic
10/2015 10 Totally Clean Ways To Eat Breakfast for Dinner – Prevention
08/2015 10 Decadent Desserts Made With Avocado – Community Table
08/2015 Wild Garlic Pesto Snails – One Green Planet
08/2015 20 Totally Guilt-Free Chocolate Desserts – Community Table
08/2015 11 Healthy recipe bloggers who make food you'll actually want to eat – sheknows
08/2015 Saturday Six – oh my veggies
07/2015 20 Summer Salads – Spiralized! – Community Table
07/2015 51 Crave-Worthy Vegetarian Curry Recipes – oh my veggies
06/2015 Avocado Ice Cream – Popsugar