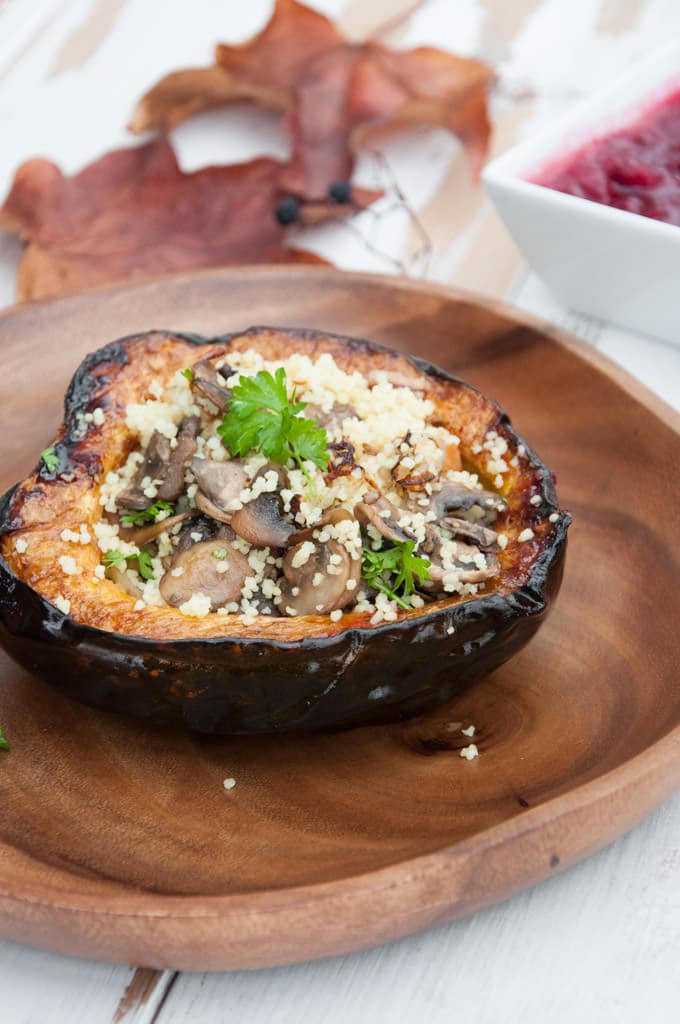 Oh the beloved holidays! I love being all in a festive mood, but eating together with relatives can be – exhausting to be honest. And as a vegan, it usually doesn't really get better. 4 years in, I'm used to discussing my food choices over the dining table. I try to stay away from these discussions, but you can't run away when sitting together and having dinner, right?! One thing that has helped making the whole situation easier for all, is bringing/prepping great-looking vegan dishes! No one will pity you for your sad looking food with this amazing Couscous Stuffed Acorn Squash!
I LOVE to impress omnivores with delicious plant-based food and I believe with stuffed roasted acorn squash it is really easy to make that happen. For the filling I used couscous, mushroom slices, tiny crispy smoked tofu cubes, shallot, garlic, fresh parsley and topped it all of with the super simple 3-ingredient Cranberry Sauce that I made from scratch. It's a really simple-to-make but fancy looking dinner inspiration for Thanksgiving!
Couscous Stuffed Acorn Squash Recipe Video
Couscous Stuffed Acorn Squash
Recipe for a vegan Thanksgiving recipe: Couscous Stuffed Acorn Squash with smoked tofu bits and mushrooms. Serve with a homemade Cranberry Sauce!
Author:
Elephantastic Vegan
Ingredients
1 acorn squash
olive oil for brushing the squash and for the pan
⅔ cup / 150ml water
½ cup / 80g couscous
a pinch of curry powder
salt
1 cup cleaned mushrooms, sliced
¼ cup smoked tofu, small cubes
1 shallot, finely sliced
1 garlic clove, minced
1 tablespoon fresh parsley, chopped
Serve with Homemade Cranberry Sauce
Instructions
Pre-heat the oven to 350°F/180°C.
Cut the acorn squash in half, spoon out the seeds and brush the inside with olive oil. Put the acorn squash halves with the inside down on a baking sheet lined with parchment paper. Bake for about 30 minutes, until soft, then flip them and bake for another 5 minutes.
Meanwhile prepare the filling: Boil the water for the couscous, add curry powder and a pinch of salt, then take the pot off the cooktop, add in the couscous, put the lid on top and let it absorb. In a pan, cook the mushroom slices (add a bit of salt) until brownish then put them in a bowl and set them aside. Pan-fry the smoked tofu cubes in the pan until crispy and set them aside as well. Caramelize the shallots and garlic. Once all the mix-ins for the filling are ready, pour them all back in the pan, mix in the couscous, fresh parsley and give it a good mix. Add salt to taste.
Spoon the filling into the roasted acorn squash and serve with homemade Cranberry Sauce!
If you give this Couscous Stuffed Acorn Squash a try I'd love to hear how it turned out for you! Leave a comment or post a picture on instagram, use the hashtag #elephantasticvegan and tag me via @elephantasticvegan to make sure I'll see it ^.^ I love to see all your lovely creations! Thanks! <3