Make your own Cheesy Vegan Meatballs at home! They are the perfect addition to Spaghetti Bolognese or simply snack them on their own.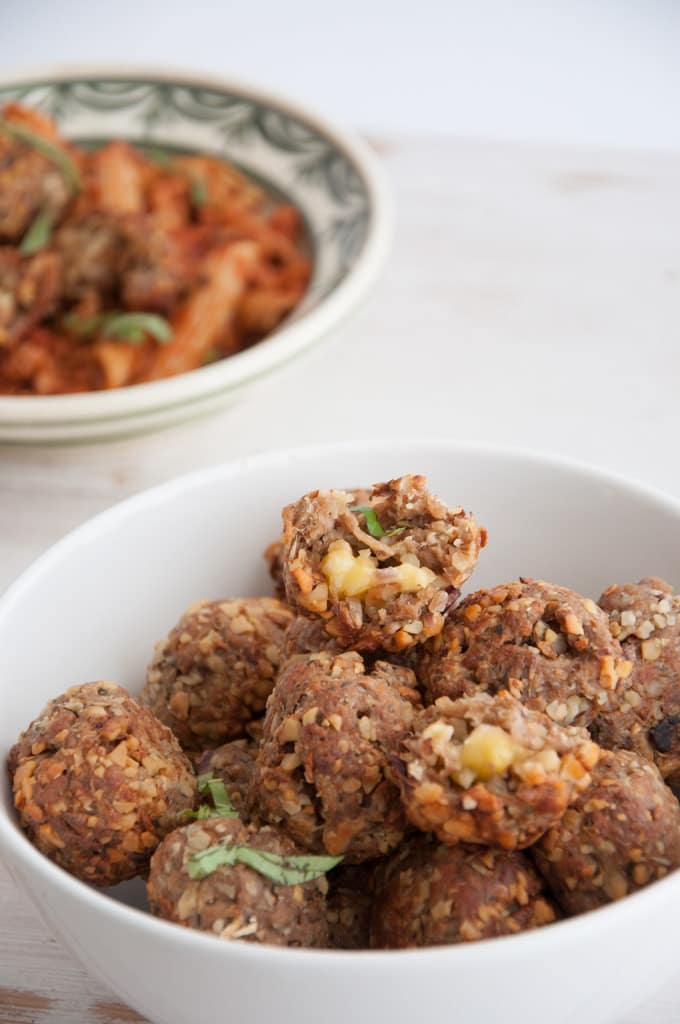 I completely lost track how long I had the vital wheat gluten sitting in my pantry, but decided, it was too long. Using the vital wheat gluten, together with walnuts, spices, onions, and garlic for these Cheesy Vegan Meatballs was an excellent decision.
I've also added a cube of vegan cheese into each of the meatballs for the ultimate cheesy vegan meatball experience. My mother sometimes used to make a kind of meaty patties filled with cheese and these cheesy meatballs totally reminded me of these :)
The vital wheat gluten is essential in this recipe, as it binds and holds together the mixture. These vegan Meatballs definitely do not fall apart, so if you've made some before and had problems with them breaking apart, you might want to give these a try. The walnut crumbles are important for the texture.
Watch how to make Cheesy Vegan Meatballs – Recipe Video (1 min)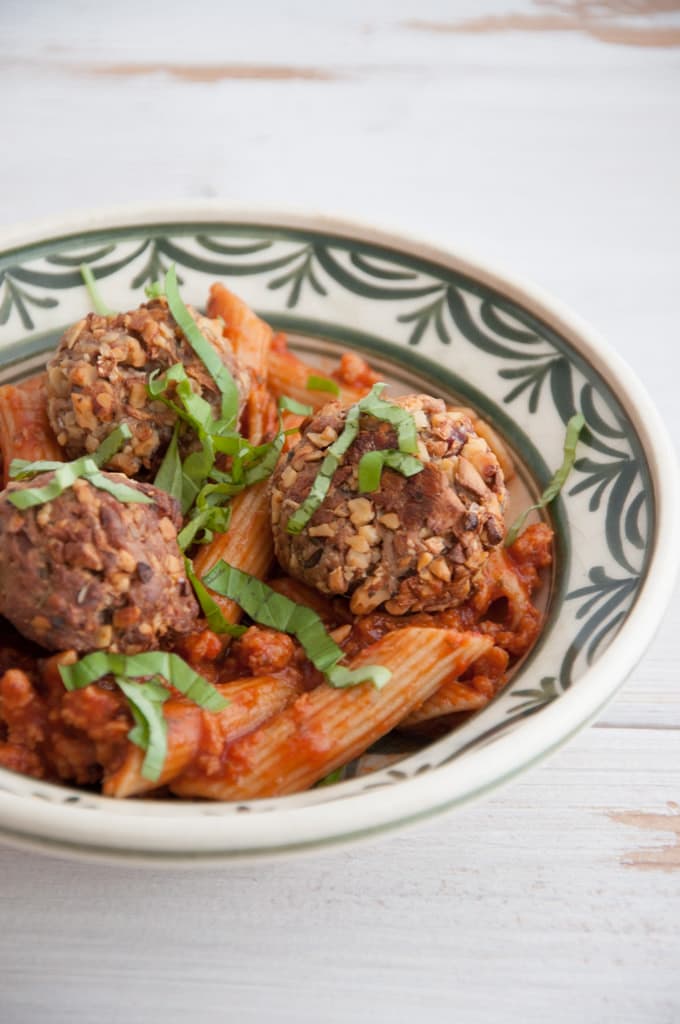 The vegan meatballs are so good when served over some pasta and tomato sauce (classic, but good). My boyfriend and I also ate some of them simply as they were – as a snack, and they were too yummy to stop.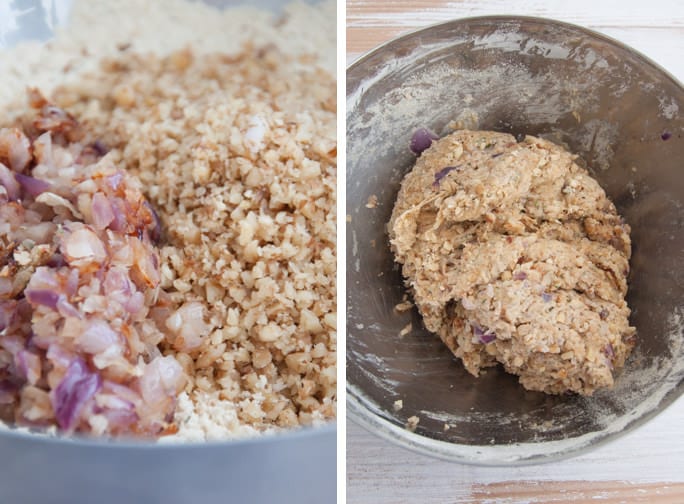 For the meatballs mixture, I've used softened garlic and red onions, walnut crumbles, vital wheat gluten, salt, and spices. And that's pretty much it! I added water bit by bit until the mixture held together and formed the meatballs around the little cubes of vegan cheese.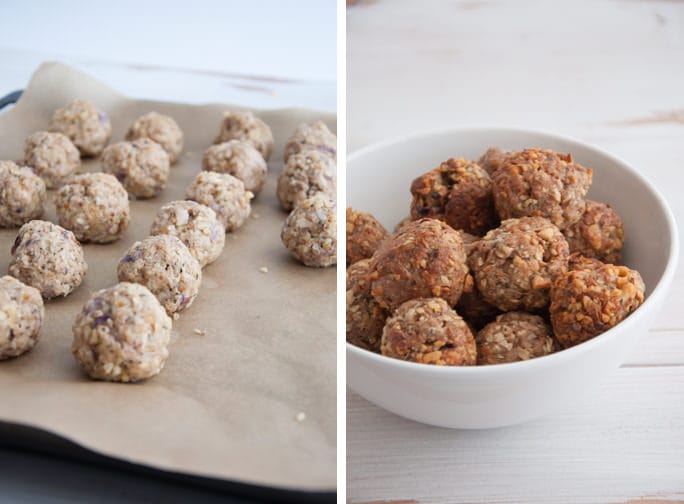 I baked them in the oven without any extra oil (I only used a teaspoon of oil for roasting the garlic and onions, otherwise no oil in the whole mixture!) and they turned out excellent. Crispy on the outside, soft and chewy on the inside – with the cheese surprise in the middle (well, I guess it's less of a surprise if you make the meatballs yourself, but you know what I mean).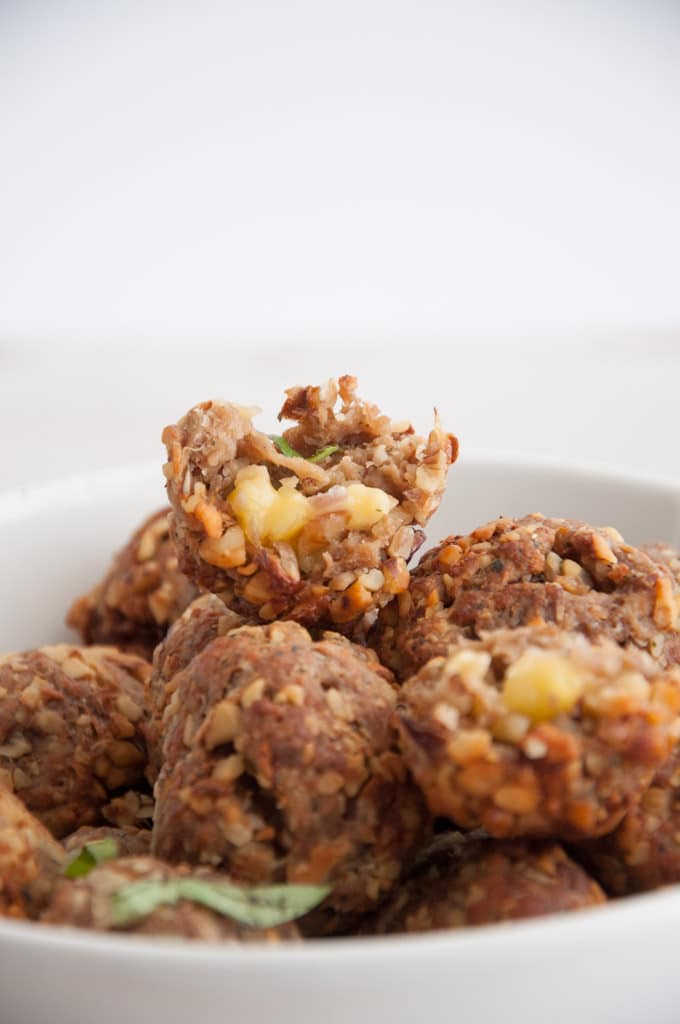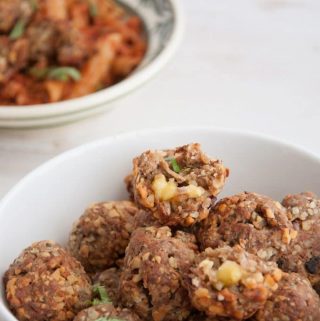 Cheesy Vegan Meatballs
Recipe for Cheesy Vegan Meatballs made with vital wheat gluten. They're the perfect accompaniment for Spaghetti Bolognese or to simply snack as they are.
Ingredients
2

small red onions

6

garlic cloves

1

teaspoon

olive oil

1

cup

vital wheat gluten

, sifted

1

cup

walnuts

1

teaspoon

salt

1

teaspoon

dried basil

1

teaspoon

dried oregano

1

teaspoon

dried thyme

1/2

cup

water

20

vegan cheese cubes

(I used Wilmersburger, but you can use your favorite)
Instructions
Pre-heat the oven to 400°F/200°C.

Pulse the peeled onions and garlic cloves in a food processor until diced up. Heat them up in a pan with the olive oil until softened and lightly browned.

Pulse the walnuts in the food processor until they're small pieces.

Sift the vital wheat gluten in a large bowl, add in the salt, spices, pulsed walnuts, roasted garlic and onions. Give it a good mix and add water until the mixture binds together (I've added 1/2 cup of water).

Pinch of a small portion of the meatball-dough, press it flat, add in a vegan cheese cube, pinch together the ends and roll it in your hand until the cheese is completely covered by the meatball dough. Place the meatballs on a baking sheet lined with parchment paper.

Once all the cheesy meatballs are rolled, bake them in the oven for about 20 minutes until crispy and golden, turning them once after half of the baking time.
Nutrition
Calories:
68
kcal
Carbohydrates:
3
g
Protein:
5
g
Fat:
4
g
Sodium:
119
mg
Potassium:
51
mg
Vitamin C:
1.2
mg
Calcium:
22
mg
Iron:
0.7
mg
Affiliate Disclosure: This post may contain affiliate links, which means I may earn referral fees if you make a purchase through my link. While clicking these links won't cost you any extra money, they will help me keep this site up and running!